FOR IMMEDIATE RELEASE
December 30, 2022
Contact: Lehua Weaver
801-535-7600 – CCcommunicationsgroup@slcgov.com
INVESTMENTS IN HOUSING, PUBLIC SAFETY AND INFRASTRUCTURE AMONG SALT LAKE CITY COUNCIL'S KEY 2022 ACCOMPLISHMENTS
The Salt Lake City Council closes 2022 with a year-in-review recap of notable legislation.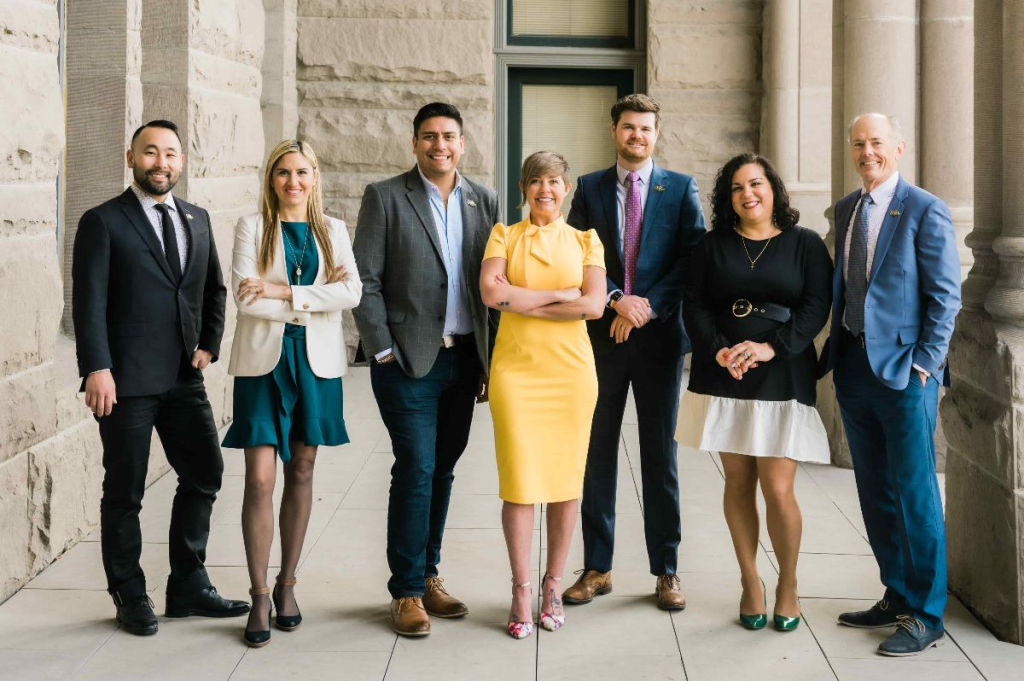 – – – – –
SALT LAKE CITY, UT – From updated council district boundaries to major investments in city infrastructure and public safety, the Salt Lake City Council's work in 2022 serves as a catalyst for a better capital city. Led by Council Chair Dan Dugan and Vice Chair Darin Mano, the Council worked through budget proposals and key initiatives to guide Salt Lake City's recovery from the COVID-19 pandemic, while envisioning an improved quality of life for residents.
"This year has been a fascinating ride and I believe we accomplished many tasks that touch all areas of the City," said Dugan. "It's been an honor to work alongside my council colleagues in collaboration with Mayor Erin Mendenhall and her staff to make Salt Lake City a better place for all."
A lot of that work involved major land use decisions to impact the City's overall livability.
"The land use decisions we made this year were monumental for the future of our City," said Mano. "I am excited to build on that momentum next year and look forward to seeing how these changes help create an even better Salt Lake City."
Read on for a list of some of the City's most notable accomplishments in 2022.
Adoption of the City's largest annual General Fund budget ever, prioritizing essential services such as road safety and repair, diversified public safety responses, increased transit frequency and connectivity, COVID-19 recovery assistance, and more.
Appropriation of over $20 million for affordable and deeply affordable housing construction and programs.
Reduction of barriers to housing availability and affordability through updates to the City's Shared Housing policy, Off-Street Parking regulations, and changes to the Residential Multifamily (RMF-30) zoning district.
Placement and subsequent voter approval of an $85 million General Obligation (GO) Bond on the November 2022 ballot to fund major improvements in Salt Lake City's open spaces.  
Approval of a $67.5 million Sales Tax Bond to fund upgrades and repairs to historic spaces and City facilities, including the City Cemetery, Pioneer Park and Westside Railroad Quiet Zones.  
Completion of the community-driven redistricting process and adoption of new district maps, which occurs after each Census to ensure equitable representation across the City.
Approval of over $46 million in funding for the annual Capital Improvement Program (CIP), including over $20 million for road improvements and safety projects.
Lowering of speed limits from 25 mph to 20 mph on nearly 70% of Salt Lake City streets.
Kickstarting the Livable Streets traffic calming program with an initial $2 million and four new transportation planners.
Funding of free UTA bus passes for Salt Lake City School District students, staff and faculty.
Adoption of the 2022 Airport Master Plan, which guides the next 20 years of development and aims to prioritize carbon reduction and improved accessibility at the airport.
Appropriation of over $4.5 million for property acquisition in Station Center—a proposed innovation district in West Downtown Salt Lake City (also known as the Depot District)—and the creation of a plan to redevelop the area.
Funding of a study to create a pedestrian corridor on Main Street from South Temple to 400 South.
Finalization of a Utah Inland Port contract to memorialize property tax revenue and usage, emphasizing environmental initiatives.
Adoption of a joint ceremonial resolution declaring the City's commitment to promoting equitable and inclusive language access to City services and information.
Adoption of an ordinance to eliminate all forms of discrimination against women and advance gender equity.
About The Salt Lake City Council:
The Salt Lake City Council is the seven-member legislative branch of Utah's capital city. The Council sets Salt Lake City's overall policy direction and allocates resources via the adoption of annual budgets and ordinances. The Council also serves as the Board of Directors for Salt Lake City's Redevelopment Agency, the Local Building Authority, and the Board of Canvassers. For more information, visit slccouncil.com.