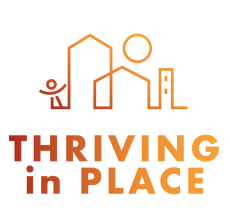 Thriving in Place is Salt Lake City's community-driven process to analyze and understand gentrification and displacement.
Through this work we will develop a plan of action to address the factors that are forcing many of our friends, family members, and neighbors to leave, or to live without a home, because they can't find housing in Salt Lake City that they can afford.
To learn more and to get involved, visit the project site at www.thrivinginplaceslc.org.
This process is taking place in two phases:
Listening and Learning
We are starting by making sure we understand the problems we are trying to solve as well as the opportunities and assets that can help address them. In addition to data-driven analyses, we want to hear from the community about their experiences of gentrification and displacement, providing a fuller understanding of the dynamics and impacts of gentrification. We will also document and map community assets—the special places and cultural resources as well as individuals and organizations that contribute to community cohesion.
Crafting Collaborative Solutions
Based on what we learn, we will work together to agree upon priorities and actions for addressing displacement. An important focus will be on defining a shared framework that can guide coordinated action by the City and other governmental agencies–including recommended policy changes–as well as community-based organizations and community partners.