COVID-19 Update: The U.S. Census Bureau is carefully monitoring the coronavirus (COVID-19) situation and will follow the guidance of federal, state and local health authorities.
It has never been easier to respond on your own, whether online, over the phone or by mail—all without having to meet a census taker.
Timeline
The 2020 Census began on March 12th and will run through October 31, 2020. April 1st was Census Day, which is the date the United States government has selected to count the population. Your answers to census questions should reflect what your household looked on that day.
How do I complete the Census?
Online at my2020census.gov
By phone in English by dialing 844-330-2020 or Spanish at 844-468-2020. You're also able to complete the census in 12 other languages.
By mail. Some households may have received a paper questionnaire by mail. Even if you receive a paper questionnaire, you can still respond online at my2020census.gov.
What Languages are on the Census?
| | |
| --- | --- |
| Paper Census Forms | English and Spanish |
| Online or by phone | English, Spanish, Chinese (Mandarin, Cantonese), Vietnamese, Korean, Russian, Arabic, Tagalog, Polish, French, Haitian Creole, Portuguese, Japanese, Includes Telecommunication Device for the Deaf |
| Video and printed guides | Available in 59 non-English languages, find out which ones HERE and video HERE |
---
ID Response Number for the Online Census
The Census Bureau mailed some households a letter with a unique census ID number made up of letters and numbers to complete the census online.
This code is for one use only.
The census must be done in one sitting. You cannot save your answers and come back to it later. You will be timed out of the survey after 15 minutes of inactivity.
If you're logged out, you will be able to re-login using the same ID number. Once the survey is submitted that ID is no longer usable.
If you need to re-do your census, you will have to use a non-ID path.
---
Non ID Response:
If you do not have an ID response number you will still be able to complete the Census! In order to do this, you will need to select "Non-ID Response," and enter in your address.
If you do not have a city style address or live in a nontraditional location, you will be asked location and description questions.
---
Unsure If You Have Been Counted?
Unsure if you have been included in your household's 2020 Census? Don't stress! You are still able to complete the census on your own and should count everyone living in your household (children, non-relatives, and other families).
The Census Bureau has processes in place to resolve duplicate submissions.
---
Here's what questions to expect on the 2020 Census form: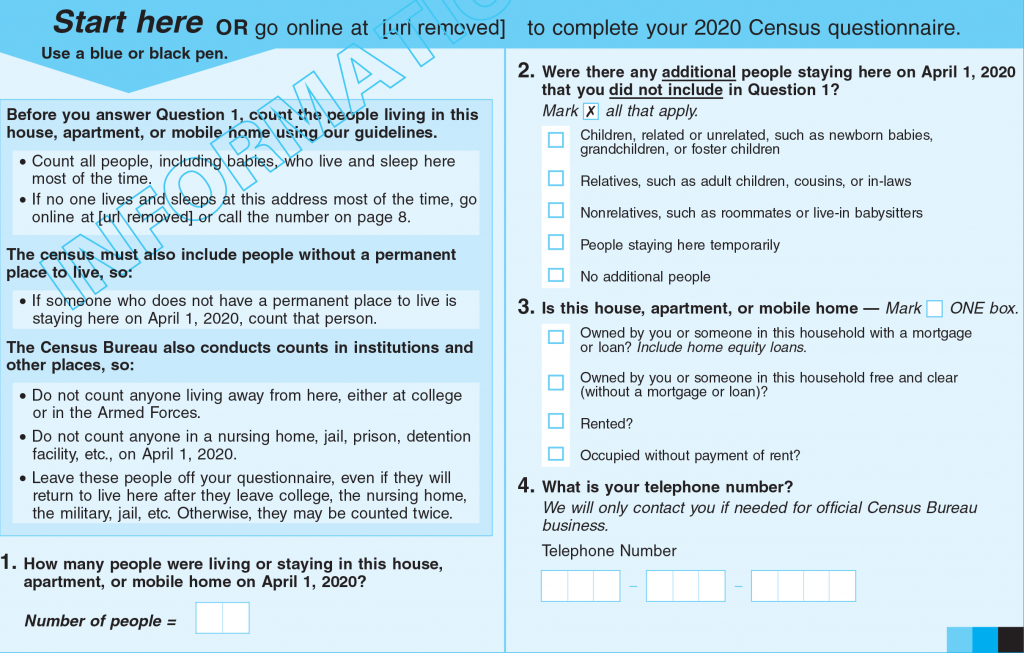 Names:
To ensure that each household member is counted only once.


How many people are living or staying at your home on April 1, 2020
Census data helps us recognize important trends in our society, such as whether young adults are living with their parents or moving in with roommates.


Relationship of each person in your home
On the questionnaire, "Person 1" is the "reference person" for the household. Person 1 completes the census and indicates their relationship to everyone in the household.


Whether the home is owned or rented
This generates statistics about homeownership and renting to see how the nation's economy is doing. The data also informs where new houses are built.


Sex
Each individual is asked to identify as either male or female. The data is used to enforce rules against gender-based discrimination. Additional options related to sexual orientation and gender identity are not included on the census.


Age
Age and date of birth questions ensure each person's age is reported accurately and that each person is counted only once. The data informs plans for new schools, Head Start funding, services for seniors and is used to enforce age discrimination laws.


Race
The census form includes 15 racial categories, or individuals can write in any race not included. The data helps federal agencies monitor compliance with anti-discrimination laws, including the Voting Rights Act and the Civil Rights Act.


Whether a person in your home is of Hispanic, Latino, or Spanish origin
Hispanic origin is considered separately from race in the census, and Hispanics may identify with any race. This data is also used to ensure compliance with anti-discrimination laws.
There is NO citizenship on the 2020 Census.
Watch preview of the 2020 Census Video: https://www.youtube.com/watch?v=fXg1_1HHKzA&feature=youtu.be
---
The Census Bureau will never ask for:
A full Social Security number
Bank or credit card account numbers
Money or donations
Anything on behalf of a political party
Any personal passwords
Your mother's maiden name
Census Bureau's Questionnaire Assistance Phone Numbers:
LANGUAGE LINE TOLL-FREE NUMBER
English 844-330-2020
Spanish 844-468-2020
Chinese (Mandarin) 844-391-2020
Chinese (Cantonese) 844-398-2020
Vietnamese 844-461-2020
Korean 844-392-2020
Russian 844-417-2020
Arabic 844-416-2020
Tagalog 844-478-2020
Polish 844-479-2020
French 844-494-2020
Haitian Creole 844-477-2020
Portuguese 844-474-2020
Japanese 844-460-2020
Telephone Display Device (TDD) 844-467-2020
TTY For people who are deaf or hard of hearing call 1-800-877-8339 to use the Federal Relay Service.
NALEO Bilingual Census Information Hotline
The NALEO Bilingual Census Hotline is free, anonymous and provides a fully trained bilingual staff and trusted messengers ready to answer all the census-related questions for the Latino community.
Monday – Friday: 8:30am – 8:30pm ET
877-EL-CENSO (877-352-3676)
Text "Census" to 97779