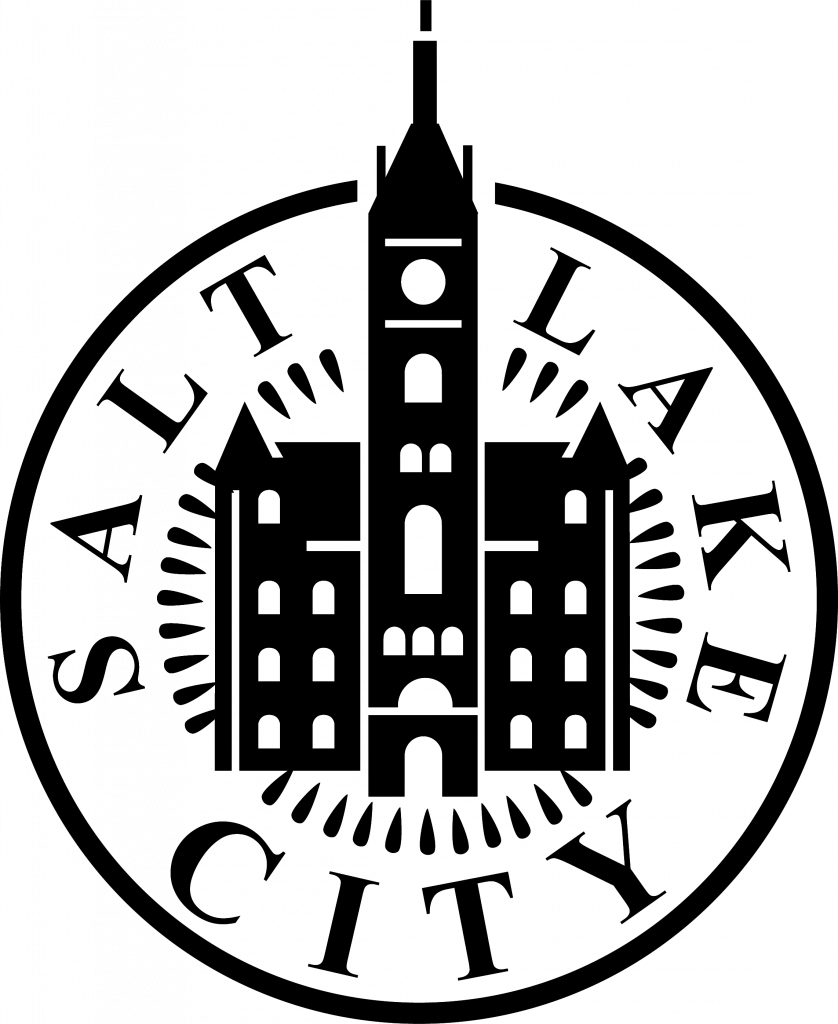 Salt Lake City Citizen Access Portal:
Use this portal to Schedule/Reschedule/Cancel inspections, looking up permit details, etc.
---
Click the to expand the City Departments for more information below:
The Salt Lake City Public Library
The Salt Lake City Public Library (The City Library) is closed to in-person services.
 Holds To-Go and Print Services are still available, along with website chat and phone services (801-524-8200).
The City Library will begin to consider reopening for Express Services when Utah achieves two weeks of rolling 7-day average positivity testing below 15%.
Salt Lake County residents can apply for library cards online. Due dates for checked-out materials will not change. Items may be returned to any City Library location at the outdoor book drops. As always, no late fees will be charged. For updates, follow us on social media:
Facebook: https://www.facebook.com/slcpl
Twitter: https://twitter.com/slcpl
Instagram: https://www.instagram.com/slcpl
Public Utilities
Salt Lake City drinking water from the tap is safe, reliable, economical, and meets or exceeds all federal and state safe drinking water standards. COVID-19 will not change this.
While our City recommends keeping a 4-day supply of bottled water for an emergency kit in case of a natural disaster; it is not necessary to purchase bottled water to prepare for COVID-19.
---
The main office at 1530 S. West Temple is closed to the public, with a few exceptions. People with development review projects seeking assistance must call ahead to 801-483- 6727 and a department employee will come to the door and take the paperwork while maintaining proper distance.
You may pay your utilities bill online, by mail or at the drop box on the north side of the building. You may also call customer service at 801-483-6900. Business hours remain the same—M-F from 8 a.m. to 5 p.m.
Public Utilities began mailing out letters to customers who are more than a month behind on their utility bill payments (letters sent out in both English and Spanish). We urge residents to call the PU customer service office as soon as they receive the letter to work out a regular payment plan. Those who begin paying the agreed amount each month will not be in jeopardy of a shut off.Water service shut offs began again in August. For more information about utility bill payments, visit https://www.slc.gov/utilities/pay-my-bill/
---
The Restrooms in our watershed are still closed. We do not have the staff to regularly clean and disinfect the facilities, so we have closed them until further notice. City Creek Canyon will be closed to vehicles until further notice. In a typical year, we begin an odd-even calendar day schedule for recreational use in City Creek.
Pedestrians (walkers, joggers) are always permitted, every day. But typically from Memorial Day to Labor Day, bicycles are allowed only on ODD days, and vehicles (for access to picnic sites) on EVEN days. Because of the pandemic, we did not take picnic site reservations this year, and picnic sites are closed to the public. The canyon road will be open every day until further notice only to bicyclists and pedestrians.
Sustainability Waste & Recycling
Salt Lake City waste & recycling services are continuing uninterrupted at this time. This includes our garbage, recycling, and compost container collection, as well as the Call 2 Haul bulk waste program.
The Education Team is also out checking containers. For more information on services, please visit: https://www.slc.gov/sustainability/waste-management/.
Salt Lake City curbside customers may also use Call 2 Haul to dispose of electronics.
Please email slcwasteandrecycling@slcgov.com or call 801-535-6999 for waste questions.
The Salt Lake Valley Landfill Household Hazardous Waste drop-off facility has returned to normal operating hours and is now open to the public Monday – Saturday, 7 a.m. – 5 p.m. (excluding County holidays). The reuse shed is not open. Containers will not be returned. Large residential quantities such as drums and all business waste will be accepted by appointment only Monday – Thursday. No Household Hazardous Waste accepted outside of Salt Lake County.
Salt Lake City Council
The Council Office staff is working remotely but is checking email (council.comments@slcgov.com) and voicemail (801-535-7600) regularly throughout the day, so that we can respond quickly.
Council meetings are being held electronically. Please call our main phone line (801-535-7600) to hear a recording of upcoming agenda items and public hearings or visit the Council agendas webpage. More information on how to attend meetings virtually, can be found here.
To learn more on how the City Council is currently operating visit the Council COVID-19 Actions page https://council-covid-19-actions-slcgov.hub.arcgis.com/.
Public Services (Parks & Public Lands)
Public Services consists of 11 divisions (Administrative Services, Compliance, Facilities, Fleet, Gallivan & Special Events, Golf, Parks, Streets, Trails & Natural Lands, Urban Forestry, and Youth & Family) and continues to operate during these challenging times.
Please view https://www.slc.gov/publicservices/covid19/ to learn about each of our division's current operations and contact information amid COVID-19. We are available to assist over the phone, by email or through SLC Mobile. However, please note that the City & County Building (City Hall) is closed until further notice due to earthquake impacts.
If you have general department questions, feel free to call (801) 535-7116 or email publicservicesinfo@slcgov.com.
Parks & Public Lands
The Public Lands administrative building and the City Cemetery office will be open to the public by appointment only. To make a reservation or set an appointment with us, please visit our website to find contact information for the relevant division or program: https://www.slc.gov/parks
For more information and to access the list of closures and changes to the City's parks and trails, please visit slc.gov/parks/public-lands-covid-19-precautionary-measures/.
The Regional Athletic Complex is closed for the season and will be reopen April 10th (weather permitting).
Department of Community & Neighborhoods

Please go https://www.slc.gov/can/can-covid19/ for a summary of the actions the Community & Neighborhoods Department (which includes Transportation, Engineering, Housing and Neighborhood Development, Planning, Building Services and Civil Enforcement, Capitol Asset and Real Estate Services Team, and Civic Engagement Team) is taking in response to the directive to limit contact between staff, partners, and the general public as a result of the COVID-19 virus outbreak.
Building Permits
The Building Permit Office at the City and County Building is closed to walk-in customers, however, building inspections staff will continue to make building inspections in the regular routine. All online services are available for permits and plan review. Plan review is continuing by staff working from home. Any questions can be directed to online staff at: slcpermits@slcgov.com.
Please check our website for updates and all additional information https://www.slc.gov/buildingservices/. We will be responding to all inquiries via email at building.services@slcgov.com. If you prefer to call, please dial 801-535-7224.
Housing & Neighborhood Development
RESPONSE TO COVID-19: Please be aware we are no longer accepting walk-in business related applications, contract management, or payments.
All customers who regularly visit us in the office to make monthly payments are asked to call 801-535-7228 and make your payment using a credit card or an electronic check. We request you continue making your payments over the phone until the City returns to a normal schedule.
For all the details visit https://www.slc.gov/can/can-covid19/.
Economic Development
We have streamlined COVID-19 resources for Salt Lake City's business community to plan, prepare, and respond to the COVID-19 virus outbreak. There will be updates. As we follow public health guidelines and common sense, we will give Salt Lake City the best opportunity to stay resilient during this challenging economic time. Visit the department's page for Business Resources for COVID-19.
For business licensing
Please contact our staff, who are currently working off-site, by emailing business.license@slcgov.com or leave a message at (801) 535-7721 and a staff member will reach out.
Landlords/Tenants can contact landlord/tenant@slcgov.com or call (801) 535-7980
Salt Lake City International Airport
For those traveling: The SLC Airport has increased the use of disinfectant in high-touch areas of the airport, including moving walkways, stair and escalator handrails, doorknobs, light switches, elevator buttons, and seating areas. We have also increased the frequency that airport restrooms are sanitized. In addition, the airlines have implemented frequent cleaning of monitors.For more information, go to slcairport.com and click on the Travel Advisory.
Airport restaurants and shops: Some of the shops and restaurants at the airport are operating under reduced hours or may be temporarily closed. The concessions that are open have implemented social distancing and other measures recommended by the Salt Lake County Health Department.
Passenger pickup: Only individuals with an airline ticket, airport badge, or airport authorization will be allowed in the public areas of the airport. All drop offs and pickups must be done curbside in a designated location or in the parking garage. One individual may accompany a ticketed passenger, if the ticketed passenger needs assistance with arrival or departure.
Please visit https://slcairport.com/
Salt Lake City Justice Court
Please go to the webpage https://www.slc.gov/courts/ and use the emails and / or the Request to Judge form for all correspondence possible. 
The phone number to call is 801-535-6300. Phones are open from 8:30 a.m. -11:30 a.m. and from 1 p.m. – 4 p.m.
Criminal Email:  criminalsection@slcgov.com
Jury Hotline: 801-535-6400 Jury Day Phone: 801-535-6430
Jury Email: jury@slcgov.com
Traffic Email:  traffic@slcgov.com
Small ClaimsEmail: smallclaims@slcgov.com
Salt Lake Court accepting charitable donations in place of fines
The Salt Lake City Justice Court will now accept donation receipts from select charitable organizations in place of fines, fees and community service hours from offenders who are ordered to pay the court.
Anyone who owes the court can pay their debts by donating to either Shelter the Homeless or the Salt Lake Education Foundation's Emergency Relief Fund, or they can volunteer with select organizations involved in fighting COVID-19.
Recorders Office
Claims can be mailed to: Salt Lake City Recorder P.O. Box 145515 Salt Lake City, Utah 84114-5515.