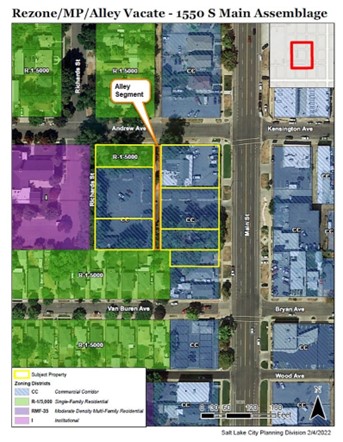 Rezone, Zoning Map Amendment, and Alley Vacation
1550 S Main Street Assemblage
The Council approved a request to vacate an alley and rezone several properties at approximately 1550 South Main Street. The properties are currently zoned for commercial (CC, Corridor Commercial) and residential (R-1/5000, Single-Family Residential) use. The property owner is requesting the Council rezone the properties to a form-based zoning district (FB-UN2, Form-Based Urban Neighborhood 2).
Below is a description the Planning Division has provided for the Form-Based Urban Neighborhood 2 district:
[Form-Based Urban Neighborhood 2] generally includes buildings up to four stories in height, with taller buildings located on street corner parcels, which may contain a single use or a mix of commercial, office, and residential uses. Development regulations are based on building type, with the overall scale, form, and orientation of buildings as the primary focus.
The property owner also requested amending the Future Land Use Map in the Central Community Master Plan from "Community Commercial" to "High Mixed Use" and to vacate the alleyway within the property.
The applicant's stated intent is to combine all properties as well as the alley into one and construct a mixed-use building on the approximately two-acre consolidated site. No specific development plans have been submitted at this time.
Project Timeline
Council Briefing
November 10, 2022
The Council received a briefing about the request at its Nov. 10 meeting.
Public Hearing
December 6, 2022
Several people spoke during the public hearing and expressed support for increased density in general, but raised questions about some aspects of the proposed development.  
Council Action
December 13, 2022
The Council approved this request at its Dec. 13 formal meeting.
Additional Information
Tags: Land Use