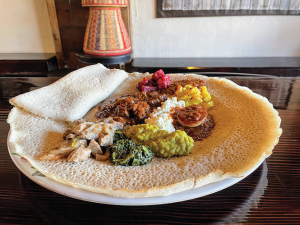 Salt Lake City, UT – Against all odds amidst a global pandemic, and with the help of Salt Lake City's Business Development Division in the Department of Economic Development, Oromian Restaurant reopened in Salt Lake City's midtown neighborhood on State Street.
Rundassa Eshete, owner of Oromian, took two years to transform his State Street location from an old pawn shop to the open, welcoming restaurant it is today. Over those years, the Business Development Division connected Eshete with necessary resources, assisted with location scouting, and helped outline funding for beautification of the building; all key parts of the reopening process.
The name of the restaurant, Oromian, has significance for Rundassa. It is the name of his ethnic group, the name of the region in Ethiopia from which he hails, and the name he gave his oldest daughter. And now, he brings pride in his culture and family to Salt Lake, where people can enjoy authentic cuisine and have a taste of Ethiopia. Rundassa recommends his restaurant's vegetarian dishes, and says the restaurant specializes in meals that bring families and people together with family-style platters.
"Small businesses like Oromian are an essential part of the heart and soul of our City," said Roberta Reichgelt, Business Development Director. "We're thrilled to keep Oromian as a part of our City's food and business ecosystem. We are always glad to serve our small businesses, and we were happy to assist in the opening of this great restaurant."
"An economy that works for everyone means that everyone from different backgrounds and cultures can participate," said Lorena Riffo Jenson, Interim Director of Salt Lake City's Department of Economic Development. "Restaurants like Oromian bring commerce and culture together and are a part of what makes Salt Lake such a great place. Their presence here is a win for all residents and visitors."
---
About Oromian Restaurant: Oromian Restaurant, formerly known as African Mini Mart when it was located on Redwood Road, is known for its authentic Ethiopian cuisine in its new location at 1522 State Street. Specialties include vegetarian and family-style dishes. Learn more at www.OromianRestaurant.com.

Tags: business development, Ethiopian Cuisine, Food Vendors, Restaurants, salt lake city, salt lake city small business