We are ready to help you go global!
If you're expanding globally, Salt Lake City is the perfect location for your business. The Salt Lake area experienced the highest growth in the country in exports as a share of GDP from 2003 to 2012. Salt Lake City, often referred to as the "Crossroads of the West," is a hub for air, ground, and rail distribution services located almost equidistant from all major Western U.S. markets.
Its central location in the United States means you can also talk to someone in Asia or Europe in the same business day. Furthermore, the extraordinarily high level of multilingual capability within Utah provides a more nimble and proficient workforce.
Many Utahns have lived or worked abroad, which significantly augments their capability to make an instantaneous contribution to the achievement of Utah-based businesses that operate internationally.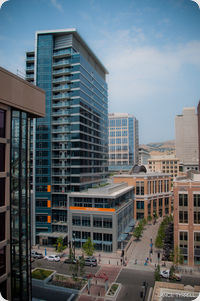 International Trade Resources
US Export Assistance Center
– The Utah U.S. Export Assistance Center (USEAC) is dedicated to helping Utah businesses realize their export potential. Part of an extensive network of domestic and international offices staffed by the U.S. Department of Commerce, the Utah USEAC assists Utah firms in exporting by providing expert counseling and advice, information on foreign markets, international contacts, and advocacy services. The Utah USEAC office can provide information on all Federal programs designed to support international trade.
Trade Counseling
Business Matchmaking
International Outbound Trade Missions – Gold Key Service
Market Intelligence
World Trade Center Utah
World Trade Center Utah
is a licensed and certified member of the World Trade Centers Association, a network of more than 300 World Trade Centers in 100 countries around the world focused on facilitating prosperity through trade and investment. The mission of World Trade Center Utah (WTC Utah) is to help Utah companies think, act and succeed globally.
Instructional Seminars from International Exporters
Networking Event
International Contacts and Connections
Custom Market Research
World Bank Procurement Consultations
International Outbound Trade Missions
Hosting for Inbound Trade Missions
Collaborative Environment where business, government, non-profit, and academic entities can associate and achieve their international goals.
Governor's Office of Economic Opportunity (GOEO)
Governor's Office of Economic Opportunity
assists Utah businesses with their global market development. This includes helping them secure international business contacts as they master the process of exporting goods and services. Additionally, they promote Utah's dedicated workforce and vibrant economy to foreign investors interested in locating to Utah.
Business Mentoring
International Trade Missions
Recruitment of Foreign Investors
Key international Business Connections
Marketing Strategy Consultations
In-country Trade Representatives
Educational Seminars
STEP Grants
Need more assistance?  We're here to help.  Call us at  (801) 535-7200 or email ed@slcgov.com.