Remember, during a disaster what's good for you is good for your pet, so get them ready today. If you leave your pets behind, they may be lost, injured – or worse.
Ready.gov tells us to never leave a pet chained outdoors. Plan options include:
Create a buddy system in case you're not home. Ask a trusted neighbor to check on your animals.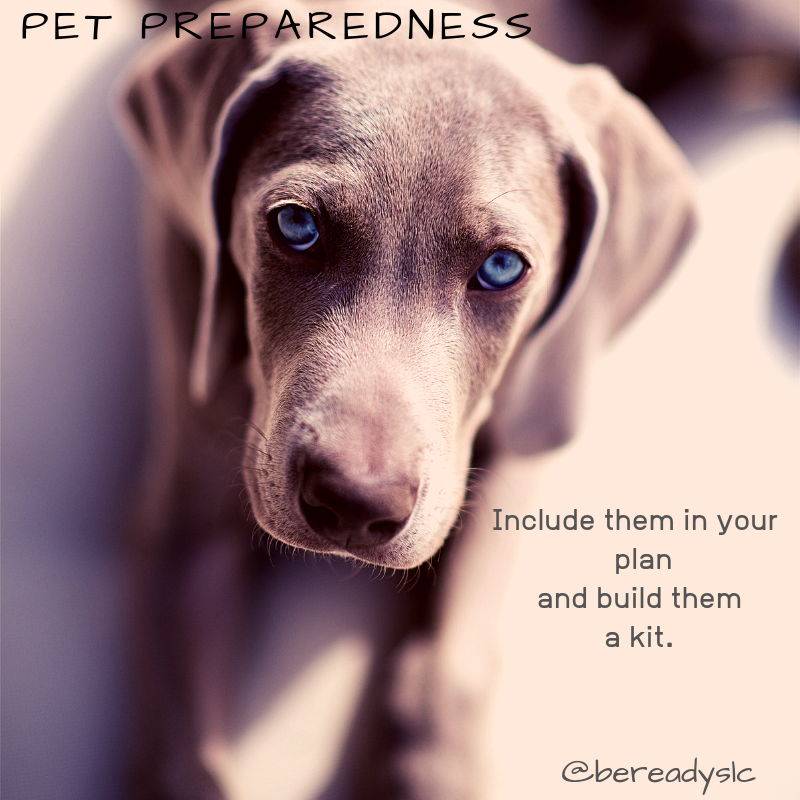 Identify shelters. For public health reasons, many emergency shelters cannot accept pets.
Find pet friendly hotels along your evacuation route and keep a list in your pet's emergency kit.
Locate boarding facilities or animal hospitals near your evacuation shelter.
Consider an out-of-town friend or relative
Locate a veterinarian or animal hospital in the area where you may be seeking temporary shelter, in case your pet needs medical care. Add the contact information to your emergency kit.
Have your pet microchipped and make sure that you not only keep your address and phone number up-to-date, but that you also include contact info for an emergency contact outside of your immediate area.
Call your local emergency management office, animal shelter or animal control office to get advice and information.
If you are unable to return to your home right away, you may need to board your pet. Find out where pet boarding facilities are located.
Most boarding kennels, veterinarians and animal shelters will need your pet's medical records to make sure all vaccinations are current.
If you have no alternative but to leave your pet at home, there are some precautions you must take, but remember that leaving your pet at home alone can place your animal in great danger!
CDC gives us the next tips and suggestions to help us keep safe with our furry family members.
Sheltering in Place
When sheltering at home with your pet, make sure the room chosen is pet-friendly in the following ways:
Select a safe room, preferably an interior room with no (or few) windows.
Remove any toxic chemicals or plants.
Close off small areas where frightened cats could get stuck (such as vents or beneath heavy furniture).
How to Keep Yourself and Your Pets Healthy During a Disaster
Wash your hands after handling your pet, its food, or its waste.
Do not let your pet lick your face or hands.
Keep your pet up-to-date on all vaccinations and heartworm, flea, and tick preventatives.
Practice safe handling of your pet, because your pet may behave differently during a stressful situation.
Keep your pet in a carrier or on a leash.
Do not allow your pet to interact with other animals, especially wildlife and stray animals.
Report any bite wounds to medical personnel immediately.
Properly clean and disinfect cages and litterboxes. Wash your pet's bedding regularly.
Avoid stagnant water, especially after flooding occurring after natural disasters.
Don't allow pets to play in or drink contaminated water.
What To Do if You Are Separated from Your Pet
Make sure that your family is in a safe location before you begin your search.
1-If you are in a shelter that houses pets, inform one of the pet caretakers. Give the pet caretaker your pre-made missing pet handout.
2-Once you have been cleared to leave the shelter and return home, contact animal control about your lost pet.
3-Last, call the microchip company to make sure all the information about you and your pet is updated and current.