2019 Camps Athena & Prometheus Registration is Open!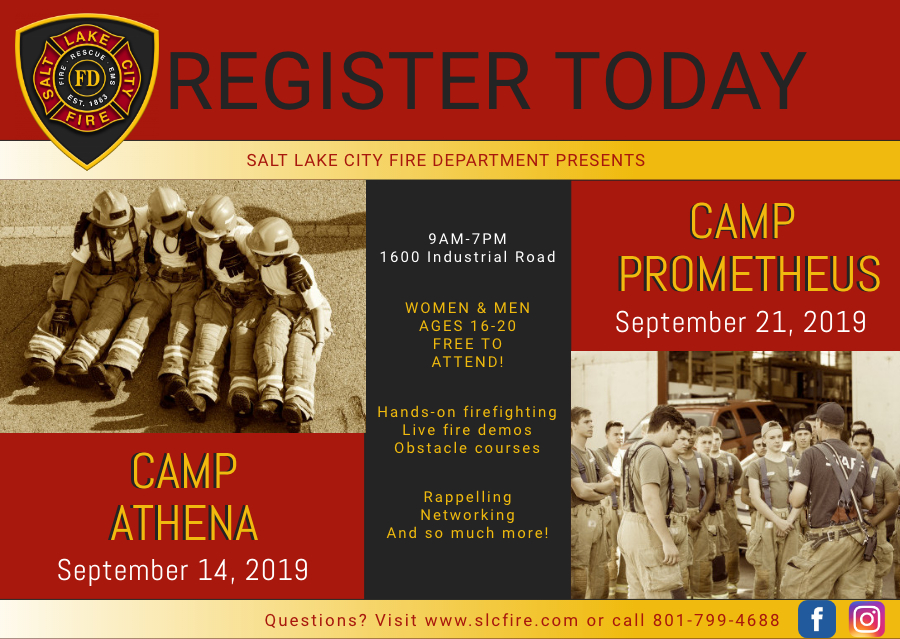 CAMP OVERVIEW
Join the Salt Lake City Fire Department at their annual Camp Athena and Camp Prometheus day firefighting camps for women and men ages 16-20. These free camps are a great opportunity to gain insight into a career in the fire service. Camp participants are educated on the use and proper outfitting of firefighting personal protective equipment (PPE), engage in live-fire demonstrations, navigate obstacle courses, and more. Throughout the day, camp participants gain leadership, teamwork, brainstorming, and networking skills. Additionally, participants hear from city and fire department officials about the importance of public service at the local government level.
REGISTRATION DATES & INFORMATION
Interested individuals can register now through August 26. Space is limited so we encourage interested individuals to register ASAP. (Note: Registration is first-come, first-served. Salt Lake City women and men, ages 16-20 receive priority attendance.)
Click here to register for Camp Athena.
Click here to register for Camp Prometheus.
SELECTION PROCESS
During the week of August 26, the Camp Athena Planning Committee will select and notify all applicants about their attendance status. The notifications will be sent out via email and/or text message. Following the selection process, camp attendees can anticipate receiving additional instructions and documentation.
CONTACT
Primary contact for questions related to general camp inquiries and registration: Ms. Darby Egbert, MPA | Recruitment & Outreach Coordinator | C: 801.209.5241 (text-friendly); E: Darby.Egbert@slcgov.com
Primary contact for questions related to general camp inquiries and camp activities: Firefighter Paramedic Susanna Alley | Firefighter Development Coordinator | P: 385-214-7854; E: Susanna.Alley@slcgov.com
---
Our Programs
CADET POST
Sponsored and supported by Salt Lake City Fire Department and the City Council, the Cadet Post is designed to expose high school youth to the career of firefighting. The Post meets regularly during the year to learn fire service history, hands-on skills, participate in department community outreach, and gain teamwork and leadership opportunities. Interested candidates go through a formal application and interview process. Minimum eligibility requirements include Salt Lake City resident or student, age 14-18, good academic standing, and clean criminal background history.
---
INTRODUCTION TO EMERGENCY CAREERS @ INNOVATIONS HIGH SCHOOL
Innovations High School currently offers this Career & Technical Education (CTE) course which is taught by Salt Lake City Firefighters. Students will gain knowledge about emergency career options such firefighter, emergency medical technician, police officer, etc., as well as receive basic first aid and CPR training. To learn more, visit slcschools.org or talk with your school counselor.