Welcome to the Salt Lake City Fire Department's (SLCFD) youth programs page! Are you someone who believes in giving back to your community? Do you like trying new things? Have you always been fascinated by the flashing red lights of the fire engine? If you answered "yes" to any of these questions, then you've come to the right place!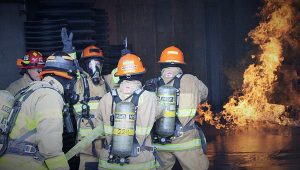 "The secret message communicated to most young people today by the society around them is that they are not needed, that the society will run itself quite nicely until they — at some distant point in the future — will take over the reins. Yet the fact is that the society is not running itself nicely… because the rest of us need all the energy, brains, imagination and talent that young people can bring to bear down on our difficulties. For society to attempt to solve its desperate problems without the full participation of even very young people is imbecile." — Alvin Toffler
Currently, the Department offers several youth programs to help individuals gain exposure to the culture, people, and activities of a firefighter, including: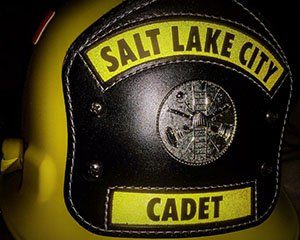 The Cadet Post

Sponsored and supported by Salt Lake City Fire Department and the City Council, the Cadet Post is designed to expose high school youth to the career of firefighting. The Post meets regularly during the year to learn fire service history, hands-on skills, participate in Department community outreach, and gain teamwork and leadership opportunities. Interested candidates go through a formal application and interview process. Minimum eligibility requirements include: Salt Lake City resident or student, age 14-18, good academic standing (2.5 GPA or higher), and clean criminal background history.

Introduction to Emergency Careers course @ Innovations High School

Innovations High School currently offers this Career & Technical Education (CTE) course which is taught by Salt Lake City Firefighters. Students will gain knowledge about emergency career options such firefighter, emergency medical technician, police officer, etc., as well as receive basic first aid and CPR training. To learn more, visit slcschools.org or talk with your school counselor.

Camps Athena & Prometheus (day fire camps @ the Department's Training Tower)

The Salt Lake City Fire Department (SLCFD) currently offers two youth day fire camp opportunities. Camp Athena is the designated camp for teenage women. Camp Prometheus is the designated camp for teenage men. Camp Athena made its inaugural debut in April of 2016. It was the first fire camp for teenage women in the state of Utah.

Fire skills workshop

Mini fire skills workshop designed for junior high and middle school students in the Salt Lake City School District (including private and charter schools). The workshop involves stations that mimic firefighter training, including an obstacle course, medical station, and fire engine hose deployment.

Fire Strong Kids (healthy lifestyle guidance)

Fire Strong Kids is a healthy lifestyle guidance program developed by Salt Lake City Fire Captain Rob Stafford. The program focuses on messaging surrounding positive outlook on nutrition and fitness.
To learn more about the Cadet Post and Intro to Emergency Careers course contact Firefighter Susanna Alley, Firefighter Development Coordinator at Susanna.Alley@slcgov.com.
For information on all other youth programs contact Darby Egbert, Recruitment & Outreach Coordinator at Darby.Egbert@slcgov.com.