Homeless Services Dashboard
If you or someone you know needs shelter call 801-990-9999 to be connected with an intake specialist.
---
Previous Night Shelter Capacity:
This table shows the percentage of beds open at Homeless Resource Centers from the previous night. This is not real time information because of the way beds are assigned to individuals at the HRCs. Beds turn over in the HRCs every day and this number is a reflection of the percent of bed space that was full each night during head counts conducted around 2 am. This data comes from the Utah Homeless Management Information System database and the dashboard will be updated when that database is updated.
There are two types of beds available at HRCs – night by night beds and case managed beds. Night by night beds are first-come-first-served, and are assigned as individuals arrive to an HRC. They are reassigned nightly.
Case managed beds are assigned for a more long-term basis to individuals who are engaged with a case manager working toward a permanent housing solution. These beds sometimes remain empty at night as an individual may spend time away from the center. If an individual with a case managed bed remains away for multiple consecutive nights, their bed may be reassigned for single night use. Those reassignments typically happen later in the night, in case the original occupant of a case managed bed returns.
The percentages reflect both night by night and case managed beds.
---
Year over year shelter wide capacity comparison: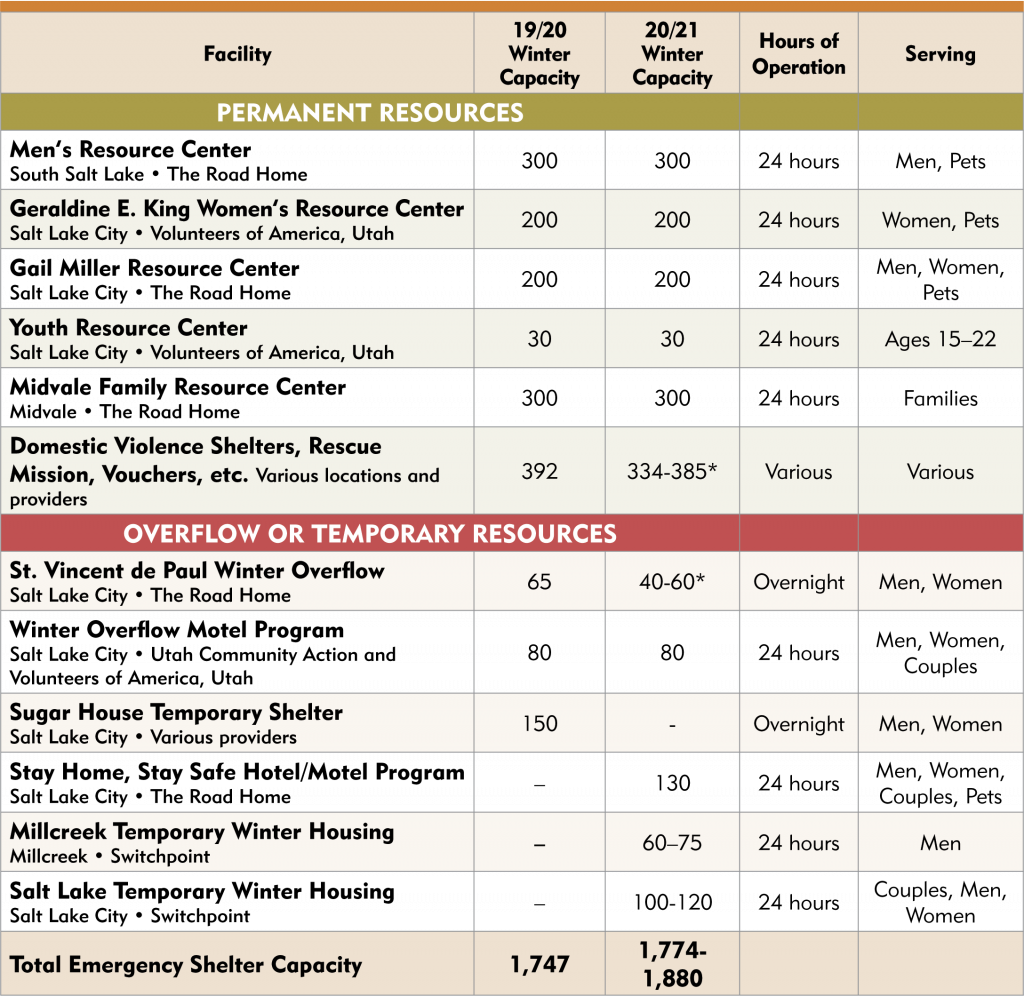 ---
Shelter Transportation
There is a shuttle that runs from the Weigand Center at 437 W. 200 S. in downtown Salt Lake City to the HRCs and winter shelter options. Transportation between shelters is also available, if needed.
Belonging Storage
Individuals are able to store their items at A Place For Your Stuff at 502 W. 300 S. which is operated by Advantage Services. This service is free and people are able to fill a 90 gallon bin with belongings that can't or don't want to take to shelters , excluding perishable food, drugs and weapons.
---
Map showing nightly shelter locations and calls for cleanup service to SLC Mobile application
For a full size map with tools for getting directions and charts to sleeping locations – click this "LINK"
---
FAQ
What's the difference between sheltered and unsheltered homelessness?
In 2019, our community shifted from a co-located sheltering model to multiple scattered site, population specific Homeless Resource Centers. This was in response to the need for greater supportive services and a system-wide focus on getting people moved quickly from shelter and into housing. The state of Utah, Salt Lake County, and Salt Lake City are united in the goal of making homelessness rare, brief, and nonrecurring for anyone in our community who has to experience it.
No two people experience homelessness the same. Some people, after experiencing a housing crisis, will go directly to a homeless resource center and will quickly resolve homelessness on their own or access the housing services available there and will move back into a place of their own within a few weeks. Others decide that shelter doesn't fit their life, or they don't feel like they fit into shelter programs and they choose to camp. Some find it difficult to get into shelter, or find it tough to follow the expectations of different shelter programs. In order to make shelters welcoming places, our community's homeless resource centers operate on a low-barrier model, meaning that some allow pets, some allow partners, and all are open 24/7. None require proof of sobriety before entry, but they do not allow possession of illegal substances on their property.
Why do people camp?
According to the most comprehensive research we have available on encampments, a study completed by HUD in late 2018, unsheltered people form encampments for a variety of reasons but the most common are:
The individuals feel that shelter options available don't work for them and they feel a sense of relative safety and community in encampments.
They are looking for a sense of autonomy and privacy that they don't think they can get in shelter.
The individual prioritizes access to illegal substances over shelter services.
Why not just allow people to camp?
Managed encampments have been considered by the Salt Lake Valley Coalition to End Homelessness, and decided against as an overflow strategy. There are many associated risk factors with this, and is not considered a best practice nationally. At this time the coalition has decided to develop non-congregate overflow shelter spaces to bring people indoors this winter overflow season.
Clearance with support and resources, which is what we're attempting to do with the Community Commitment Program, shows promise in reducing on-street camping. This is according to this study done by HUD.
While all residents of Salt Lake City can sympathize with the desires for community, autonomy, and privacy that many people who camp are looking for, we as a City cannot sacrifice the safety of our neighborhoods when encampments become associated with crime and environmental degradation.
Understanding the need for both neighborhood safety and help for vulnerable people, the City takes a service-first approach and tries to resolve homeless encampments via homeless outreach before making people move.

If a camp is relatively small, clean, and law abiding, then the City works with outreach partners alone to get the people in that camp to accept services.
If a camp is growing, or it includes public health risks, the camp is referred to the County Health Department for a camp abatement. A camp abatement alone is not necessarily a displacement, but it is an opportunity for people living encamped to meet cleanliness standards and to accept the shelter and supportive services made available in our community.
If a camp is large, includes major public health or safety risks, or is located near something meant to serve other vulnerable populations (like a school or a senior center or a homeless resource center), then the City coordinates intensive outreach projects intended to bring people indoors and then closes that area to camping in partnership with the Salt Lake County Health Department and with ongoing law enforcement presence.
What are the roles of the City, County, and State in response to unsheltered encampments?
The State and Salt Lake County are, as written in state code, responsible to provide services for people experiencing homelessness. Salt Lake County and Salt Lake City participate in a local homeless coordinating committee called the Salt Lake Valley Coalition to End Homelessness. This Coalition is made up of government entities, service providers, advocates, and people with lived experience. The Coalition helps coordinate the development of new services provided for people experiencing homelessness, whether that is new shelter, overflow shelter, or other programs that are meant to end homelessness in our community. The Coalition is supported by staff at Salt Lake County.
The Salt Lake County Health Department is charged with protecting public health, and enforces environmental health regulations with regard to on-street camping. Usually, what this looks like is a procedure called a camp abatement, and it requires people to pick up camp and move while all environmental risk factors associated with that camp are removed. This can be human waste, discarded needles, or wet or soiled belongings, as well as abandoned belongings.
One of any city's most important functions is to keep its residents safe. The City invests millions of tax and grant dollars each year into programs that we know will mitigate or end people's housing crises, and we do everything we can to encourage people living encamped to come indoors. The City takes in data on encampment concerns coming from our different neighborhoods, and works with partners to coordinate appropriate responses to those encampments. More information on what those responses look like can be found below.
If there are beds available in shelter, should I expect not to see camps in the City?
Shelter space availability changes throughout each day. Shelter utilization data is a lot like ICU data, in that there's an "effectively full" rate of about 95% for each HRC. When our shelter utilization is low, the City will take more assertive steps to reduce on-street camping. When shelter utilization is high, the City will still work to resolve camps, but it may take longer to tackle than a quick call to police or a submission on the SLC Mobile app.
What other research or resources are available on this topic?