Zero
Fatalities
Transportation Safety | Crash Data | Safety Projects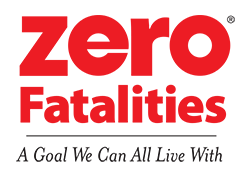 Zero Fatalities is all about eliminating fatalities on our roadways through education.
Some people may think zero is an impossible goal, but when it comes to your life, or the lives of your friends and family, what other number would be acceptable? We're aiming for Zero Fatalities because everyone matters.
Safe Streets Task Force
To educate communities and work toward zero fatalities, the City is embarking on two new efforts:
A new partnership between the City and the Utah Department of Transportation's Zero Fatalities education program
The creation of a "Safe Streets Task Force" that will work within the City to create change.
The "Safe Streets Task Force" will be a multi-department effort with the Salt Lake City Police Department and Transportation Division to identify the most critical areas of the city where intervention may be necessary to prevent future crashes, injuries, and deaths.
The task force will recommend meaningful interventions, performing a deep dive into traffic patterns, traffic crash trends, and traffic citation data. This dataset will inform a set of recommendations both for immediate City actions and our long-term policies.
Zero Fatalities Education
Crash Prevention Education: The best way to survive a crash is to prevent it from happening in the first place. Through years of research, we have found that almost every crash, and the resulting fatalities, comes down to one or more of these 5 deadly driving behaviors: drowsy driving, distracted driving, aggressive driving, impaired driving and not buckling up. 
Click on each behavior to see videos, safety tips and statistics that educate and encourage people on how to eliminate these 5 deadly behaviors.
Heads Up is a program designed to eliminate crashes between cars, motorcycles, bicycles and pedestrians.
Visit the Utah Department of Transportation Zero Fatalities website or the links below to learn more about education programs with the goal to eliminate all traffic deaths on our roadways. 
Utah Roadway Fatality Statistics | Zero Fatalities YouTube Channel | Zero Fatalities Facebook Page | Zero Fatalities on Twitter