---
---
We're hiring! Click here for YouthCity Jobs page!
---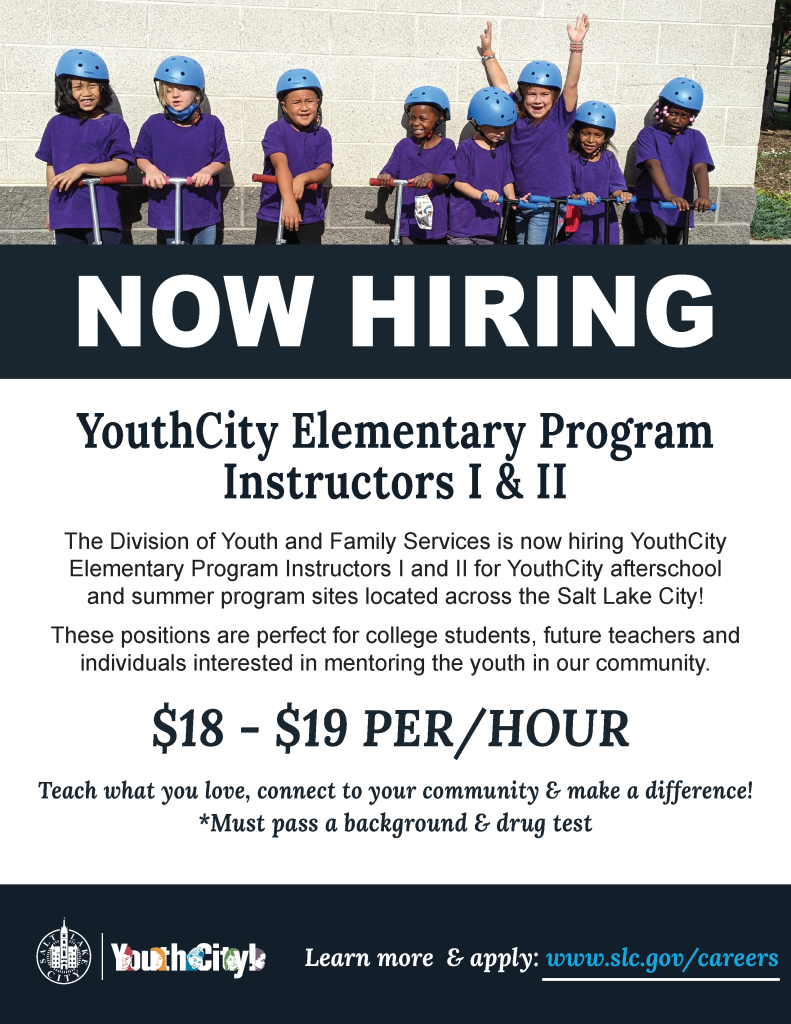 ---
---
Currently enrolled kids get a one-week priority in the registration process. Therefore, kids currently attending the 2023 Summer program may submit a completed registration form starting Wednesday, July 26.
Registration will be open to the entire community beginning Thursday, Aug 3.
---
---
July 26, 2023
Hello YouthCity Families!
We are excited to announce the timeline for the YouthCity 2023-24 Afterschool Program. Our team is busy preparing for another great year of afterschool activities, experiences and adventures and we look forward to connecting with you and supporting your children. This school year we will explore STEM concepts, learn about health and wellness, focus on service and civic engagement, investigate college and career opportunities, increase our financial literacy, engage in sports and recreation, and discover the magic of the creative process. We are excited about the fun and educational programs and projects we have planned for this school year.
The 2023-24 YouthCity Afterschool program will begin on Tuesday, August 22, 2023, and we follow the Salt Lake City School District calendar. YouthCity school-age programs support kids currently enrolled in kindergarten through sixth grade. Youth enrolling in seventh grade this year are invited to join our companion YouthCity Teen Program designed to meet their developmental needs and interests.
Like many youth programs throughout the nation, YouthCity is experiencing a staggering staff shortage and as a result we are carefully monitoring our enrollment capacity at each of our locations. Our team is diligently working on recruiting employees to help support our programs. Please see the attached staff marketing documents and share this exciting work opportunity within your networks.
Registration packets for the 2023-24 YouthCity Afterschool program are now available by clicking links below, and paper enrollment forms are available at all YouthCity locations. As in the past, kids currently enrolled in the YouthCity summer program will be given a one-week registration priority and can submit a completed packet beginning Wednesday, July 26. Families who are not currently attending YouthCity may submit a completed registration packet starting Wednesday, Aug 2.
To enroll your child into our programs please submit a completed registration packet to the Senior Community Programs Manager for the site you wish to attend. Senior Community Programs Managers will confirm enrollment with each family until we reach the enrollment capacity for each site. Please be mindful that enrollment is also based on school transportation capacity for each location. Once each site reaches the enrollment capacity, we will begin a wait list. Once space within the program is available participants will be moved from the wait list to the confirmed list and parents/guardians will be contacted.
Upon enrollment confirmation, Senior Community Programs Managers will provide enrolled families with an invoice for August 2023 program fees. Please note that Salt Lake City Corporation will be charging ½ of the normal monthly fee for August 2023 since we are starting mid-month. Families will be charged the full monthly amount beginning September 2023. As in the past, program fees are determined by using a sliding scale based on family size and income. Scholarships and fee waivers are available as needed. All existing afterschool and summer program fees must be paid in full before a child will be confirmed for the upcoming summer program.
Additional information (class choices, field trip schedules and monthly calendars) will be shared over the next few weeks. Thank you for your interest in our programs and for trusting us with your children this school year. Please do not hesitate to reach out with questions.
Sending my best!
Liz Rich
Associate Director
Salt Lake City Corp | Youth & Family Elizabeth.rich@slcgov.com
---
---
Registration forms:
English: Printable registration packet
Spanish: Formulario de registro imprimible
Spanish: Formulario de inscripción rellenable
Swahili: Pakiti ya usajili ya msimu wa joto wa 2023-2024
Swahili: Fillable Pakiti ya usajili ya msimu wa joto wa 2023-2024
---
---
Parent Handbook:
Afterschool 2023-24 Parent Packet
Manual para Padres Programa Después de Escuela 2023-24
SWAHILI: Afterschool 2023-24 Parent Packet
KAREN: Afterschool 2023-24 Parent Packet
---
---
School and site assignments
Central City
Fairpark
Fairmont Park
Liberty Park
Ottinger Hall
Sorenson Unity Center
3rd-6th
Sorenson
Multi-Cultural
Center
K-2nd
Bennion
Elementary
Meadowlark
Elementary
Beacon Heights Elementary
Emerson Elementary
Ensign Elementary
Dual Immersion Academy
Dual Immersion Academy
Liberty
Elementary
Escalante
Elementary
Dillworth Elementary
Hawthorne Elementary
Madeline Choir School
Edison Elementary
Edison Elementary
Salt Lake Arts Academy
Backman
Elementary
Highland Park Elementary
Liberty Elementary
The Open Classroom
Glendale Middle School
Glendale Middle School
Rose Park
elementary
Nibley Park Elementary
Bonneville
Elementary
Wasatch Elementary
Mountain View Elementary
Mountain View Elementary
Whittier Elementary
Uintah Elementary
Washington
Elementary
Park View Elementary
Park View Elementary
Riley Elementary
Riley Elementary
---
---
Program Locations & Contact Information
---
---
Salt Lake City Corporation is dedicated to supporting the health and wellness of our community and will closely monitor ongoing public health issues. Partnering with the Salt Lake County Health Department the Division of Youth and Family will enforce health protocols as needed to keep our kids, staff and parents safe. Additional details will be shared if and when new safety protocols need to be implemented.
---
---
---
---