---
---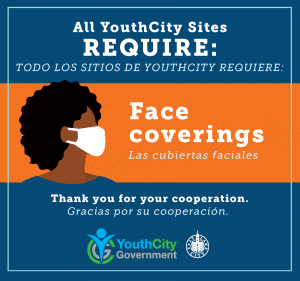 As a city program we have the flexibility to operate with the safety protocols that we feel will provide the safest environment for youth, most of whom are unable to be vaccinated.
While we respect decisions that individuals and other organizations may make related to masks, youth enrolled in YouthCity programs will be required to wear masks while in city vans and inside city buildings.
Masks will not be required when youth are outside. Salt Lake City leadership will continue to monitor the health conditions of our community and will inform you of changes to this program policy.
---
---
YouthCity Government is a local program of Salt Lake City Corporation that involves teens in state-organized, model-government programs. YouthCity Government provides the education, the problem-solving experience, and the social arena for Utah's future leaders to develop and strengthen their skills and confidence to better serve their communities.
YouthCity Government program develops and promotes:
An understanding of local, state, national and international concerns
Research, study and debate on public issues
Exploration of careers in public service
Interaction with adult and youth leaders involved in decision-making processes
An understanding of political systems and the forum they provide for effective and peaceful resolution of issues and concerns
Appreciation for the diversity of viewpoints on public issues and a concurrent respect for ideas, beliefs and the positions of others
Demonstration of citizenship responsibilities and leadership roles essential to the health of a participatory democracy.
Click here for YouthCity Government Applications!
For more information / Para más información:
(801) 243-2719