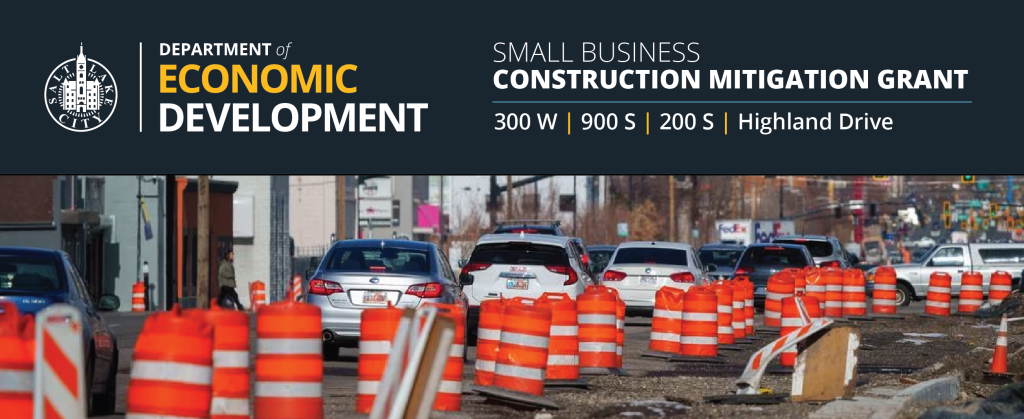 Small Business Construction Mitigation Grant
The Small Business Construction Mitigation Grant is designed to support the surrounding businesses affected by qualified construction sites by mitigating business challenges. This grant will provide funds to small, independent business merchants, targeted toward those in the restaurant, bar and retail space that have been impacted by the identified construction areas. Independent businesses (including nonprofit organizations) eligible for the loan program must be located within the city limits of Salt Lake City* with a valid Salt Lake City business license. It is not necessary for the business owner to live in the City. Businesses must be located on the street directly under construction or within one-half block of the construction site to be eligible for the program. Business must operate out of a "brick-and-mortar" business location and be defined as in-person retail, restaurant, or bar.
*At this time, construction areas covered by this grant through Fall 2023 are:
300 West, 900 S to 1700 S
900 South, 300 West to 900 East
200 South, 400 West to 600 East
Highland Drive, 2100 S to I-80
Areas marked in blue on map:
The grant will provide up to $3,000 per business. These funds are to be used to support and reimburse costs associated with increasing awareness of businesses affected by on-going improvements or can be used to offset rent/mortgage expense due to financial hardship. The grant can be applied to, but not limited to, enhanced marketing, advertising, and incentives for loyal customers. Grants will be administered by the Department of Economic Development.
Due to the unique nature of construction projects, the Department of Economic Development will determine the eligibility on a case-by-case basis using the following criteria as a guide:
Small, independent businesses with less than 50 employees who have been adversely affected by construction from one of the four identified project areas.
The duration of the construction occurring near the business applying.
Proximity to construction, and severity of traffic disruption. Generally, businesses located within one-half block of construction site, or construction related street closure, or with construction directly in front of their business should apply.
Businesses who rely on foot traffic in the area to serve their customers may also apply.
Frequently Asked Questions (FAQ)
1. Who do I contact for information on applying for a grant?
What Construction Areas are covered by this grant for Fall 2022?
900 South, 900 West to 300 West
Start Date | Current
200 South, 200 East to 900 East
Start Date | Current
How will I know if my business is eligible for the Small Business Construction Mitigation Grant?
If your business has been at the current location for more than 6 months
If your small business has 50 employees or fewer
If your business is located within a one-half block of any of the construction areas listed in this grant
If your business has been negatively impacted by street closures and construction,
If you are a merchant in the restaurant, bar or retail space
You will likely qualify, and you are encouraged to apply.
How much is the grant and what can it be used for?
The grant is up to $2,000 per business. It can be used for the following business expenses:
Enhanced marketing
Advertising
Incentives for loyal customers associated with maintaining or growing your business.
Rent/lease/mortgage payments
How do I apply?
Businesses will be required to:
Submit an application online.
Send a copy of your current business license
Include your IRS W9 form filled out, and uploaded with application
Provide a copy of your Profit & Loss Statement for the month prior to the construction project starting in their area and the current month

If you are not able to access the online application or upload the required documents: 1) Print this application, follow instructions and 2) Mail it to our offices. Reach out to Andie Feldman (801) 535-6486 if you need more help.
---
About
The Construction Mitigation Program (CMP) allows Salt Lake City to help retain existing businesses as investments are made to upgrade the aging infrastructure around them. This is an important tool for the Economic Development Department to ensure local businesses can thrive through difficult periods of street closures and disruption.
Background
It is necessary for Salt Lake City to undertake major infrastructure projects that contribute to the City's overall economic development goals with long-term benefits. However, these major projects have the potential to impact nearby businesses. Any change in traffic patterns or parking availability can affect a small business. Mitigation activities are needed to measurably assist and maintain a healthy business community and viable tax base for the municipality. A City-funded program that provides financial assistance to businesses impacted by construction would allow the business to stay afloat during the construction period and for some time after until they can get operations and revenues back to pre-construction project levels.
Feedback from a previous construction mitigation loan program indicated that while a loan program was appreciated, many applicants were upset by the terms posed by the program since the City was putting undue hardship on the business and still making interest off this loan.
Below is a proposal for a grant program that is meant to be deployed quickly and does not require any repayment. This newly adapted program would create a tool used to mitigate the burden of major construction projects and ensure the small business community continues to thrive despite any major disruptions.
Funding Source
The City Council allocated $100,000 for this program in the FY 2022 budget with the potential to receive $100,000 depending on ARPA requirements. "New Contingent Appropriation – Small Business Outreach and Support". Allocation of $100,000 from the general fund to the Department of Economic Development's small business outreach and support program during the City's major capital projects is contingent on the Administration determining by August 31, 2021 whether the program is eligible for ARPA funding. If the program does qualify for ARPA, those Federal funds would replace a total of $200,000 general fund dollars, including the additional $100,000 which was approved in this budget to ensure that the program could begin immediately."