Enhanced transit services provided by Funding Our Future
More Transit. More Often. For More People.
Thanks to a Utah Transit Authority and Salt Lake City partnership, and community input, Routes 2, 9, and 21 are providing frequent, early morning, late night, and Sunday service. Take the Frequent Transit Network Survey to help us to continue to improve transit in the community and brand the Frequent Transit Network!
Salt Lake City's First Transit Master Plan
As outlined in the Salt Lake City Transit Master Plan, these three Frequent Transit Network (FTN) routes are the first phase in creating Salt Lake City's first Frequent Transit Network. New FTN routes will shift from the current hub and spoke system to a system that more closely matches the City's grid. This will improve connections to other bus routes and provide transit access everywhere in the City with just one transfer. This is the first step of many in creating a transit system that will work for everyone in the City.
Routes 2 (200 South), 9 (900 South), and 21 (2100 South) now provide:
A schedule-free option for riding the bus
7-day-a-week service
15-minute frequencies from 6 a.m. – 7 p.m.
Sunday service
Direct east-west routes
Faster connections
Service until midnight
Ride every day of the week with faster connections on Routes 2, 9, and 21!
Monday – Saturday
5 a.m. – 6 a.m.            Every 30 minutes
6 a.m. – 7 p.m.            Every 15 minutes
7 p.m. – 12 a.m.          Every 30 minutes
Sunday
7 a.m. – 7 p.m.            Every 30 minutes
Trip Planning Made Even Easier
Transit App
When will your next bus arrive? Use the Transit app to locate your bus, FrontRunner, or TRAX. It will help you plan your route, provide route-specific updates, and make first and last mile connections a snap by showing nearby e-scooter, GREENbike, and car-sharing services.
Download the app at: http://transitapp.com/download
For mobile trip planning and a how-to video, visit the UTA website.

---
Skip the Drive, Love the Ride!
The 2, 9, and 21 provide service that is so frequent (every 15 minutes during peak times), that you won't need a schedule. Other benefits of the enhanced services include:
Service provided early morning until late night and on Sundays.
Later service for East High and Highland High schools is provided by Routes 9 and 21.
Route 2 is now the quickest and easiest connection between FrontRunner and the University of Utah.
All three routes provide east-west connections.
Route 9 extends from Redwood Road, connecting Glendale and Poplar Grove neighborhoods to the east side of the City, and the University of Utah.
Easy and quick connections to north-south routes.
---
---
Ride with the Hive
The best way for Salt Lake City residents to take advantage of this improved transit service is with the Hive Pass . At $42 a month, this pass is the best transit deal available to City residents. To qualify for the pass you must live within City boundaries.
As an added bonus, the pass now includes a 1-year membership to GREENbike. Visit GREENbike for full pass details.
---
That's A Fare Question
Visit the UTA fare page for current fares, pass options and transfer information.
---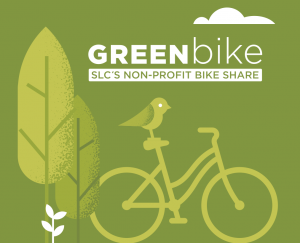 GREENbike
Looking to see the sights, get to a meeting, hustle back to your bus, or join friends for a bite? Grab a GREENbike and pedal on over. For just $7 your GREENbike will take you all over the City, for 24 hours, on as many 30-minute trips as your day and night allow! Annual membership is also an option. greenbikeslc.org
---
More transit. More often. For more people.
These expanded and frequent services are provided through a partnership of Salt Lake City's Funding Our Future initiative and UTA.
Salt Lake City Corporation 801.596.RIDE (7433)
Utah Transit Authority 801.743.3882
Funding Our Future