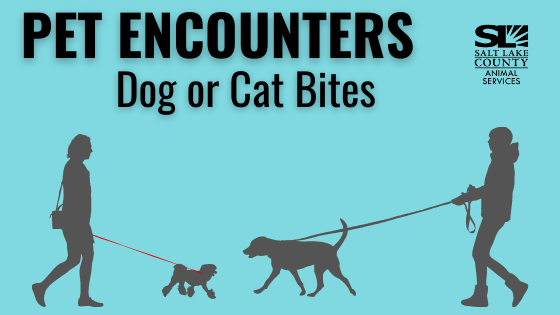 Courtesy of Salt Lake County Animal Services
You're on a walk in the neighborhood with your dog and they unexpectedly bite someone walking by or vice versa. What do you do? First, stay calm. Call Dispatch at 801-840-4000, and an Animal Control Officer will come help everyone involved. If either party is in a rush, exchange information so you can get in touch with the other person. Second, remain civil. This is a very upsetting situation for both the bite victim and the pet owner.
Why do I have to report the bite?
There are two reasons why bite reports must be filed. The first is rabies control. Our local public health authorities need to investigate if rabies could have been transmitted to the victim. Secondly, the health authorities track the data and trends in animal bites to people within the community.
If my pet bites me, do I still have to report it?
Yes, ALL BITES that break the skin must be reported.
If you have any other questions about Animal Control issues, please email animalcontrol@slco.org.