PROJECT UPDATE (updated 11/30/2021) – Learn more about the 900 South project and construction of the Central Ninth portion (300 West to West Temple) below. Check out the Phase 2 dropdown too.
Project Overview
Salt Lake City will reconstruct 900 South from 900 West to Lincoln Street (945 East) starting in 2021. As part of the project, the 9-Line Trail corridor will be an attractive, safe, and inclusive place for neighbors, businesses, and street users. A new trail will also introduce a walking and bicycling connection between east and west Salt Lake City, linking neighborhoods, business districts, and cultural destinations.
Learn more about the two phases of the 900 South project by clicking on the dropdowns below.
PHASE 1 900 South Construction - 300 West to West Temple (Central Ninth)
Project Hub
We recommend viewing the Project Hub below in its own window, on a larger screen like a computer or tablet. If you are viewing it on a mobile device, turn your screen to landscape view. Also the Hub works better if you click the links and images within it instead of using the side arrows.
Read the 9 Line Trail Extension Study from 2018 for more background.
---
Public Comment Responses
Check out public comment responses here.
---
How to Survive Construction Workshop
Thanks to everyone that joined the How to Survive Construction workshop! Check out the presentation slides from the workshop below.
---
Timeline
Construction on this section of 900 South began July 2021 and will continue through Fall 2022.
Construction Updates
Businesses along the 900 South corridor, from West Temple to 300 West are open for business, and signage indicates how to best navigate construction.
Construction will continue on the south side of 900 South until November 2021, and will then move to the center median in March through May 2022. Due to construction, there is no parking on the south side.
A minimum of one lane of traffic will always be open on the 900 South corridor, so you will always have access to the Central Ninth District. Construction on the north side of 900 South, will begin June through September 2022.
PHASE 2 900 South Design - West Temple to Lincoln Street (945 East)
900 South Open House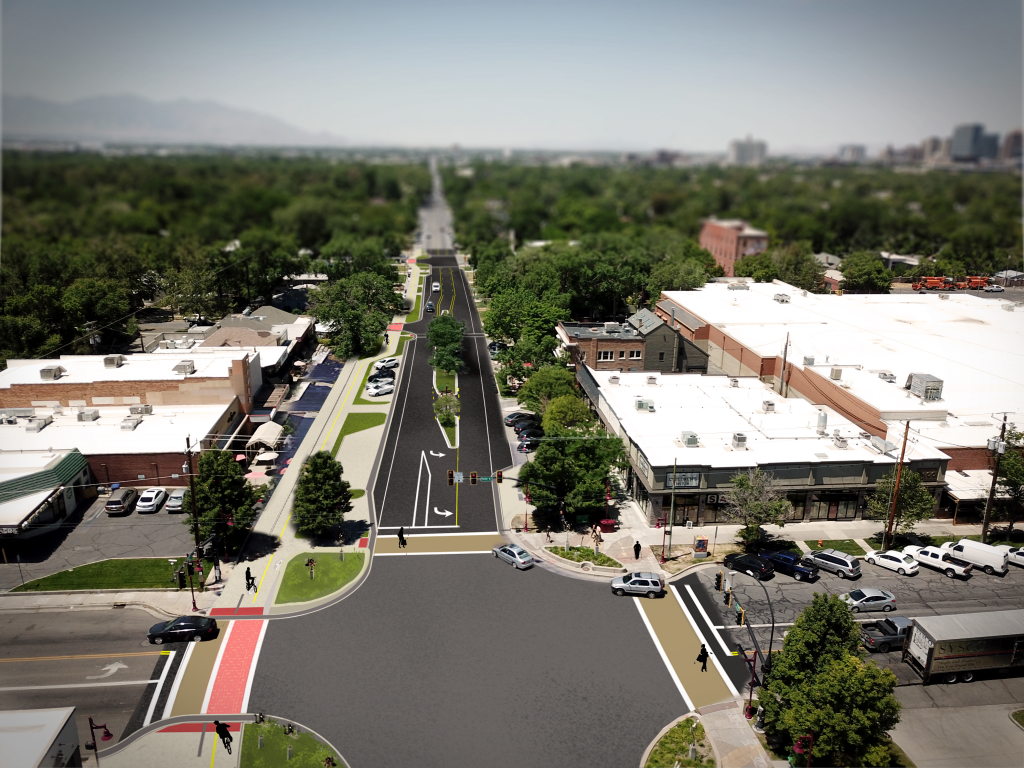 Review the 900 South Design
from 900 West to Lincoln Street
Design
Check out the Phase 2 design open house here!
900 South Maps
Take a more detailed look at all the improvements going in on 900 South
---
Timeline
Construction is scheduled to begin on the section of 900 South from 300 West to West Temple in July 2021. Construction on the rest of the corridor will continue until the end of 2023. However, construction will be staged to only impact portions of the corridor at any given time in order to reduce construction impacts to the community.
---
Funding
This project is valued at $19 million, and it will be financed via multiple sources of funding including an active transportation grant from Salt Lake County, RDA funds, the 2018 voter-approved Funding Our Future street reconstruction bond, and water and sewer funds (among others).

---
Project Contact Information
To contact us and sign up for email updates, send the team an email with the word "Updates" in the subject line or give us a call anytime.
Team Email: 900south@slcgov.com
Team Phone: 1-844-297-6884
Tom Millar: Transportation Planner | 801-535-6134
Josh Willie: Project Engineer | 801-535-6281
Hablar en español: Santiago Loaiza | 801-713-5256