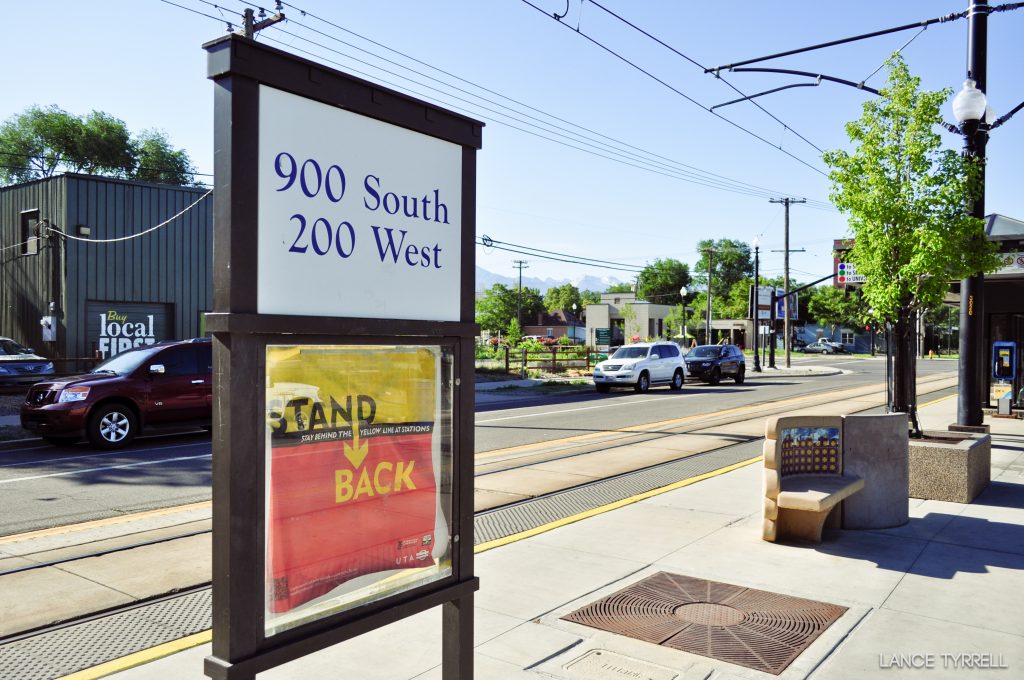 For project updates, please email info@slc900south.com or call 844-297-6884.
Construction Update (August 2023)
State St to 200 E: Landscaping work is continuing and installation of new roadway signage is expected to take place in early August.
200 E to 500 E: Demolition of curb, gutter, and driveways is ongoing. Roadway removal is also occurring. Underground utility work will take place in mid-August.
700 E to Windsor St: New curb and gutter has been installed. Pouring of new driveway accesses is ongoing, along with concrete work on the 9-line trail. Street lights are expected to be relocated in early August in addition with underground utility work.
9th and 9th Intersection: The 900 S 900 E intersection is expected to be closed as early as August 7 and will last approximately 30 days. Crews will be conducting demolition and replacement of the old roadway surface and also doing storm drain improvements to address flooding issues. Area businesses will remain open and will continue to be available for local and business traffic. Side streets will also remain open during construction.

Local traffic will be able to approach the intersection but will be directed to u-turn once they reach the intersection
Through traffic should use 700 East, 900 East, 1100 East, or 800 South as alternate routes.
Questions? View the detour map below or contact our public involvement team at 844-297-6884 or info@slc900south.com
More construction details are available below.
Project Overview
Salt Lake City will reconstruct 900 South from 900 West to Lincoln Street (945 East) starting in 2021. As part of the project, the 9-Line Trail corridor will be an attractive, safe, and inclusive place for neighbors, businesses, and street users. A new trail will also introduce a walking and bicycling connection between east and west Salt Lake City, linking neighborhoods, business districts, and cultural destinations.

---
Phase One: 300 West to West Temple (Central 9th)
We recommend viewing the Project Hub below in its own window on a larger screen like a computer or tablet. If you are viewing it on a mobile device, turn your screen to landscape view. Also the Hub works better if you click the links and images within it instead of using the side arrows.
---
Phase Two: 900 West to Lincoln Street (945 East)
Use the interactive photo gallery below to view renders of the completed project.
---
Learn More
Take a more detailed look at all the improvements going in on 900 South below.
900 South Maps
Traffic and Parking Study
Traffic & Parking Study
Download the traffic and parking study information for this project below. They include the data on the 2021-2023 project's impact on vehicular traffic and ideas for improving parking management. Note that a caveat on pages 3 and 17 explains that the proposed strategies and recommendations would only be possible with improved organization, finance structures, and staffing related to parking (and related infrastructure, management, and policies).
Public Comment Responses
Public Comment Responses
Check out public comment and project responses below.
9 Line Trail Extension Study
Project Timeline
Project Timeline
Construction began on the section of 900 South from 300 West to West Temple in summer 2021. Construction on the rest of the corridor will continue until summer 2023. However, construction will be staged to only impact portions of the corridor at any given time in order to reduce construction impacts to the community.
Funding
Funding


This project is valued at $19 million, and is financed via multiple sources of funding including an active transportation grant from Salt Lake County, RDA funds, the 2018 voter-approved Funding Our Future street reconstruction bond, and water and sewer funds (among others).
---
Team Talk Video (October 2020)
---
Construction Information
---
Contact Us
Team Email | 900south@slcgov.com
Team Phone | 1-844-297-6884
Transportation Engineer | Jeff Gulden | 801-535-6630
Project Engineer | Josh Willie | 801-535-6281
Hablar en español | Carlos Zavala | 385-267-0998
Social Media | @SLCmoves @SLCgov