PROJECT UPDATE (updated 9/1/2021) – Construction has started on the 300 West streetscape improvements, from North Temple to 1000 North.
300 West Streetscape Improvements:
North Temple to 1000 North
Project Updates
Construction activities will take place Monday through Friday between 7 am and 7 pm. You can expect increased noise, vibrations, and dust. There will be single lane closures as we work closely to the road. We appreciate your patience and flexibility.
Feel free to reach out with any questions or concerns you have. Thank you!
---
Project Overview & Timeline
The Salt Lake City Engineering Division is overseeing 300 West streetscape improvements, with anticipated completion by end of 2021.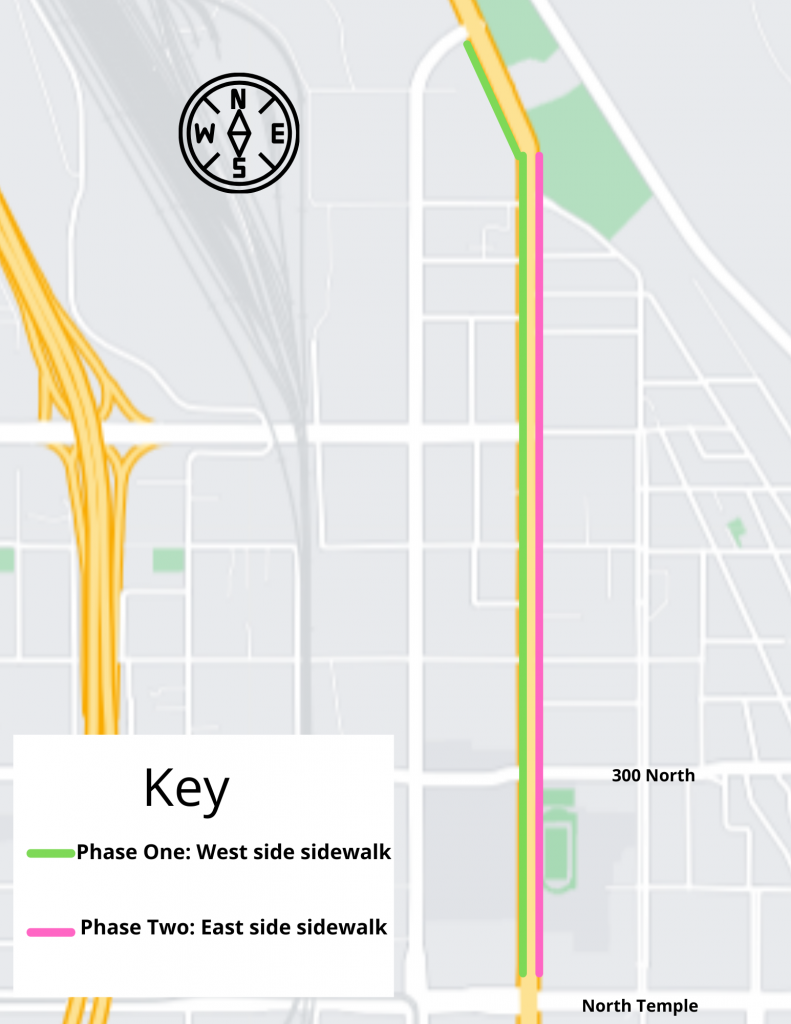 Project Timeline: September – December 2021
Phase One: Now-October 2021
Phase Two: October-December 2021
---
Project Background
Originally planned and designed as a smaller project, the Redevelopment Agency (RDA) of Salt Lake City's 300 West Streetscape Improvements has since been broken out into a larger project. The first part of this project was completed in 2014 and included the installation of landscaped median islands and pedestrian safety enhancements at multiple intersections, including curb extensions to shorten crossing distances, ADA ramps, and new signal push button poles with marked crosswalks. The latest part of this project will further these efforts with added curb extensions at seven intersections and one crossing near West High School, pedestrian crossing signals at 400 North and Reed Avenue, and a new park strip and other landscaping improvements to the north near Warm Springs Park. The project will also include UTA planned bus stop relocations and improvements that will greatly increase comfort and ADA accessibility for transit users.
---
Funding
This project is funded through an RDA investment of approximately $3.2 million (over all phases).
---
Contact Information
Email: dang.quach@slcgov.com
Dang Quach, Construction Project Engineer: 801-535-6696
Social Media: @SLCmoves @SLCgov