COVID-19 – Streets Division administrative staff are currently working remotely while maintenance crews continue working in a reduced capacity. Streets crews and staff are focused on maintenance items which can be done effectively while maintaining social distancing protocols.
If you have any questions, please call us at 801-535-2345 or email mystreet@slcgov.com
Concrete Replacement
By City ordinance (14.32.300), the repair or replacement of deteriorated sidewalk, drive approach, and curb and gutter in the public way is the responsibility of the adjacent private property owner.  Property owners can hire a contractor to accomplish the required concrete repairs, which requires a permit to work in the public way, or property owners can take advantage of the 50/50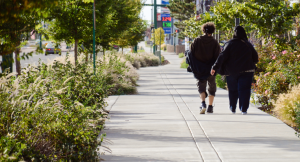 concrete program.
50/50 Concrete Program
The 50/50 concrete program is a cost-sharing program that splits the actual cost of replacement between the adjacent residential property owner and the City on a 50/50 basis.  For a commercial property the owner would pay 100% of the cost.  Both programs replace deteriorated concrete sidewalks, drive approaches, and curb & gutter.  Property owners must pay for the work before the start of construction. Construction estimates are provided without charge and work is scheduled on a "first come first serve" basis. Further information can be obtained by emailing Andy Bath at andrew.bath@slcgov.com or calling 801-535-6934.
Community Development Block Grant (CDBG) Concrete Replacement
These federally funded concrete replacement projects are accomplished with no cost to the adjacent private property owner; however, funding is limited and work can only be accomplished in defined target areas based on federal guidelines and defined in the Salt Lake City 2015-2019 Consolidated Plan.  Further information can be obtained by contacting Chris Norlem at chris.norlem@slcgov.com or (801) 535-6289.
Roadway Markings & Traffic Signs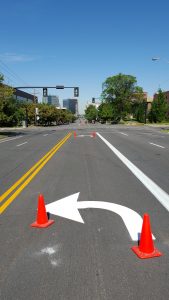 Crews maintain and install traffic signs and roadway markings throughout the City for the safe movement of vehicular and pedestrian traffic.  The traffic signs group inspects and prioritizes sign maintenance and replacement for all city street signs annually. This work group manufactures and installs all City signs.  The traffic markings group uses specialized painting equipment to apply over 13,500 gallons of paint and 68,950 pounds of reflective beads annually.
For issues related to maintenance call: 801-535-2345
Road Reconstruction, Treatment & Repair
Asphalt Repair & Treatment
Asphalt maintenance crews perform repairs and surface treatments on 1,850 lane miles (approximately 118 million square feet) of City-owned roadways, including activities such as chip, fog and slurry seal surface treatments, crack sealing, level patching, pothole repair and asphalt surface milling.  The type of surface treatment a road will receive is determined by the City's Engineering Division, Pavement Management.
For issues related to maintenance call: 801-535-2345
Pavement Management
The Pavement Management team collects and analyzes data to determine the most cost effective maintenance strategy for the City's roadway network.  The team uses an inventory database to store condition, construction, and maintenance information on a street network of 1,850 lane miles.  Road conditions are evaluated by field inspection and automated pavement surveys and the data determines the type of maintenance plan each road receives.
Pavement Reconstruction
Pavements that have exceeded their functional life are programmed for reconstruction through the City's Capital Improvement Program.  As with pavement overlays, ADA ramps are installed and drainage impeding damaged curbs are repaired on all reconstruction projects.
Further information regarding Pavement Management can be obtained by emailing David Jones at David.Jones@slcgov.com.
Snow Removal
The snow removal program provides Salt Lake City with a safe, reliable and efficient travel network for all modes of transportation during adverse weather conditions. Crews perform snow removal on 1,850 lane miles (approximately 118 million square feet) of City-owned roadways within 36 hours of a storm. In addition, crews provide snow removal on 7.8 miles of viaduct sidewalks.
The Public Services Streets Division is dedicated to keeping the City's streets safe and passable during the winter storm season. Our snow removal program holds itself to a high service level standard of resolving snow and ice events within a 36-hour time period after a snow event. Please visit the following links for helpful tips and information regarding snow removal in Salt Lake City.
Snow Removal GPS Tracking click here
Snow Removal Priority Map click here
Snow Removal Information & Facts click here
How Can You Improve Snow Removal Efforts? click here
For issues related to maintenance call: 801-535-2345
Streets Response Team
Salt Lake City Streets Division
The Salt Lake City Streets Division provides snow and ice removal, roadway maintenance, concrete replacement, roadway striping, and repairing and replacement of street signs and signals.
Service hours: 8:00 a.m. to 5:00 p.m., Monday through Friday
Request service or report non-urgent issues: slc.gov/request-report/
Report Urgent Streets Issues After-Hours
The following situations may be considered urgent and require attention after service hours:
Damaged or downed regulatory signage
Snow and ice complaints after a storm
Roadway and sidewalk hazards
Traffic signal problems
Safety related items in the public right of way
To report any of the above issues after regular service hours, please click here to contact the SLC Streets Response Team. Report non-urgent issues and request service at slc.gov/request-report/ or contact the Streets Division during regular service hours.
Street Sweeping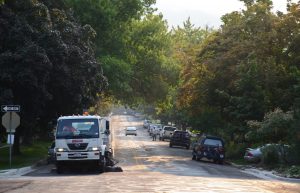 The City street sweeping program keeps dirt, leaves and pollutants from reaching the storm drainage system. Sweeping also provides a clean, well presented City. This program responds to routine, emergency and special request sweeping.
Salt Lake City Street Sweeping Provides the Following
Sweeps 29,800 average curb miles annually
Averages 9 citywide passes annually
Supports special events and parades
For issues related to maintenance call: 801-535-2345
Traffic Signals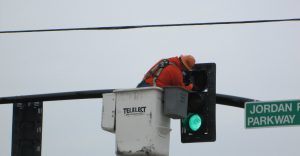 The traffic signals group maintains, repairs and programs all of the signals, crosswalks and electronic traffic control devices in Salt Lake City not including State owned roads. This group is involved with design, review and inspection of new signal projects.
For information on signal timing click here
For issues related to maintenance call: 801-535-2345
Water, Sewer, and Stormwater
Report a water, sewer, or stormwater emergency to Salt Lake City Public Utilities 24-hour dispatch line: 801-483-6700.
Full contact information at slc.gov/utilities.