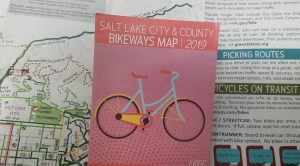 This comfort-rated map of the whole Salt Lake Valley will help you select routes for commuting or recreational rides, or to connect to TRAX, mountain bike trails, or other community destinations.  The map features safety information, riding tips, and resources that will help you keep spinning happily on your way.
Special geographically-referenced PDF files (below) work on a smartphone with your built-in GPS to show you where you are on the map! Search in the App Store or Play Store for "Geo PDF" or "PDF map" to find applications that can perform this function.
Get a free printed map from:
Local bike shops in Salt Lake County
Salt Lake City & County Building Info Desk, 451 South State Street (2nd floor)
SLC Transportation Division, 349 South 200 East, Suite 150
University of Utah Sustainability Office
other municipal offices around Salt Lake County
Maps available at the SLC Green booth at summer fairs and events.
Thanks to funding partners for the 2019 map:
Looking for bikeway data?
Here is the GIS data for the Salt Lake City bikeways.  This data includes both facilities and comfort ratings.  County data not yet available as the map view is cobbled together from several sources. 
Comments for the next edition?
Please send suggestions to bikeslc@slcgov.com