Impacts
Finance functions of Workday include Budget, Core Financials, Expenses, Procurement, Inventory, Grant Management, and Project Management. We won't know specific changes or impacts until late November after the system has been designed and tested. At a high-level, though, employees can expect to use Workday for the following financial- and payroll-related activities starting March 2023:
Entering time
Approving time sheets
Downloading W-2s
Viewing pay stubs
Updating direct deposit information
Checking vacation and personal leave balances
---
key dates
Please note: Due to the nature of large-scale technology implementations, the following dates are subject to change and will be updated accordingly.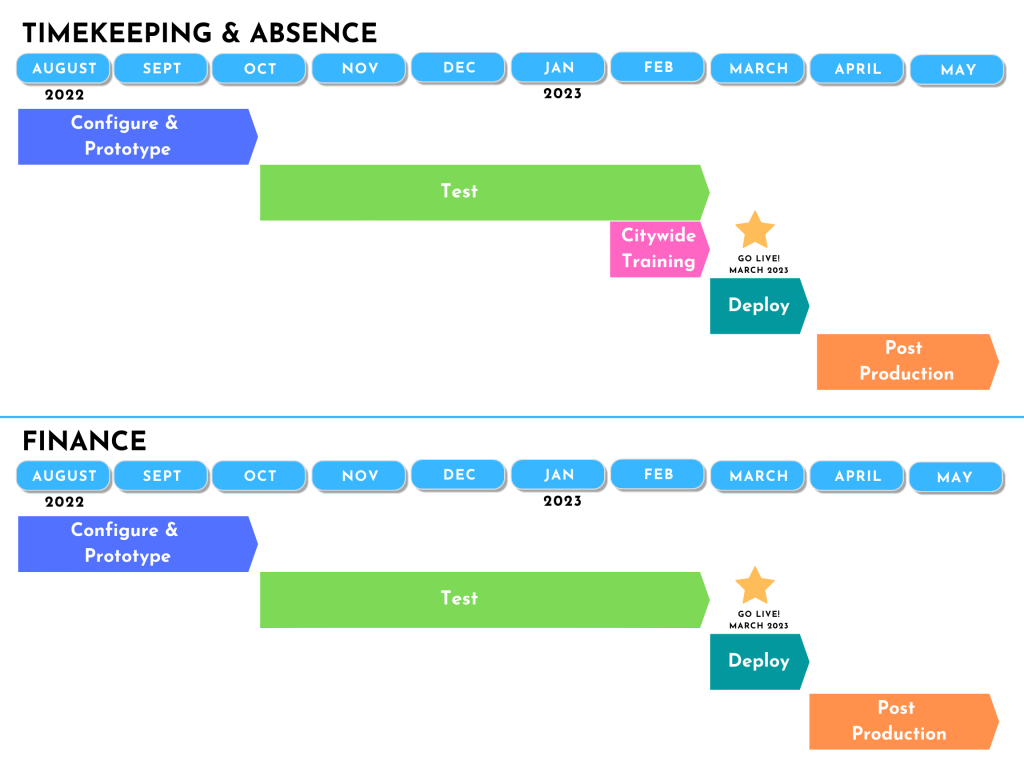 Payroll & timekeeping
March 2023: City employees will start using Workday to track their time.

Police and Fire will continue using TeleStaff for timekeeping.
March 2023: The first paychecks to come out of Workday will be paid out
Finance
April 6, 2022: The financial phase of the project kicked off
April-May 2022: City staff from many departments meet with Avaap consultants to design the system to meet our needs
June-December 2022: Avaap builds the system using the design criteria defined by City staff
January – March 2023: City staff test the system and make improvements where needed; all staff receive training
March 2023: Go-Live
---
Technology Changes
Workday IS replacing:
OneSolution
Airport Budgeting Program
Airventory
Cornerstone
200 Edits
Kronos
Payroll Administration (25+ programs)
Bank Access
Cashiering System (new system called Teller implementing 2023)
TM1/Limelight
CAMP
EDS
POPS
Wire Transfer
Cognos
Checksuite.
*This is not an exhaustive list.
Workday is NOT replacing:
Accela
Active Directory
Cartegraph
Laserfiche
Salesforce
ServiceNow
PUBS.
Telestaff
PEHP
Corestream
URS.
Revenue Management at Airport and Public Utilities
Investment Management