Salt Lake City
SLC Counts 2020
Our communities matter – make sure they're counted in the 2020 Census
About
Welcome to SLC Counts 2020 – Salt Lake City's effort to make sure a fair and accurate count of all city residents is conducted in the 2020 Census.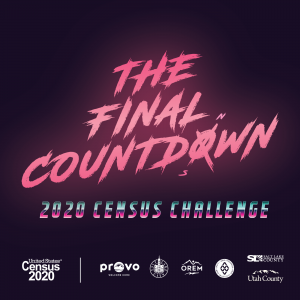 Can We Count You In?
In a North vs. South match-up, this challenge pits Salt Lake County (Salt Lake City and West Valley City) against Utah County (Provo and Orem), with each competing to raise their census response rate the most from June 1 through June 30.
Join this fun and friendly competition to ensure all of Salt Lake City residents are fairly and accurately counted in the 2020 Census. SLC needs to reach 69% or better to win!
Challenge Dates: June 1 – June 30
Challenge Goal: Increase current participation rates by 5%
For the Win: Both counties have selected to support their local Utah Community Action Food Bank. The "losing" cities will send volunteers to support the winning county's food bank. The winning city will get bragging rights for the next decade.
The first round of trash talking starts with a video that feature Salt Lake City Mayor Erin Mendenhall and other local leaders. Watch here.
Represent SLC!
From June 1st – 30th, community members can participate by completing their 2020 Census and can track our city's progress at https://2020census.gov/en/response-rates.
How To Participate
Complete the Census now!
· Online at my2020census.gov
· By phone in English by dialing 844-330-2020 or Spanish at 844-468-2020. You're also able to complete the census in 12 other languages.
· By Some households may have received a paper questionnaire by mail. Even if you receive a paper questionnaire, you can still respond online at my2020census.gov.
If you have already responded to the 2020 Census—thank you! Your response helps shape your future and the future of your community. If you have not yet responded yet there is still time.
Win or lose, the entire state of Utah benefits when you complete the 2020 Census.