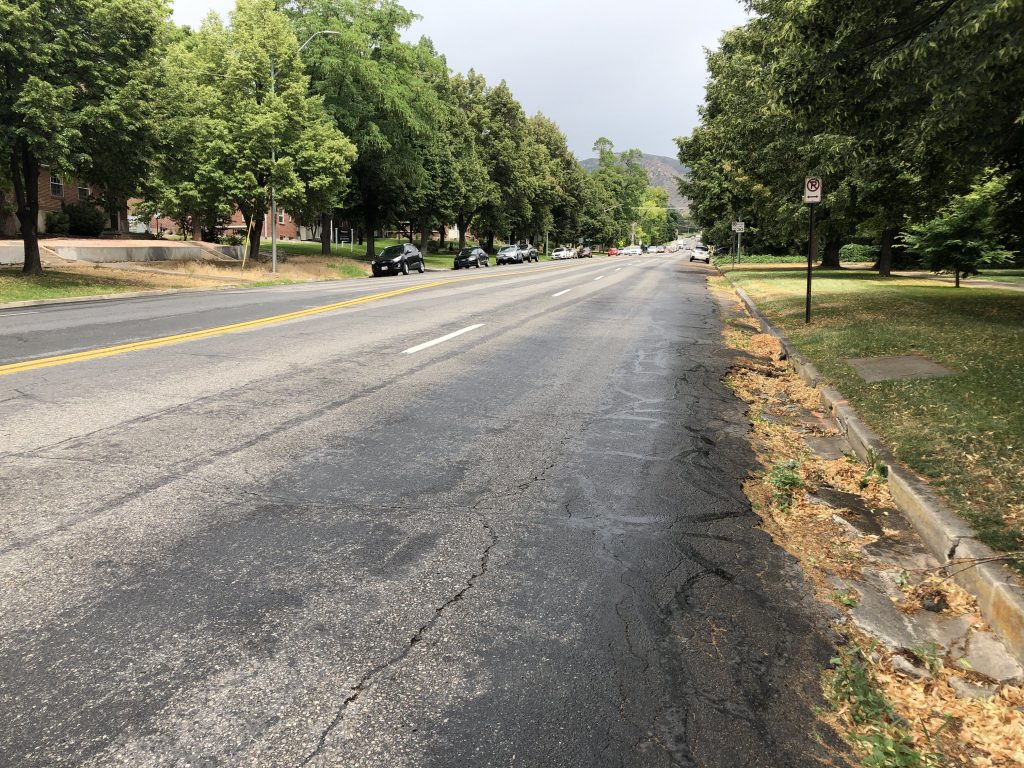 100 South Reconstruction
900 East to University Street
PROJECT UPDATE (updated 5/10/2021) – Construction started in June of 2021, and is planned to wrap up by mid summer 2022. Learn more about the project below.
Project Overview
Salt Lake City will reconstruct 100 South in summer of 2021 (starting on June 14th) to address failing pavement conditions and replace the storm drain and curb and gutter along the corridor. Some sections of sidewalk and driveway approaches will also be reconstructed. When complete, there will still be two lanes of traffic in each direction. Concurrent with construction, some public utilities improvements are also planned, including replacement of some sections of the water main and slip lining the existing sewer line to extend its service life. The location of these activities will be confirmed later this spring.
The project will also address some of the safety concerns we have heard from the public, primarily by shortening crossing lengths with the use of "bulb-outs." Bulb-outs are widened sections of curb on either side of a crosswalk that shorten the walking distance for pedestrians and help slow cross-traffic. This project will install bulb-outs on the east side of Lincoln St. and all corners of 1000 East and 1200 East. The intersection of University Street and 100 South will be fully reconstructed to improve safety. Changes include wider corners to better align the traffic lanes from east to west, bulb-outs to shorten the crossing lengths, new traffic signals and some additional trees and landscaping. The realignment of the intersection will remove the dedicated right-turn lanes currently on the north and east legs. This small change may add a few seconds of additional travel time, but offers a significant reduction in the potential for pedestrian/auto crashes. The mid-block crossing at McClelland Street will also be improved with a raised center median, trees and new paint to make it more visible to cross-traffic. An additional pedestrian call button will be added in the center as well.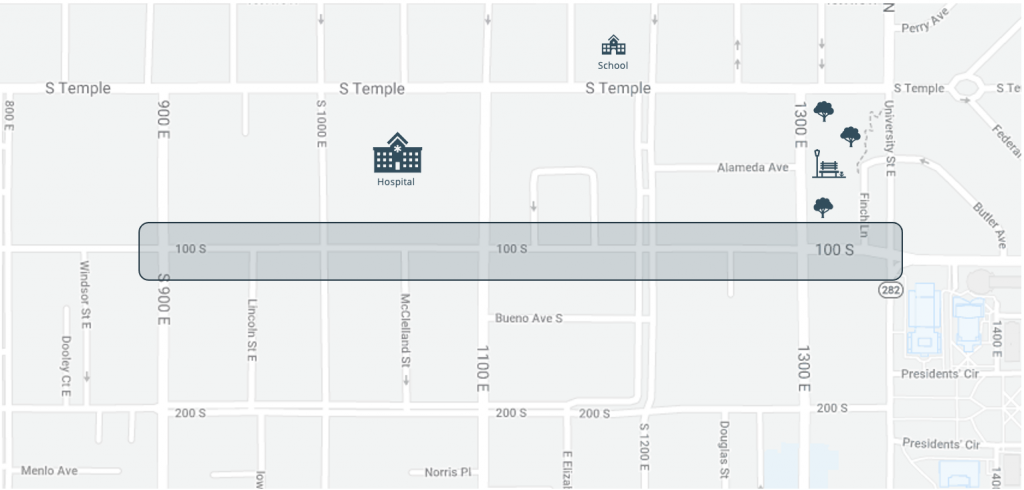 ---
Street Design

---
Project Timeline
Fall 2019/Early 2020 – Community outreach, input gathering, and draft conceptual design development
Winter/Spring 2020 – City design team develops engineering
drawings based on the conceptual design.
Fall/Winter 2020 – Final design. See what the street will look like.
Spring 2021 – Contractor Selection.
Summer to Fall 2021 – Construction.
Further information on the construction timeline and impacts will be available on this webpage as we get closer to construction.
---
Project Update – Construction Wrapping Up in November 2021
Things to know
– Utility/waterline installation on 1300 East should take about two weeks then the project will switch to paving and landscaping.
– Please drive slowly and safely through the construction zone! We want to keep everyone safe.
– Expected project completion by mid-November 2021 (weather permitting).
---
What We've Heard
Preliminary design plans have been completed based on public input, City master plans, as well as traffic and corridor analyses. Click below to download the 100 South survey raw data.
---
Funding
This project is funded through the 2018 voter-approved Funding Our Future street reconstruction bond.
---
Contact Information
Project Email: 100south@slcgov.com
Project Hotline: 801-420-3114
Jena Carver, P.E., Transportation Engineer: 801-535-6694
Josh Thompson, P.E., Construction Project Engineer: 801-535-6177
Social Media: @SLCmoves @SLCgov | #100SouthSLC
Tags: 100 South, Funding our Future