PROJECT UPDATE (updated 8/31/2021) – We have weekly updates on the construction schedule below. For more information on the East-West Water Line, visit https://www.slc.gov/utilities/east-west-water-line/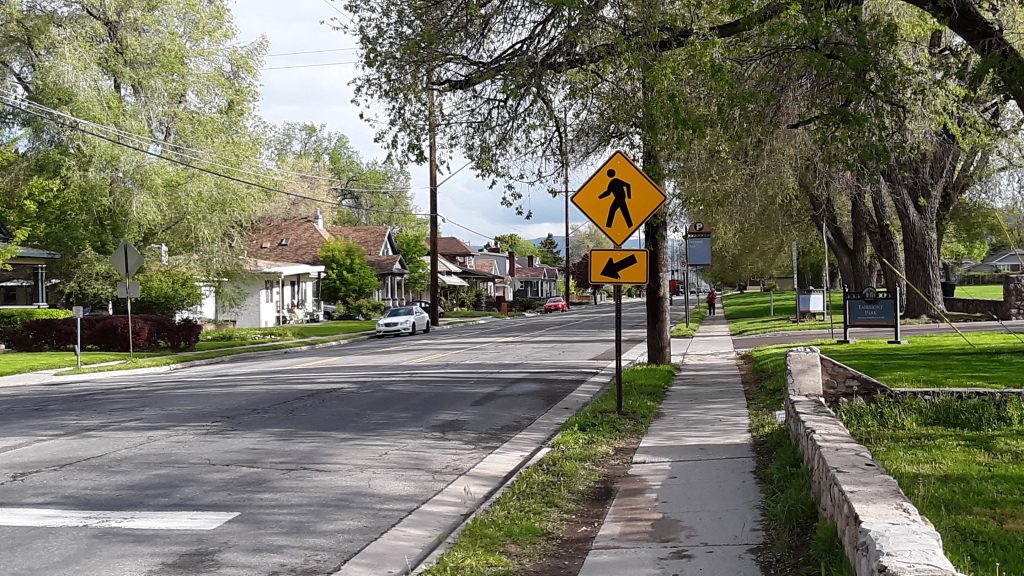 900 East Reconstruction:
Hollywood Avenue to 2700 South
Project Updates
Work Activities
Crews will begin work in the median as they work on rehabilitating the sewer line and improvements to the storm drain. Construction activities will take place Monday through Friday between 7 am and 7 pm. You can expect increased noise, vibrations, and dust. Crews will be maintaining work zones on each side of the roadway. These traffic shifts will be ongoing throughout construction season.
Weekly Update 8/31/2021
We have several crews coming on site this week, work will include:

– Fairmont Park access from 900 East remains closed. This is to accommodate the pouring of the new driveway.
It will re-open for Labor Day weekend and then close for one final concrete pour.
It is anticipated to fully re-open on Thursday, September 16, 2021.
– Removal and replacement of sidewalk, drive approaches, and curb and gutter from 2700 S to Hollywood Ave.
The sidewalk will be closed. 
Concrete removed will be replaced within 48 hours or filled with gravel for temporary access. New drive approaches cannot be driven on for 7 days, cars will have to be parked on side streets during that time. 
– Reconstruction of east lane of 900 E. 
The east lane will be completely closed while crews install a new bike lane and new curb and gutter.
Driveway and business access will be maintained unless there is concrete being poured directly in front of property. You will be notified if this is taking place.
Be aware of a up to 6" drop off in the road, digging, and open utility holes in the construction zone. 
Cleanout boxes are being reconstructed in the work zone, watch out for holes.
– Relocation of fire hydrants and water services along 900 E.
Due to the city improvements being constructed several water services and hydrants will be relocated. 
Any water shutoffs will be coordinated with the city and residents will be given 24–48-hour notice. Expect 12-hour shutoffs. 

We appreciate your patience and flexibility. Feel free to reach out to the project team with any questions or concerns you have. Thank you!
Parking & Access
· On-street parking will be restricted at all hours during construction. Cars remaining in the construction zone will be towed at owners expense.
· Residential and business access will be maintained.
· A number of driveway approaches and curb and gutter segments will be repaired with this project.
· Crews will notify impacted residents before access to driveways is restricted due to construction activities.
Traffic & Safety
· One lane of traffic will be maintained in each direction. Medians and shoulders on the roadway will be closed throughout construction.
· Drivers are encouraged to use 700 East or 1100 East as an alternative route.
· Travelers in the area are advised to follow instructions from signs, flaggers and equipment operators.
· Drivers in the area are advised to travel safely, watching for construction workers, other drivers, and pedestrians in the area.
· 24-hour notice will be provided prior to any utility service interruption
---
Other Area Projects
East-West Water Line Project – Salt Lake City Department of Public Utilities will be installing a large diameter water line from Forest Dale Golf Course along 900 East to Ashton Avenue. This work began in May 2021.
Dominion Energy will be relocating a gas line on the west side of 900 East from Hollywood Avenue to 2700 South. A schedule for this work is pending.
---
Project Overview
The Salt Lake City Engineering Division is reconstructing 900 East from Hollywood Avenue to 2700 South. Construction began on May 3, 2021, with anticipated completion Fall 2021.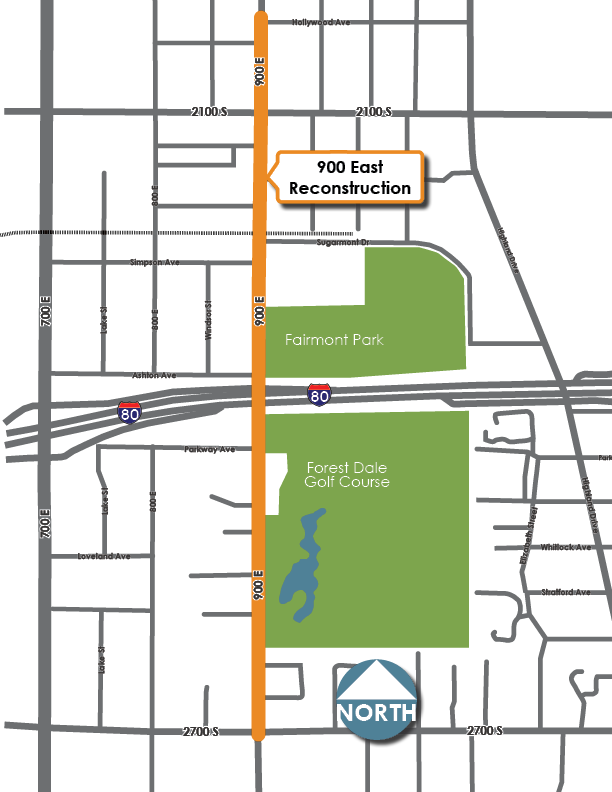 ---
How to Survive Construction Workshop
Thanks to everyone that joined the online How to Survive Construction workshop! Check out the video recording of the workshop below.
---
Street Design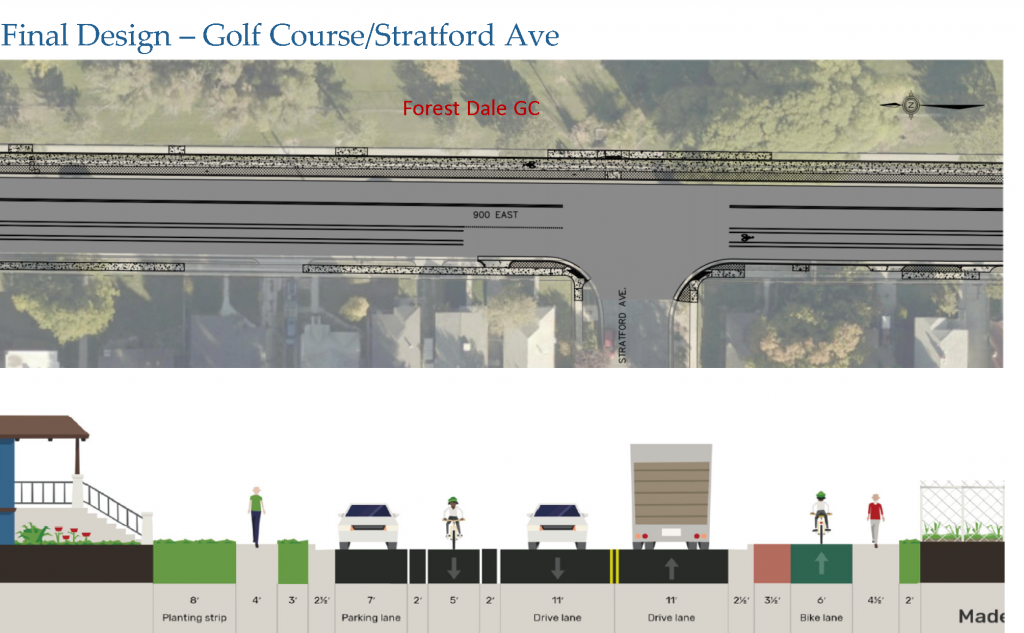 Project Materials
---
Funding
This project is funded through the 2018 voter-approved Funding Our Future street reconstruction bond.


---
Contact Information
Project Email: 900east@slcgov.com
Project Hotline: 801-210-8433
Jena Carver, P.E., Transportation Engineer: 801-535-6694
Ramin Nasrabadi, P.E., Construction Project Engineer: 801-535-7248
Social Media: @SLCmoves @SLCgov | #900EastSLC
Tags: 900 East, Funding our Future