Pop-up Street Design
August 2018 Update: Salt Lake City is pleased to present the "Pop-up Intersections Graphic Summary Report", based on the traffic data (from 900 South) and public feedback collected and analyzed before, during, and after the May 2018 pop-up intersections at the 900 South, 1100 East, & Gilmer Drive intersection.
What is a "pop-up"?
Also known as tactical urbanism and test or demonstration street designs, "pop-ups" are temporary and short-term street design trials. They use materials like cones, plants, paint, and art, and help planners, engineers, and neighbors to:
Visualize safer streets
Collaborate in the design process
Test and collect data about designs in low-cost, low-consequence environments
The City is currently developing a "pop-up" policy document for improved implementation for future projects, including those initiated by the community.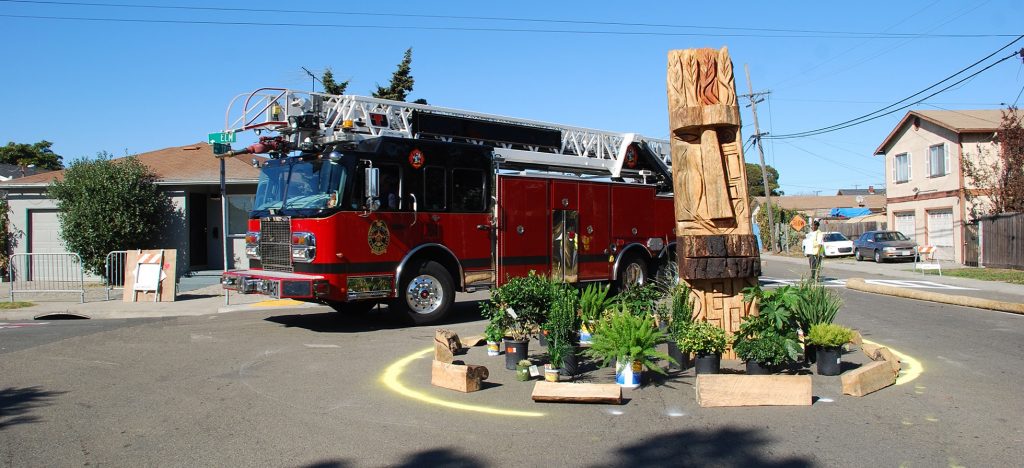 Roundabout "pop-up", tested by a fire truck, in California
900 South Pop-ups (2018)
August 2018 Update
Salt Lake City is pleased to present the "Pop-up Intersections Graphic Summary Report" , based on the traffic data (from 900 South) and public feedback collected and analyzed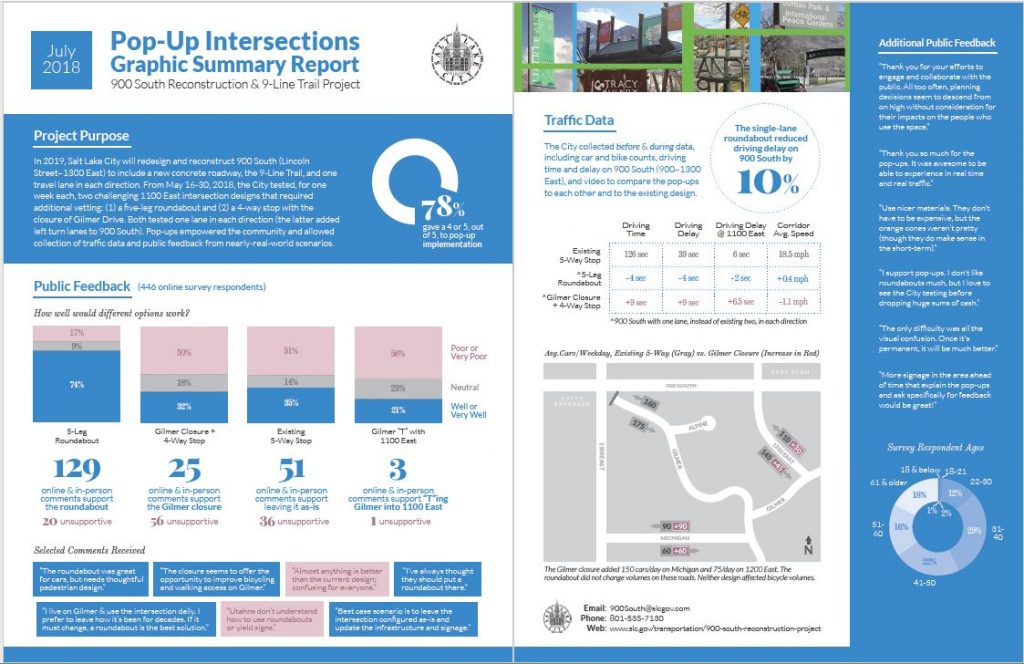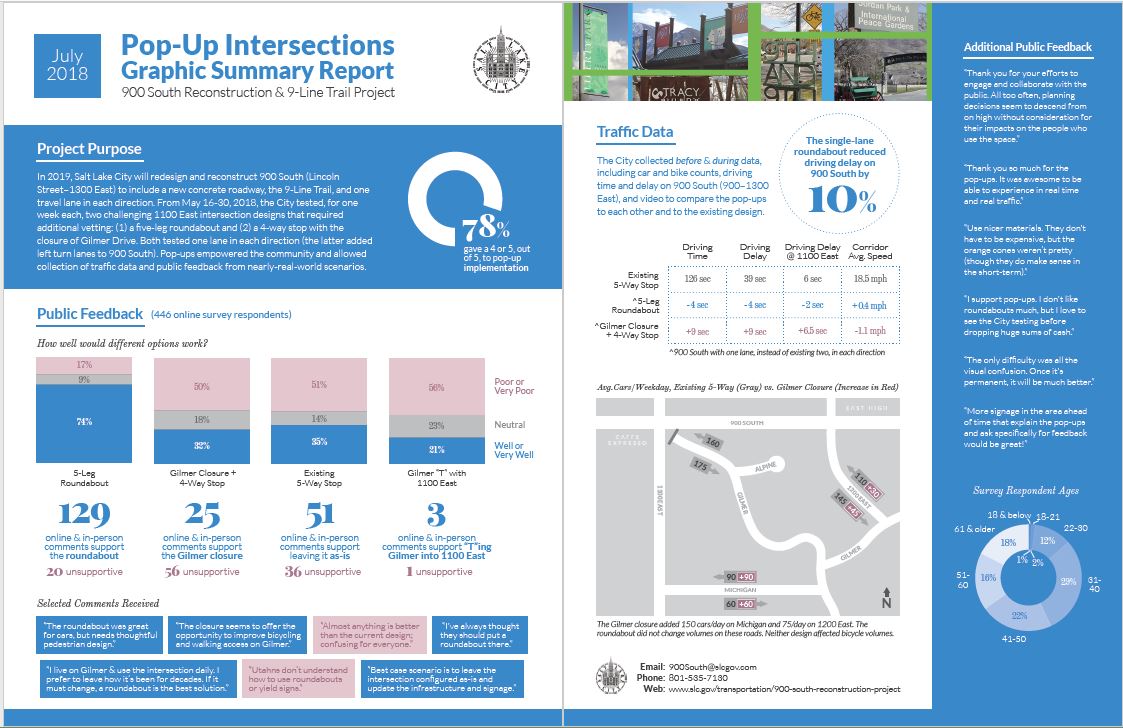 before, during, and after the May 2018 pop-up intersections at the 900 South, 1100 East, & Gilmer Drive intersection.
Brief snippets from the report include:
Nearly 500 people took the online survey, and staff talked with 100-150 in-person.
Survey respondents represented a wide and representative swath of age groups.
78% of survey respondents gave pop-up implementation a 4 or 5, out of 5. For the most part, those surveyed supported the pop-up concept. Some desired more aesthetically-appealing materials, less visual confusion, and more signage about how to use them and how to provide feedback.
The design option with the most positive responses was the single-lane, five-leg roundabout, with the caveat that any permanent design slow speeds, prioritize pedestrians, and include education.
During the closure of the western entrance/exit of Gilmer Drive (May 23-30), the two streets monitored in the Gilmer Park Historic District experienced an additional 75-150 additional cars per street per weekday.
The single-lane roundabout reduced driving delay on 900 South (900 to 1300 East) by 4 seconds, or 10%, compared to the existing design (two lanes in each direction with left turn lanes on 900 South).
The City is currently using the data from the pop-ups and on-going conversations with the community to develop intersection and corridor design options, available at the end of August. All are invited to the next in-person opportunity to discuss and recommend changes to the design.
For more information about the 900 South project, visit the project webpage.
May 2018 Update
How and when will it be implemented?
For two weeks, beginning Wednesday, May 16th, the 900 South, 1100 East, & Gilmer Drive intersection will look and function differently than normal. There will be one travel lane open in each direction on 900 South. Motorists should be increasingly aware of people walking and bicycling as they may be in different crossing locations than normal. After May 30th, the intersection and roadways will return to their existing designs and functions.
May 16th – 23rd, 2018 // 5-Leg Roundabout: Roadway users will use the roundabout conventionally: counter-clockwise circulation, yielding to traffic from the left and to all persons walking or bicycling. All legs of the intersection will be under yield, and not stop, control. Traffic exiting Caffé Expresso will be allowed to turn right (eastbound) only and will use the roundabout to perform a "U" turn. Gilmer Drive will be open during this first "pop-up". People bicycling eastbound will enter the pedestrian crossing area before the intersection and use the crosswalks to access eastbound Gilmer Drive.
May 23rd – 30th, 2018 // Gilmer End Closure: The City will test a motor vehicle closure of the western end of Gilmer Drive. All residents will be able to access their homes, but from the south and east. "Roadway Closed" signs will be present at three locations on lower Gilmer, two of which will be passable for local residents. For trash pick-up on May 28, the residents who live on Gilmer west of Alpine Place will put out and retrieve their cans on the south/west side of Gilmer across from Alpine Place (see map for a visual of this). The 900 South & 1100 East intersection will function as a four-way stop, with the painted stop bar and stop sign on northbound 1100 East temporarily moved farther north. People bicycling eastbound will be in a temporary bike lane and will enter the crosswalk and closure area after crossing 1100 East.
Why is the City doing these "pop-ups", or tests?
At a February 2018 Open House about the 900 South Reconstruction & 9-Line Trail project, as well as during an accompanying online survey, Salt Lake City staff heard a desire from residents for the City to consider several different designs at this intersection that had not been proposed by the City. This started a months-long public engagement process aimed at empowering community members and their ideas, and involving them in the project design process. Salt Lake City Transportation and Engineering Division staff worked with residents, businesses, Fire Department, Waste Management, and the Utah Transit Authority to develop processes and designs for three "pop-up" intersection options: 1) a western end closure of Gilmer Drive (east of 1100 East), 2) "T"ing Gilmer Drive into 1100 East south of the existing intersection, and 3) a five-leg roundabout.
Cones and plants were used in this example from Ithaca, NY Traffic cones and straw rolls are common in "pop-ups"
The City hosted a second open house (30 attendees) and online survey (146 responses) in April 2018 to present the three "pop-up" design alternatives and allow the public to choose which two the City should test during two weeks in May. The most requested option was testing the closure of Gilmer followed closely by a five-leg roundabout.
To view the materials from the April 19th Open House at Tracy Aviary Chase Mill, please click here.
How will the City let people know what is going on? How will the public be involved?
The City is spreading the word and collecting public feedback via this webpage; an online survey; door-to-door flyers; a press release; informational yard signs in the park strips on all three streets; and several in-person opportunities:
"Meet on the Street" – May 17th, 18th, 24th, and 25th from 6:00 to 7:00 pm: Informal gatherings will give community members an opportunity to discuss the "pop-up" designs with project team members and with each other. They will be held on-site during the Thursday and Friday evenings of each "pop-up".
Door-to-door discussions – May 31st and June 1st: Members of the City's project team will canvas the neighborhood during the two days following the end of the Gilmer Drive closure "pop-up" to discuss with residents and businesses impressions from the tests, including what was good, what could be changed, and how the City can improve outreach and involvement in the future.
How will the City measure the effects of the "pop-ups"?
The City will use results from the online survey, in-person discussion opportunities, and video survey analysis to determine the effects, both positive and negative, of the "pop-ups". These sources will allow the project team to make informed and data-driven decisions about intersection design trade-offs and benefits for inclusion in the final design. The City will communicate these findings and decisions back to the public through the same channels as have been utilized since the beginning of the project.