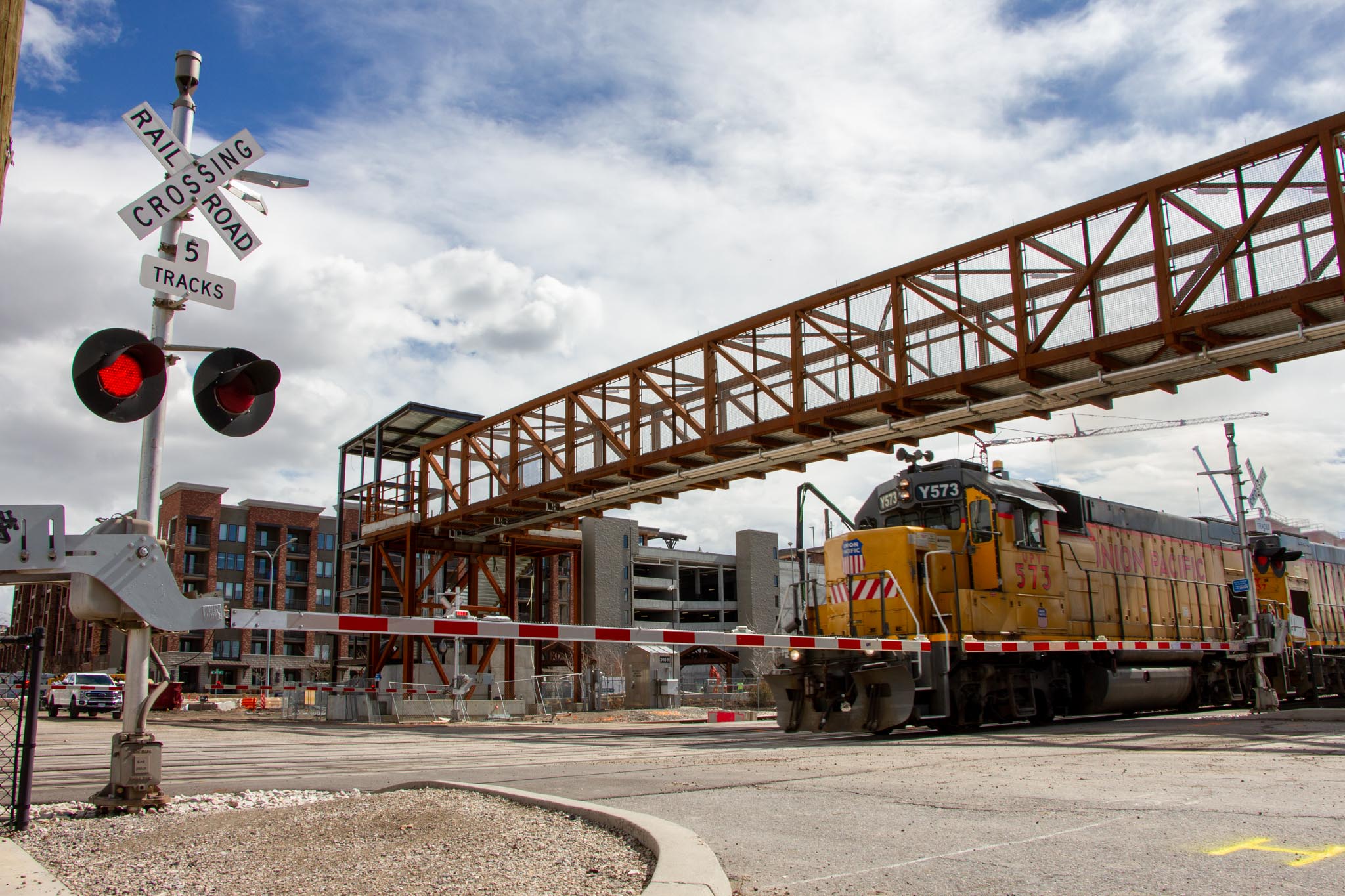 300 North Bridge
Project Update (updated 11/18/2021) – Final design is complete and the project has started construction!
Project Overview
A new walking and bicycling bridge over the railroad tracks at 300 North (and approximately 500 West) has started construction!
Salt Lake City is partnering with the Utah Transit Authority (UTA), Union Pacific Railroad (UPRR), Wasatch Front Regional Council (WFRC), the Utah Department of Transportation (UDOT), and community groups to build a safe connection for walking and bicycling that also reflects community character and needs. The bridge is being funded in part by these partners and in part by a federal TIGER grant. The total project budget is roughly $8.5 million, and design details and features desired by the community will be determined primarily by the budget.
During construction, those walking and bicycling will be able to travel along 300 North at 500 West, but only on the north side of the road. For your safety, please do not use the sidewalk on the south side of 300 North in the construction zone. Use caution as you approach and cross the railroad tracks on the north side of 300 North.
Project Background
300 North is an important connection for West High School students, Marmalade Library patrons, neighbors, commuters, and people bicycling. 300 North crosses five rail lines, including three owned by Union Pacific Railroad (UPRR) and two by UTA (FrontRunner). Because freight trains frequently stop or move slowly in this area, long delays, often over an hour, are common. These delays disproportionately affect West High students and residents who live west of 500 West. People walking and bicycling will sometimes illegally cross the tracks and through or under the train cars. This is especially hazardous with possibly unseen high speed trains passing on adjacent tracks. In addition, the nearest reasonable detours for walking and bicycling are far enough away that they are not considered feasible alternatives.
The walking and bicycling bridge will enhance mobility and safety by providing a means to cross the tracks safely and without undue delay.
Project Goals
Improve safety for walking and bicycling on 300 North near the railroad
Connect westside and downtown communities
Enhance connectivity, particularly to West High and for youth
Project Timeline
Start Construction: October 18, 2021
End Construction: Fall/Winter 2023
Crews will be working Monday through Friday, from 7 a.m. to 6 p.m. Occasional night and weekend work may be required.
300 North will be closed to vehicular traffic from 490 West to 500 West for the duration of the project. Eastbound vehicles on 300 North will not be able to turn left or right onto 500 West and will need to access 500 West from either 400 North or 200 North. North Temple should be used as an east/west detour. During construction, people walking and bicycling will be able to travel along 300 North, but only on the north side of the road. Parking will be restricted along the south side of the intersection. Dust, noise and vibrations will occur during working hours but will be especially impactful during the brief time period when vertical columns are driven into the ground.
Schedules are subject to change due to unforeseen conditions, weather conditions and material availability.
---
Contact Us
Please contact us to ask questions, express concerns, or to receive weekly construction updates.
Public Engagement Manager | Darryl Jacques
Email | darryl@ja-today.com
Phone | 801-616-2743
Social Media | @SLCmoves @SLCgov