400 South Street Design Changes
900 West – Redwood Road
Project Overview

As part of a larger effort to enhance transit facilities in Salt Lake City, the Transportation Division is implementing a series of in-roadway bus boarding islands on 400 South, between 900 West and Redwood Road, in 2022.
What are bus boarding islands?
According to NACTO, these islands are "dedicated waiting and boarding areas for passengers."
The islands serve three main purposes:
Enhanced Transit By allowing the buses to stay in lane and riders to board at a more level access point, boarding the bus is easier and quicker. This facilitates more reliable transit service while keeping bus facilities, including benches and trashcans, within the right of way.
Enhanced Bike Connection with the Jordan River Parkway By placing bike lanes behind the boarding islands bikes have more protection from cars on the road and won't have to go around a stopped bus.
Traffic Calming (Slowing Cars) The Westside 400 South corridor is home to two elementary schools, a regional trail system and numerous homes, shops and places of worship. While automobile travel is an important part of the road, pedestrian safety, reliable bus service and comfortable bike lanes could all use a boost in the area. Bus boarding islands in the roadway are a part of a larger strategy to transform this section of 400 South into a space for all modes of travel, where kids and transit riders are as comfortable and safe as someone in a car.
Where will the bus boarding islands be on 400 South?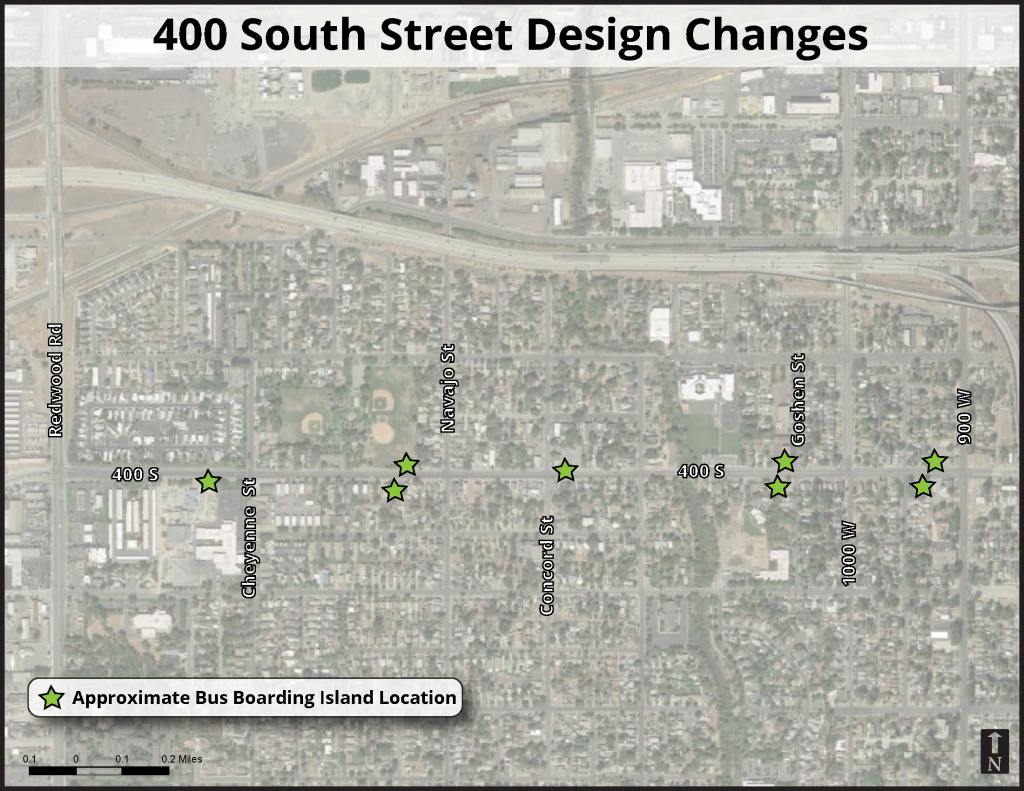 Learn about other projects happening in the area at www.slc.gov/transportation/westsideprojects
---
Project Background & Funding
400 South, from I-15 to Redwood Road, received a chip seal surface treatment in summer of 2021. A chip seal adds another layer to the roadway surface, prolonging the life of the roadway by 5-7 years. The project team made very minor adjustments to the roadway. The configuration of two travel lanes and a center turn lane was kept in place, but narrowed very slightly to accommodate a buffer in the existing bike lane.
This same corridor will experience bigger design changes in 2022 due to a Community Development Block Grant (CDBG) received in 2021.
Project Timeline
| | |
| --- | --- |
| Draft Design | Fall 2021 |
| Final Design | Spring 2022 |
| Construction | Summer 2022 |
---
Contact
To submit a comment or question, please contact the Transportation Division.
Social Media | @SLCgov @SLCmoves
Project Manager | Joe Taylor
Email | transportation@slcgov.com
Phone | 801-535-6630