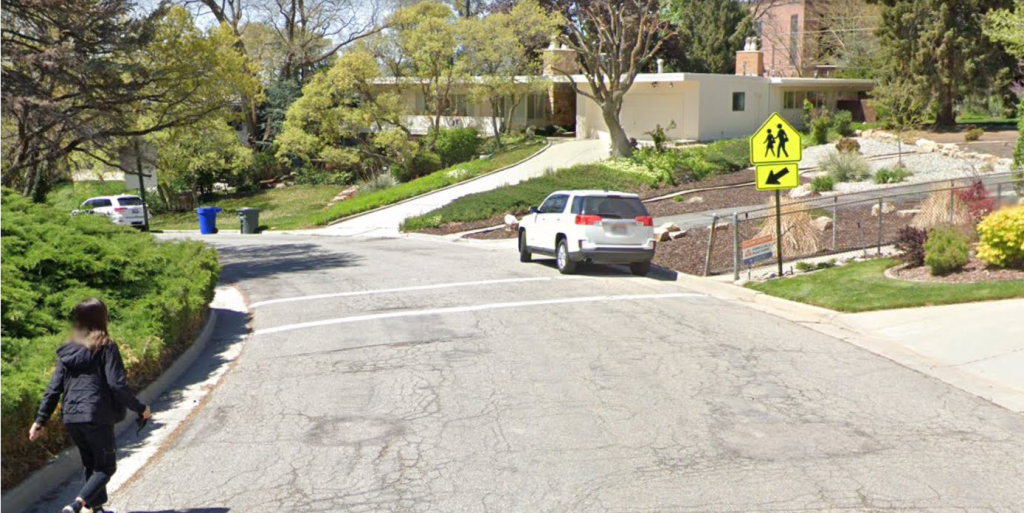 Kensington-Beacon Pedestrian Walkway
Project Update (August 2023): The project team will be hosting a pop-up meeting just north of the intersection of Beacon Drive and Kensington Avenue on August 7th, 2023 @ 6:30 PM. We are going to be demonstrating a small section of walkway along with some potential visibility elements. We hope to see you there!
Project Overview
In 2023, Salt Lake City Transportation Division will be installing a walkway along the north side of Kensington Avenue and Beacon Drive, east of Wasatch Drive. The walkway will utilize the edge of the public right of way to create space for walking.
The walkway is simply a 4″ solid white stripe offset 6-ft from the curb similar to a bike lane stripe. Walking symbols will be painted on each section to encourage people to walk in the space similar to bike lane symbols in a bike lane. The Kensington-Beacon Walkway will terminate at the walkway to Indian Hills Elementary School to provide safer access for children walking to and from the school. The planned walkway will include no parking signs at the crosswalk near the school's access point.
Below is the draft design concept for the walkway.
Contact Us
Project Manager | Keegan Galloro
Email | keegan.galloro@slcgov.com
Phone | 385-910-4259
Social Media | @SLCmoves @SLCgov