What's Happening
In July 2018, the first dockless scooter companies launched in Salt Lake City. Over the past 18 months, Salt Lake City has been piloting the use of Dockless Shared Micro-Mobility devices, mainly e-scooters.Throughout this time, Salt Lake City Transportation Division has been creating an ordinance based on public comments, lessons learned, and best practices from around the country. A draft ordinance has been created and the City asked for public feedback.
Below is the latest update from Salt Lake City Council about shared mobility devices from their meeting on August 11, 2020:
City Council held a follow-up discussion and the second of two public hearings about the proposed ordinance to regulate electric scooters and other dockless shared mobility devices in the City. The update primarily covered a broad framework for amending the Consolidated Fee Schedule as part of the dockless shared mobility device ordinance. Please note, the project timeline listed on the agenda item mistakenly indicated the Council would take action on the ordinance tonight, however no action has been scheduled at this time. Council Members will meet in small groups over the coming months to go over the fee proposal in greater detail. When a new proposed fee amendment is complete, additional public hearings will be set to accept public input and Council action will be re-considered at that time.
---
What Is Shared Mobility?
Shared mobility is the official term for bike shares and dockless scooter/bicycle systems. Shared mobility devices provide users an option to rent personal transportation for one-way trips.
For now, users in Salt Lake have the choice of GREENbike and e-scooters from several companies: GREENbike | Spin | Lime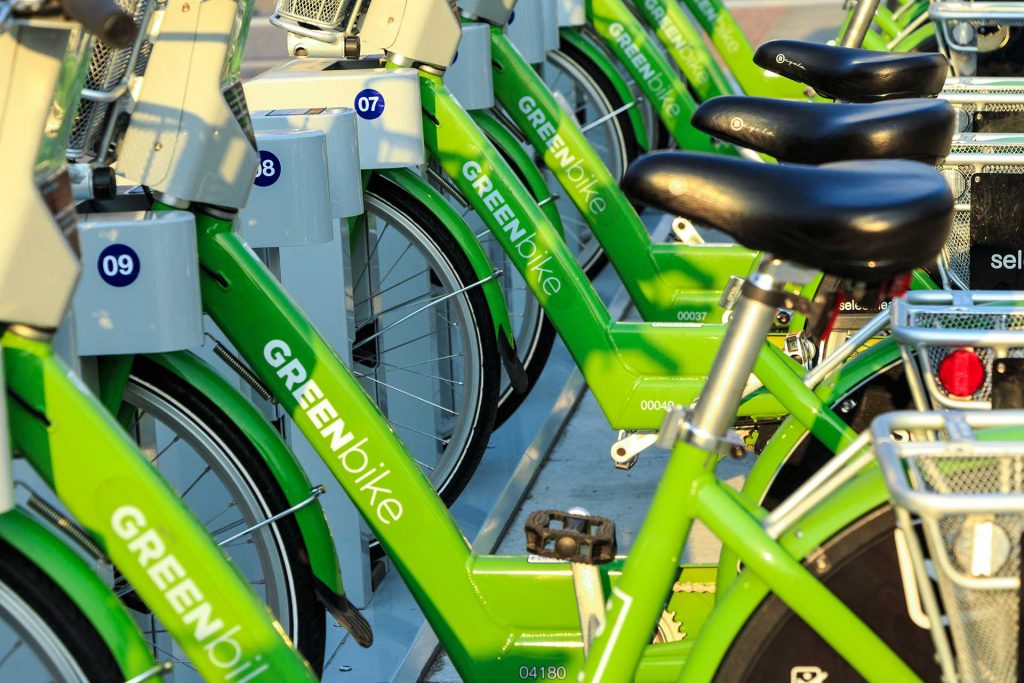 How does it work?
A shared mobility device is rented to the public from multiple locations within a city. To begin the rental process companies typically require users to download and app to unlock the device, or in the case of GreenBike, use a kiosk at a station. When finished with a trip on a dockless e-scooter, users should park the device anywhere between sidewalk and the curb – where you might see a bench or a trash can, but not blocking pedestrian walkways.
How can you be a courteous user?
Salt Lake City prohibits sidewalk riding in the downtown area to keep riders and pedestrians safe. If you are using an e-scooter or bike, you must ride in the street in bicycles lanes or travel lanes. Walk your wheels on the sidewalk!
Be courteous and thoughtful of pedestrians and bicyclists when you are parking a dockless e-scooter.
The general rule of thumb is you can park a shared dockless device between the sidewalk and the curb as long as it is not adjacent to:
A bike rack
A lamp post, or other street pole
UTA bus stop sign
On the sidewalk where it will impede ADA access and the general flow of people
You cannot park a shared bicycle or scooter:
Within 50 feet of a GREENbike station
At a UTA bus or TRAX stop/station
In parking spots dedicated to cars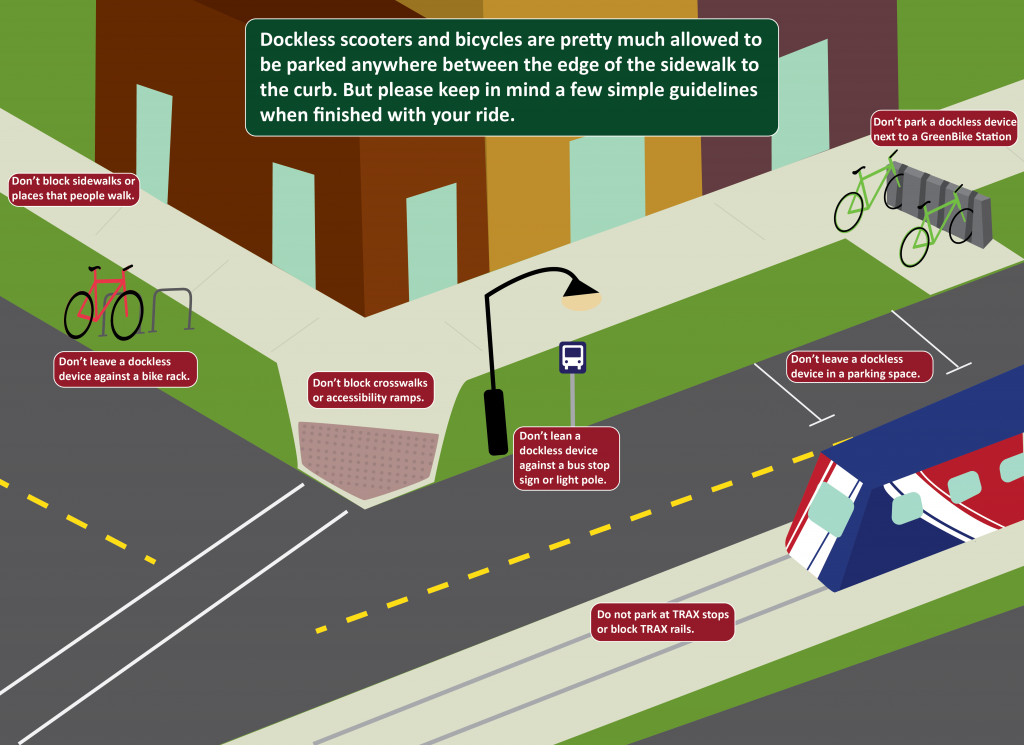 Questions or Concerns?
For more information on shared mobility, to ask a question, or file a complaint, please email dockless@slcgov.com.