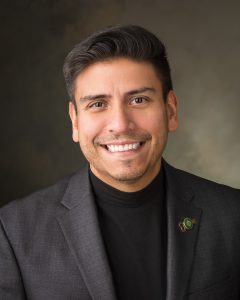 Alejandro Puy was elected as District 2's representative in November 2021 and his oath of office was administered on Jan. 3, 2022. Alejandro earned his bachelor's degree in political science from Brigham Young University (BYU). He worked to put himself through college and has background in policy, policy research, and campaign management. Alejandro started a local consulting firm Landslide Political that hires dozens of employees annually.
Alejandro is a proud immigrant from Argentina. Moving into District 2 felt like home to him. During his time on the Council, Alejandro has worked hard to prioritize funding for the Westside, which was historically lacking. In January 2023, Alejandro was selected by his peers to Chair the Salt Lake City Redevelopment Agency (RDA).
In his free time, Alejandro enjoys home improvement projects, spending time with the community, and spending time with his dog, Petunia.
District 2 neighborhoods include Glendale, Poplar Grove, part of Fairpark, and a portion of downtown. Alejandro wants to not only engage with his District 2 neighbors but shine a light on the entire Westside.
The Westside is not just his home but is in his heart.
---
Alejandro Puy fue elegido representante del Distrito 2 en noviembre de 2021 y juró su cargo el 3 de enero de 2022. Alejandro obtuvo su licenciatura en Ciencias Políticas en la Universidad Brigham Young (BYU). Trabajó para pagarse los estudios universitarios y tiene experiencia en políticas, investigación política y gestión de campañas. Alejandro fundó una empresa de consultoría local, Landslide Political, que contrata a docenas de empleados cada año.
Alejandro está orgulloso de ser un inmigrante de Argentina. Para él, mudarse al Distrito 2 fue como llegar a casa. Durante su tiempo en el Concejo, Alejandro ha trabajado duro para dar prioridad a la financiación para el Westside, que históricamente ha faltado. En enero de 2023, Alejandro fue seleccionado por sus compañeros para presidir la Agencia de Reurbanización de Salt Lake City (RDA).
En su tiempo libre, Alejandro disfruta de proyectos de renovación del hogar, pasar tiempo con la comunidad y pasar tiempo con su mascota, Petunia.
El Distrito 2 incluye los vecindarios de Glendale, Poplar Grove, parte de Fairpark y una parte del centro de la ciudad. Alejandro no solo quiere comprometerse con sus vecinos del Distrito 2, sino también iluminar a todo el Westside.
El Westside no es sólo su hogar, también lo lleva en el corazón.