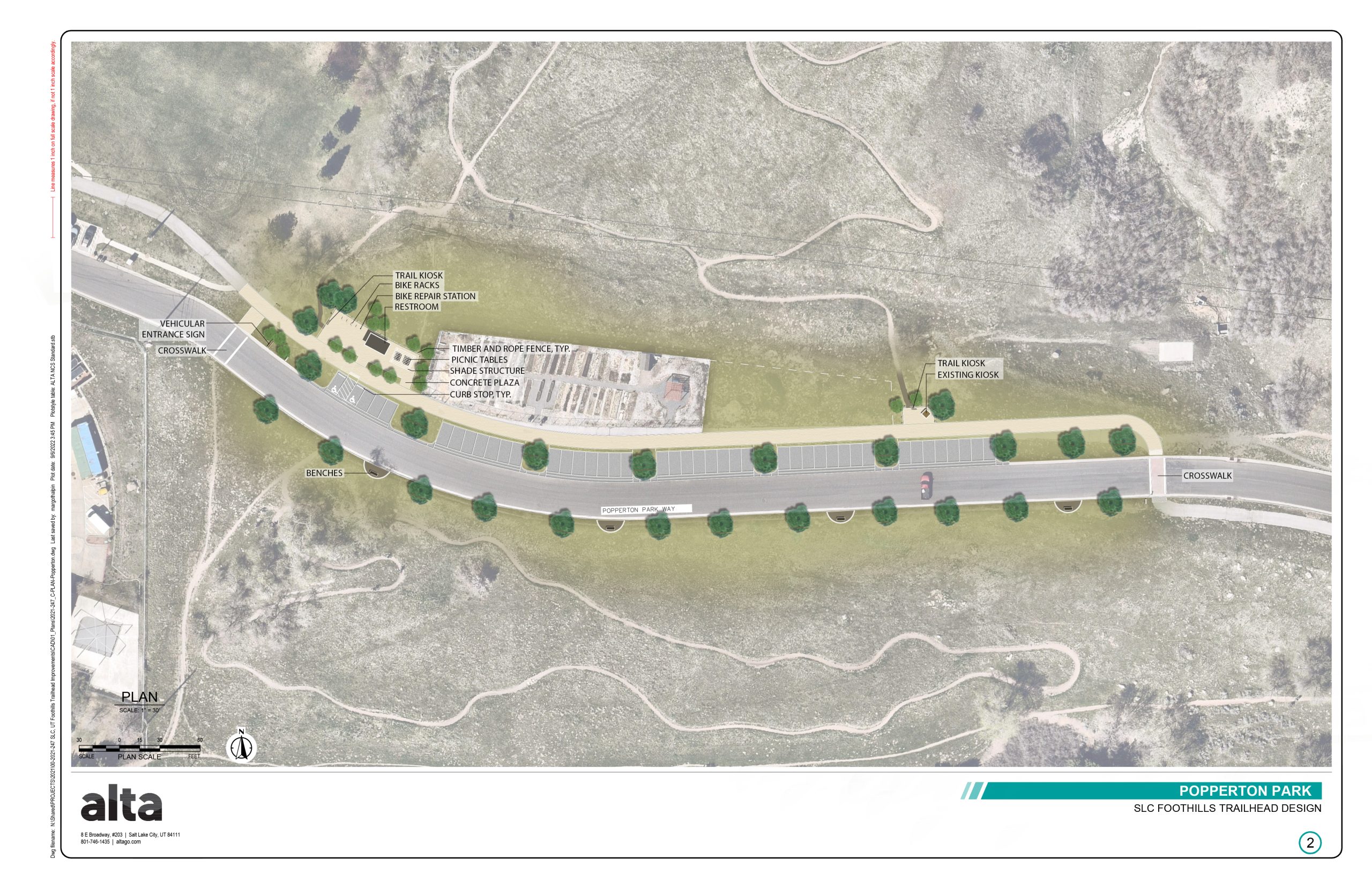 The Popperton Park Trailhead is located on the north side of the road afront of the existing Popperton Plots Community Garden and the Popperton Open Space. This location represents a major confluence of Foothills trails between the Central Foothills, South Foothills, Dry Creek Canyon, and Popperton Park, as well as the urban interface with the eastern Avenues neighborhood and the University of Utah. The existing City-managed Popperton Park has 35-40 striped perpendicular parking spots (2 of which are ADA compliant) with an athletics field, playground, art installation, and a bike repair station. The existing Popperton Plots Community Garden has a dedicated easement for its protection between the road and 11 striped parallel parking spots and the Popperton Open Space and its natural surface trails.
All new trailheads call for a paved parking lot with rope and timber fencing, landscaping, trash, and recycling receptacles, dog waste bags, and an entry plaza with a trailhead information kiosk. Current designs for Popperton Park Trailhead include:
marked perpendicular parking for up to 40+ designated spaces, including 2 ADA spaces
extensive wayfinding signage for South Foothills (Emigration Canyon to Dry Creek), Central Foothills (City Creek to Dry Creek), and Popperton Open Space
plumbed toilet restroom and water fountain
crosswalks and traffic calming infrastructure
reserved space for possible Popperton Community Garden expansion
picnic tables and benches
bike racks
additional landscaping, trees and benches on south side of Popperton Park Way
invasive weed cleaning station and bike repair station
street lighting
shade structures
Note: Additional wayfinding and regulation signage may be added before or during trailhead construction at N. Virginia Street, Fairfax Road, and Dry Creek paved trail access.
Existing Conditions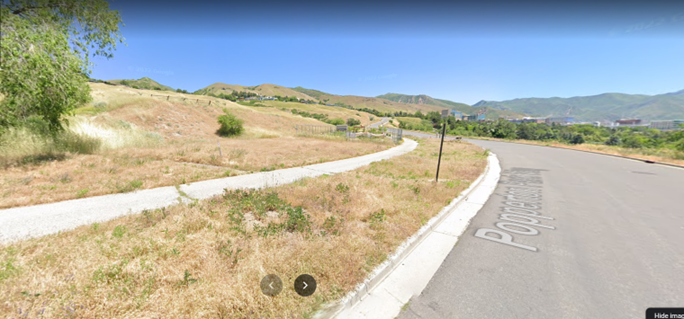 Conceptual Design