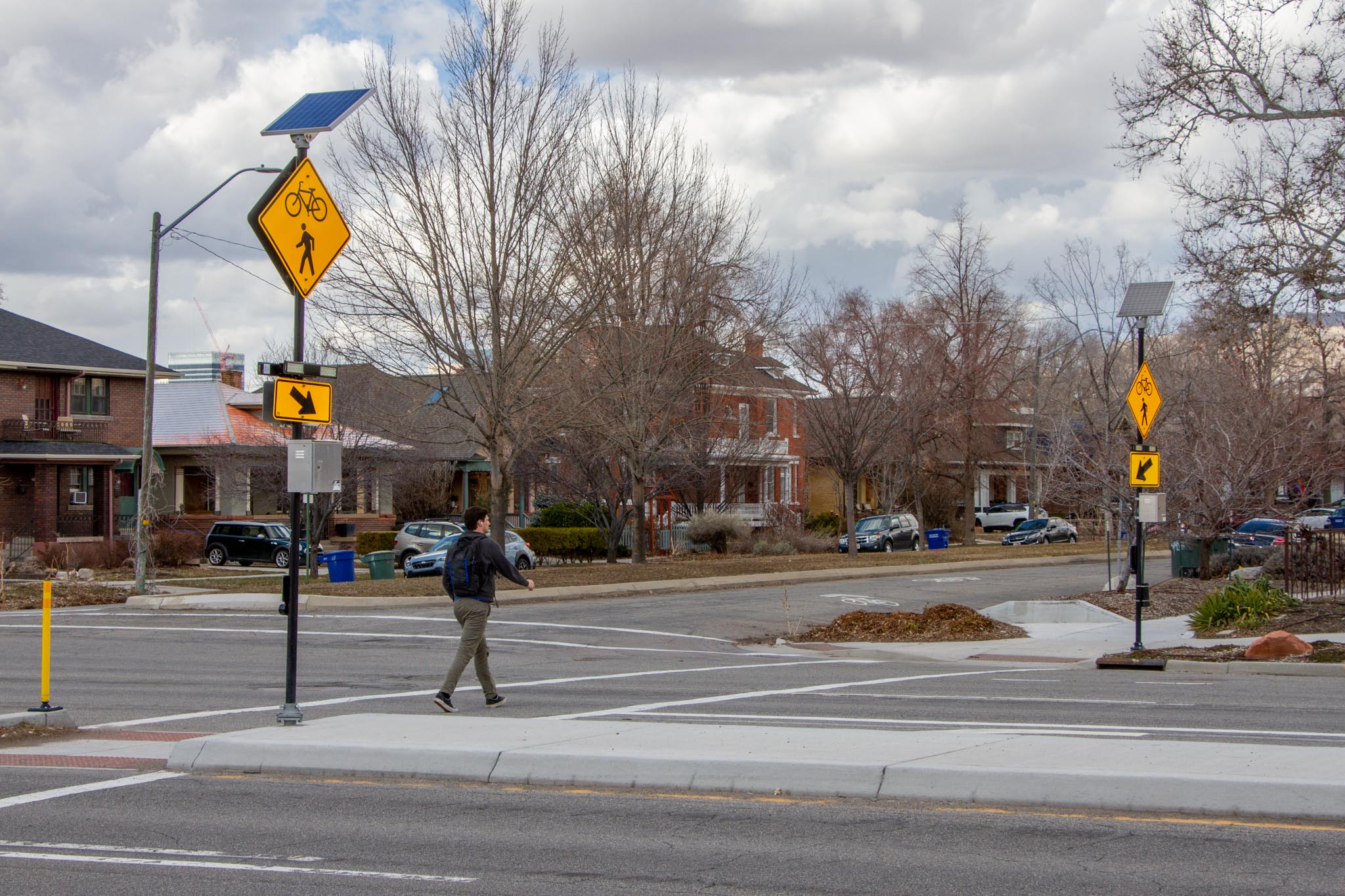 Livable Streets
Project Update (10/5/2021) – Thank you for participating in the Livable Streets survey! View the survey summary and full results below. The final Livable Streets Report is now available.
Program Overview
The goal of the Livable Streets is to develop a plan for traffic calming implementation that improves the overall safety, livability, and attractiveness of neighborhood streets in Salt Lake City. Implementation of this program will be dependent on future funding. Learn more about Livable Streets in the infographic/accordion below.
What is traffic calming?
Traffic calming can be defined as the deliberate slowing of traffic in residential areas through physical design. It seeks to improve safety for motorists, pedestrians and cyclists. It has become a tool to combat speeding and other unsafe behaviors of drivers in neighborhoods. It aims to encourage safer, more responsible driving.
What is livability?
In this program, we are defining livability as the various factors that can contribute to a neighborhood's increased quality of life. Here, it can include both built and natural elements of the environment, community safety, accessibility, connectivity to goods and services, and equitable distribution of all of these factors.
Final Program Report
Public Survey
Program Development Infographic
The Livable Streets Program seeks to:
Develop a high level of collaboration and trust between City staff and residents;
Provide a forum for communities to discuss concerns and solutions in order to build neighborhood consensus; and
Incorporate a fair, transparent, holistic, and data-driven prioritization process for the prioritization of funding, while managing expectations regarding the number of projects that can be implemented each year.
Project phases will include:
Defining boundaries for citywide "traffic calming zones" so traffic calming infrastructure can be implemented on a holistic neighborhood scale rather than a more disjointed street-by-street approach.
Developing a prioritization process for the newly created traffic calming zones so there is a data-based method to drive the implementation process once funding is available.
Creating a community outreach and engagement plan that can be rolled out during future implementation to inform and solicit input from residents.
Reviewing the existing traffic calming "toolbox" from the previous iteration of traffic calming in Salt Lake City (discontinued in 2003) and determine any updates needed, including the estimated cost for different traffic calming treatments.
Identifying innovative ways in which city-wide traffic calming implementation could be funded upon completion of the Livable Streets Program development.
Project History and Timeline:
| Month | Project Phase |
| --- | --- |
| December 2020 – February 2021 | Create and refine traffic calming zone boundaries |
| March – April 2021 | Develop traffic calming zone prioritization process |
| April – May 2021 | Create community outreach plan |
| May – June 2021 | Review traffic calming "toolbox" and identify funding mechanisms for implementation |
Speed Limit Ordinance Change (25 MPH to 20 MPH) FAQ
When does this ordinance change take effect?

In May 2022, the City Council voted to reduce the default neighborhood speed limit from 25 mph to 20 mph. The amendment to the City code, which coincides with the ordinance taking effect, was recorded shortly after.
Will all streets currently labeled 25 mph be changed to 20 mph?

The change will affect 420 miles of City-owned roadways, or about 70 percent of our streets. The change will not apply to streets maintained by the Utah Department of Transportation (like State Street or 700 East).
When will the signs be changed?

The Transportation Division started installing new speed limit signs in late July. The City expects to install over 500 signs by the end of summer.
Will the new speed limit increase traffic?

The reduced speed limit on local streets will have very little impact on travel times by bus and car. The goal of the change is to improve safety and livability in Salt Lake City neighborhoods.
For more background, read the Salt Lake City Traffic Management Program Document from 2003 or the University of Utah Effectiveness of Traffic Calming Measures in Salt Lake City document from 2019.
---
Project Manager | Dan Bergenthal
Email | Dan.Bergenthal@slcgov.com
Project Email | livablestreets@slcgov.com
Phone | (801) 535-7106
Social Media | @SLCmoves @SLCgov