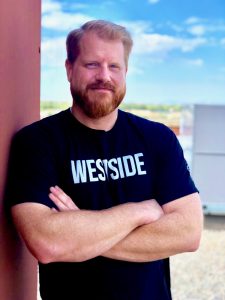 To understand my connection to the westside, I need to take you back to when my mother, Venice Rogers (née Madsen), first moved into a little home on 972 Pinocchio Drive.
My mother's family moved to the Rose Park neighborhood in the summer before my mother's 6th grade year. Despite not having any connections to the area, the community embraced the Madsen family. Her formative years were spent being educated in wonderful westside schools, enjoying the beautiful landscape, and being influenced by rich community values. My mom always impressed upon me the importance of community and being involved in my neighborhood, and that stems from her own rich experience.
I too owe Salt Lake City's westside an enormous debt. I met my future spouse Megan Rogers (née Jarrett) at West High School. Members of the Jarrett family have been residents of Rose Park for multiple generations and helped establish the sense of community that permeates the area. Megan grew up on Sunset Drive and we are fortunate enough to be able to raise our own two children (Sadie Elizabeth and Stockton Howard) in the same community that has done so much to shape several generations of each of our families.
One of my favorite past times is spending time with my children traversing the beautiful Jordan River Parkway. I feel so fortunate to live and work in a place of such beauty only minutes away from the heart of downtown. This community has been the right place for not only me and my family, but also so many others. I hope to represent the residents of the westside in a way that will continue to foster and perpetuate the special neighborhood we have created.
Salt Lake City Council Member Andrew Johnston (District Two) and I are honored to represent the City's westside. We're excited to announce an initiative to brand the term WESTSIDE by introducing new t-shirts.
Want to sport a WESTSIDE t-shirt? Send me an email with the subject line "WESTSIDE" and tell me what you love about the Westside. Don't forget to include your shirt size, so I can reserve a WESTSIDE t-shirt for you while supplies last. Send me photos of you and your neighbors wearing your WESTSIDE shirts to include on this web page. Wear the shirts, share your neighborhood's beauty and strengths on social media using #myWESTSIDE. Show us your WESTSIDE pride!

District 1, what do you love about the WESTSIDE?