PROJECT UPDATE (updated 08/08/2019) – On August 7, 20019, Salt Lake City staff members shared information about this reconstruction project with the Sugar House Community Council and asked attendees to provide feeback via an online survey (the survey has since been closed). The information shared at the meeting included this presentation posted below.
Overview
In 2020, we'll reconstruct 2000 East from the intersection at Parley's Canyon Boulevard to the city limit with Millcreek. The pavement surface, sidewalks, curb, and gutter will be upgraded, and a new street design will help us meet the Salt Lake City's complete streets ordinance and long-range master plans.
Project Map

Current Conditions
2000 East south of 2700 South

Current Conditions
2000 East south of Parley's Canyon Blvd
---
Stay Informed
Email "Updates" to 2000East@slcgov.com to receive notifications about our progress until we reach project completion.
---
Conceptual Design Options
2000 East & Parley's Canyon Blvd Intersection
Option A – Roundabout
A roundabout would reduce wait times for drivers at the intersection when compared to current travel conditions. With this option, drivers on 2000 East traveling northbound to turn left and continuing to travel westbound along Parley's Canyon Blvd would experience shorter wait times, particularly during peak times of 7 – 9 a.m. and 4 – 6 p.m.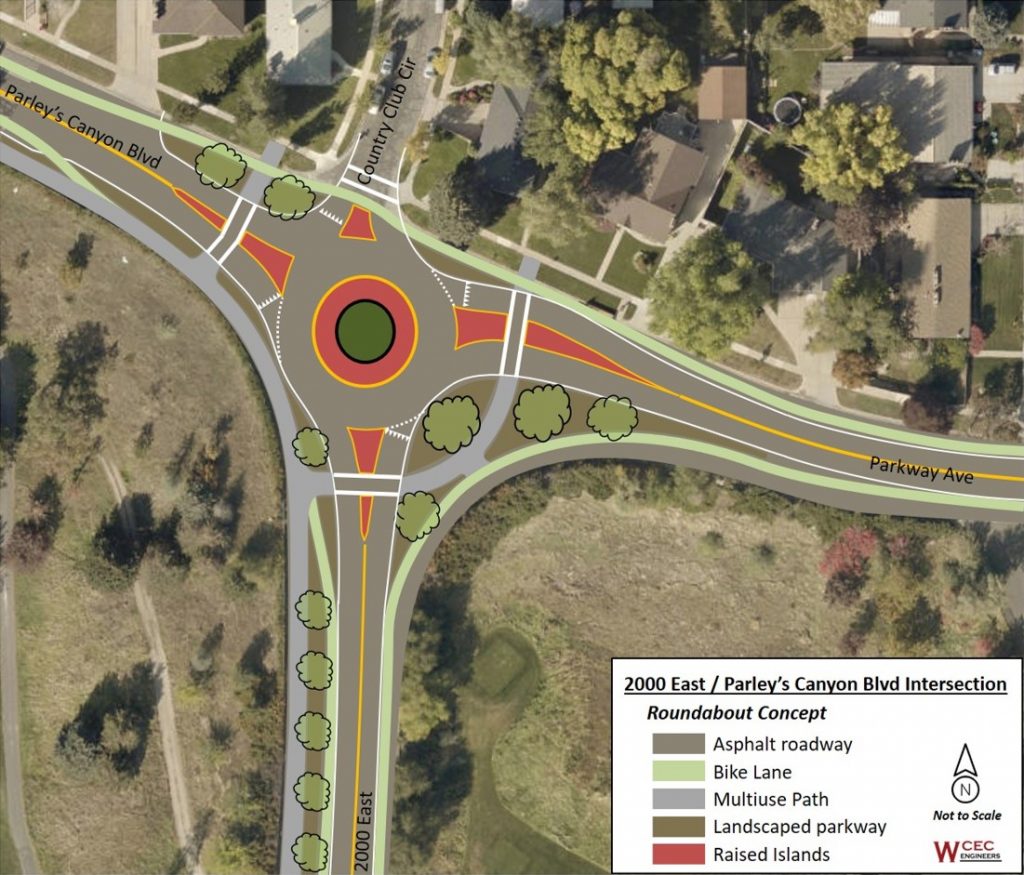 Option B – Realigned 'T' Intersection
A realigned 'T' intersection would make the Parkway Ave-to-2000 East movement the "through movement" and Parley's Canyon Blvd would be the stop-controlled movement. This configuration favors more travelers, who are mostly driving eastbound along Parkway Avenue and turning left onto southbound 2000 East.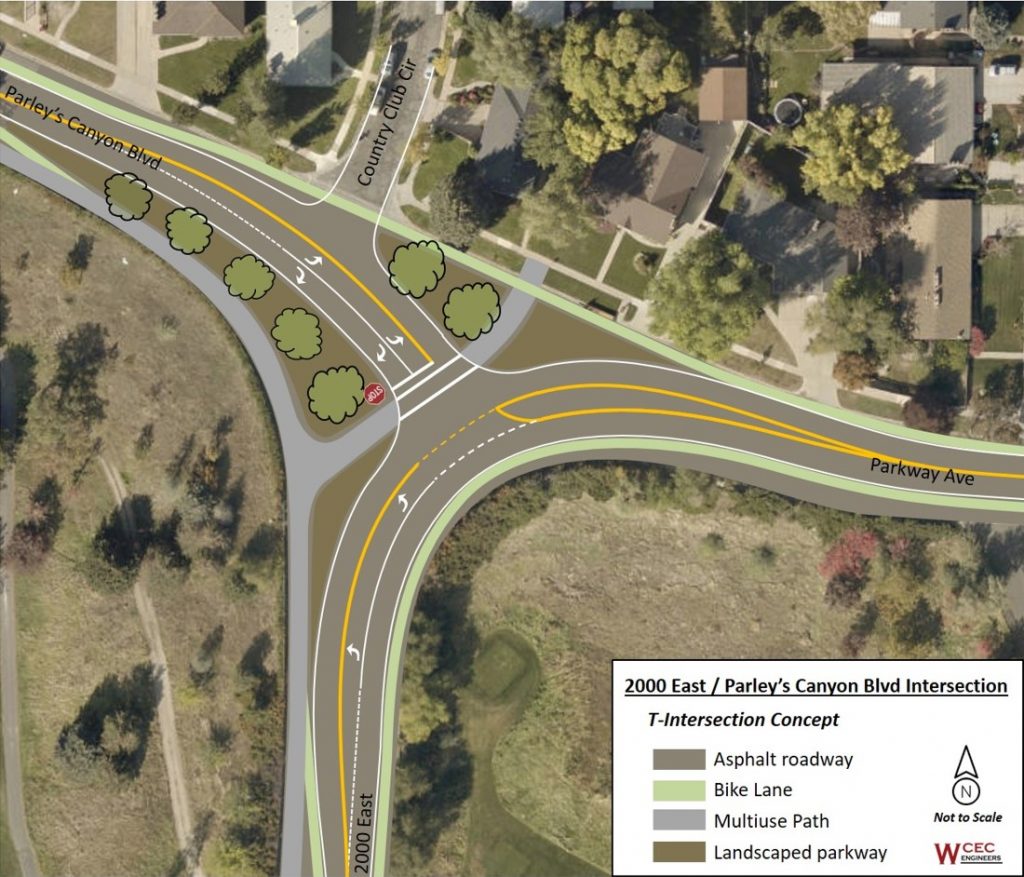 Option C – No Change
The intersection would remain as-is with minimal-to-no changes.
---
2000 East Northern Segment: Parley's Canyon Blvd. to Stratford Ave.
Option A – Sidewalk Improvements
The existing sidewalk on the west side of the street would remain, and a new sidewalk would be added to the east side. One vehicle travel lane in each direction would remain as they exist currently, and buffered bike lanes would be added.

Option B – Parley's Connector Trail
A shared-use path or trail along the west side of the street, where the sidewalk is currently located, would be built, and such trail would be wide enough for people to walk, run, or bike comfortably through the gully area connecting it to the Parley's Trail. This option would include a vehicle travel lane in each direction, as they currently exist, and buffered bike lanes would be added.

---
Central Segment: Stratford Ave. to 2700 South
Option A – Continuous Buffered Bike Lanes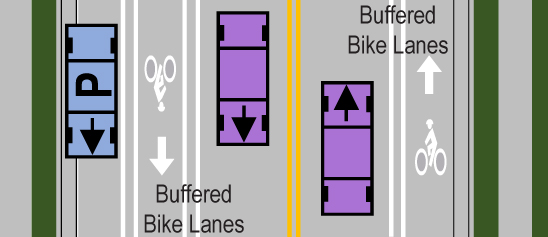 ---
Southern Segment: 2700 South to Mary Dott Way
Option A – Center Turn Lane and No On-Street Parking

Option B – Parking on One Side of the Street with Buffered Bike Lanes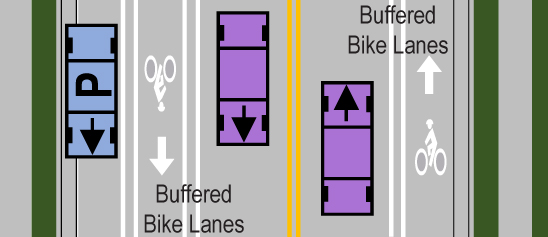 Option C – Narrow Parking on Both Sides of the Street with Narrower Bike Lanes

---
Project Timeline:
Summer 2019
Draft conceptual designs are made available
for public input.
Fall 2019
The project team develops final engineering
drawings based on input, safety data, technical analysis.
Winter 2019
Final design. See what the street will look like.
Spring – Fall
2020
Construction.
Further information about the construction schedule will be shared on this webpage and via the project email list once a contractor is selected in 2020.
---
Project Value
This investment is valued at $3 million and is funded via impact fees and the streets reconstruction bond, which is part of the Funding Our Future initiative, approved by voters in 2018.
Contact Information
Email: 2000east@slcgov.com
Jena Carver, P.E., Transporation Engineer: 801-535-6694
Adan Carrillo. MBA, MST, Public Involvement Manager: 801-535-6251
Josh Thompson P.E., Construction Project Engineer: 801-535-6177
Social Media: @SLCmoves | #2000EastSLC