The SBA Disaster Loan Is Now Available in Salt Lake City
The Small Business Administration has released $50 billion dollars for business assistance.  Salt Lake City business owners are now eligible to apply for low-interest loans. As a business owner, we strongly urge you to begin the application process as soon as possible. Apply online in the Disaster Loan Application Portal at https://disasterloan.sba.gov/ela/. 
About SBA Economic Injury Disaster Loans (EIDL)
EIDLs offer up to $2 million in assistance and can provide vital economic support to small businesses to help overcome the temporary loss of revenue.
These loans may be used to pay fixed debts, payroll, accounts payable and other bills that can't be paid because of the disaster's impact.
The interest rate is 3.75% for small businesses (2.75% for non-profits) with long-term repayments to keep payments affordable, up to a maximum of 30 years. Terms are determined on a case-by-case basis, based upon each borrower's ability to repay.
SBA's Economic Injury Disaster Loans are just one piece of the expanded focus of the federal government's coordinated response, and the SBA is strongly committed to providing the most effective and customer-focused response possible.
For additional information, please contact the SBA disaster assistance customer service center. Call 1-800-659-2955 (TTY: 1-800-877-8339) or e-mail disastercustomerservice@sba.gov. Visit SBA.gov/disaster for more information.
Salt Lake City's Department of Economic Development will be providing additional technical assistance in the near future. If you have questions please take a moment to review all of the information here first and complete as much as you can of the application. This will help lighten the queue and keep the process as efficient as possible.
How to Apply for an SBA Disaster Loan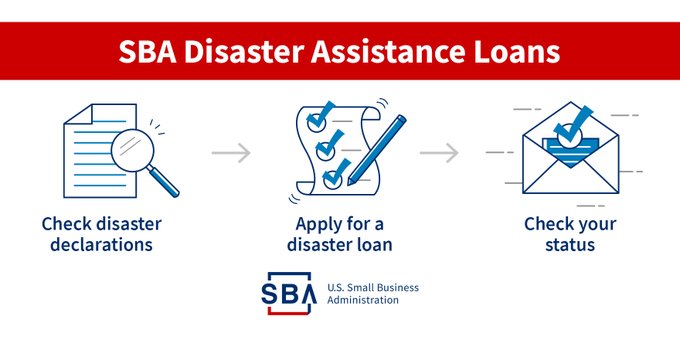 Utah's disaster declaration status was submitted and approved (including Salt Lake County).
Business owners should apply online in the Disaster Loan Application Portal at https://disasterloan.sba.gov/ela/.
The electronic loan application will be screened by the SBA processing center when it is received.
FOR ALL APPLICATIONS THE FOLLOWING ITEMS MUST BE SUBMITTED.
Loan application (SBA Form 5), completed and signed (this is electronic/online in the portal)
Tax Information Authorization (IRS Form 4506-T), completed and signed by each applicant, each principal owning 20 percent or more of the applicant business, each general partner or managing member; and, for any owner who has more than 50 percent ownership in an affiliate business. Affiliates include, but are not limited to, business parents, subsidiaries, and/or other businesses with common ownership or management
Complete copies, including all schedules, of the most recently filed Federal income tax returns for the applicant business; an explanation if not available
Personal Financial Statement (SBA Form 413) completed, signed, and dated by the applicant, each principal owning 20 percent or more of the applicant business, and each general partner or managing member
Schedule of Liabilities listing all fixed debts (SBA Form 2202 may be used)
All of these forms are available in the Disaster Loan Application Portal: https://disasterloan.sba.gov/ela/Information/PaperForms
---
Although not initially required, it is advisable to include the following information with your application as the SBA may request them after the application has been sumitted:
Complete copy, including all schedules, of the most recent Federal income tax return for each principal owning
20 percent or more, each general partner or managing member, and each affiliate when any owner has more than 50 percent
ownership in the affiliate business. Affiliates include, but are not limited to, business parents, subsidiaries, and/or other
businesses with common ownership or management
If the most recent Federal
income tax return has not been filed, a year-end profit-and-loss statement and balance sheet for that tax year
A current year-to-date profit-and-loss statement