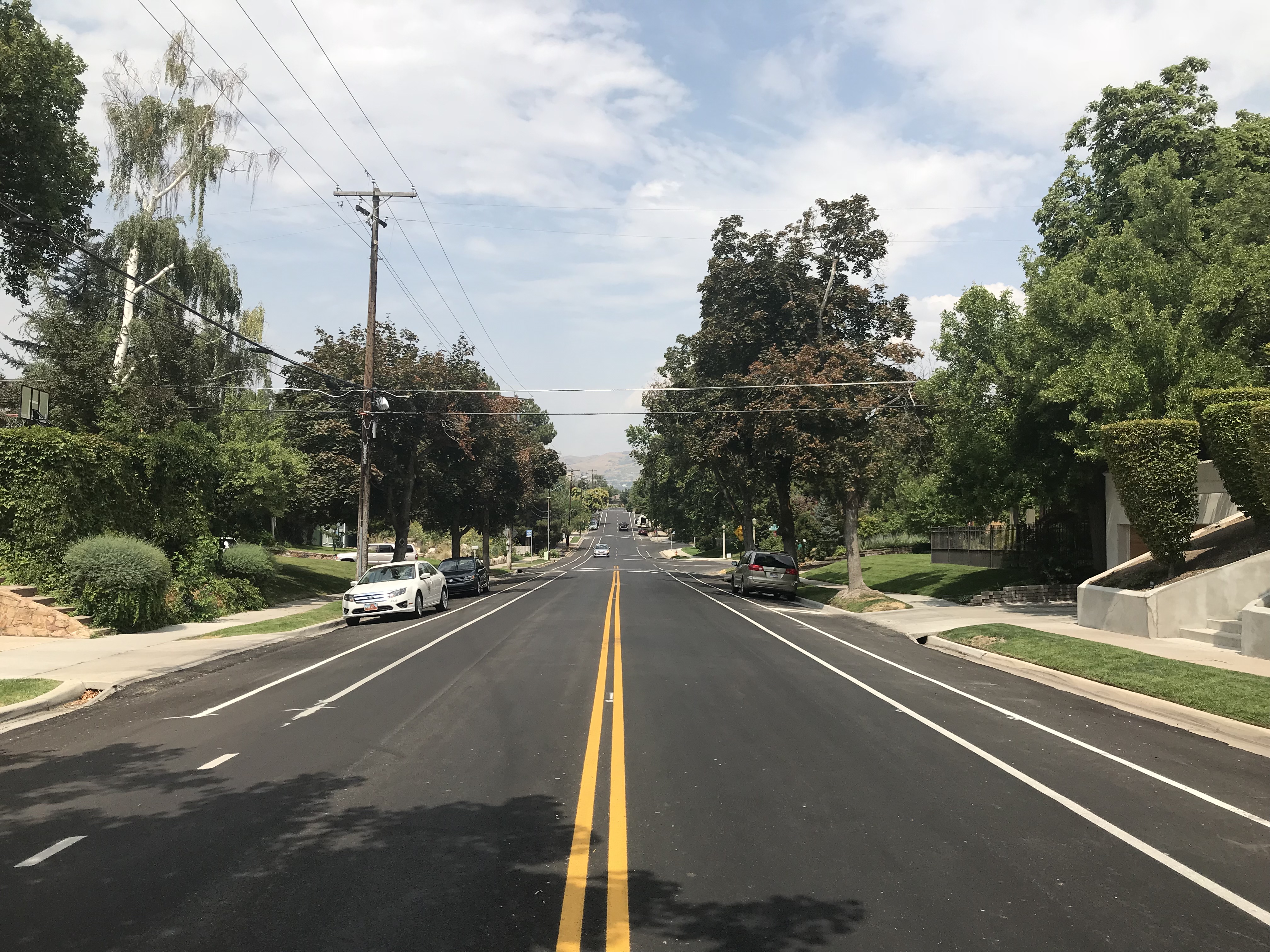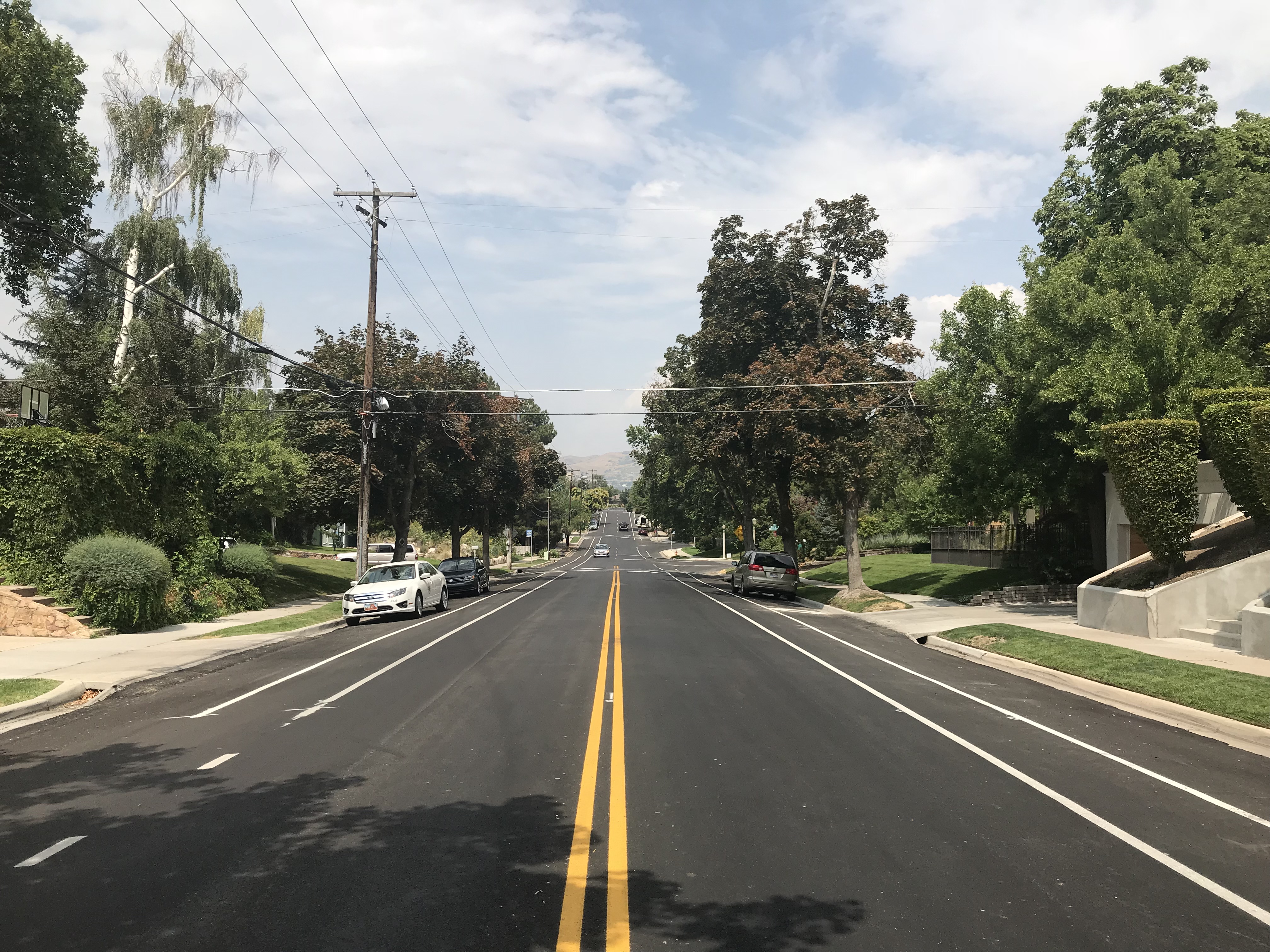 1100 East:
900 South – Logan Ave (1600 South)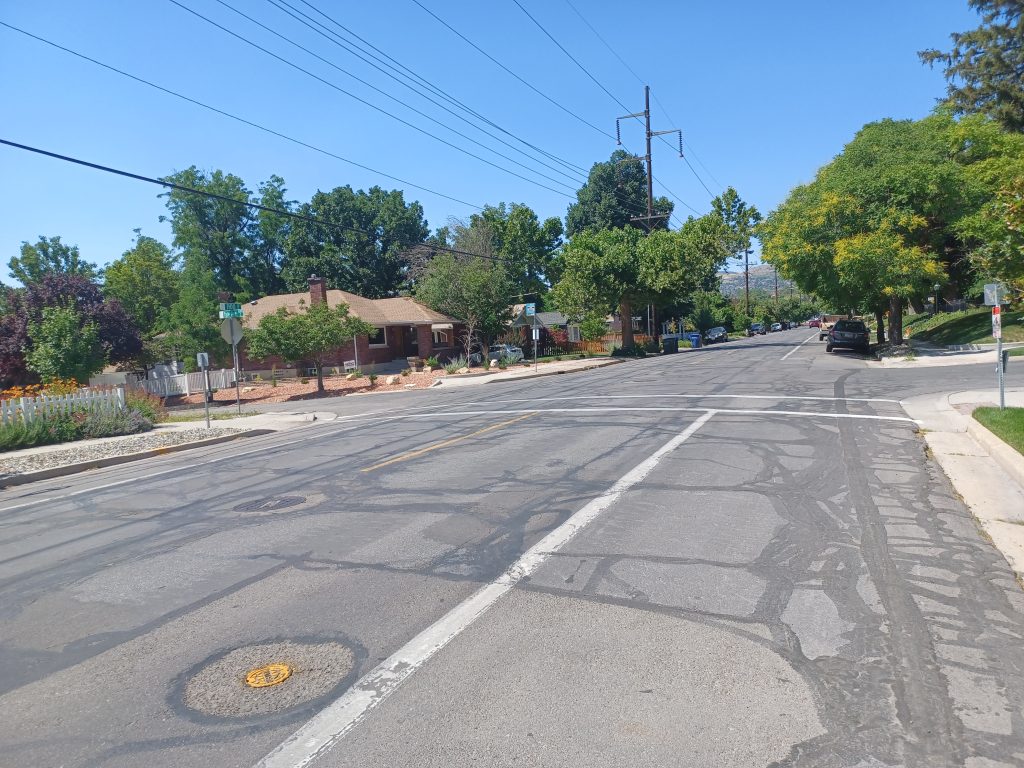 Project Overview
In 2023, 1100 East will be reconstructed from 900 South to Logan Avenue (1600 South). The pavement, sidewalks, and gutters will be fixed. A secondary objective of this project is to balance competing interests on the roadway, which will result in some design changes.

Community Engagement
Our team engaged with the community through many different methods in order to collect different perspectives on the future of this project. We canvassed the surrounding neighborhoods with fliers, sent out postcards, and posted yard signs along the corridor. Along with those canvassing efforts, we provided the residents a chance to take a survey and respond to our goals and intentions. We also attended East Liberty Park Community Organization community meetings to provide context on the initial design concepts.
Key Messages heard from Public Input
After engaging with the community, our team listened to the feedback. The key messages we heard from the public about the project were: a desire for traffic calming and reducing the instances of speeding, concerns about vehicles parking too close to intersections and obstructing the view of oncoming traffic and a need for missing bicycle infrastructure along 1100 East. From these messages we were able to create some proposed design changes (see below).
---
Proposed Design Changes
Hybrid Protected Bike Intersection: 900 South to Logan Avenue
Hybrid protected bike intersections will be added along 1100 East from 900 South to Logan Avenue. These treatments will result in a lateral shifts in vehicle traffic which is expected to help slow traffic on the roadway. The hybrid protected bike intersection treatment will be added to the following intersections:
Michigan Avenue
Yale Avenue
Princeton Avenue
Harrison Avenue (Including a Raised Intersection)
Roosevelt Avenue
Emerson Avenue
Kensington Avenue
Bryan Avenue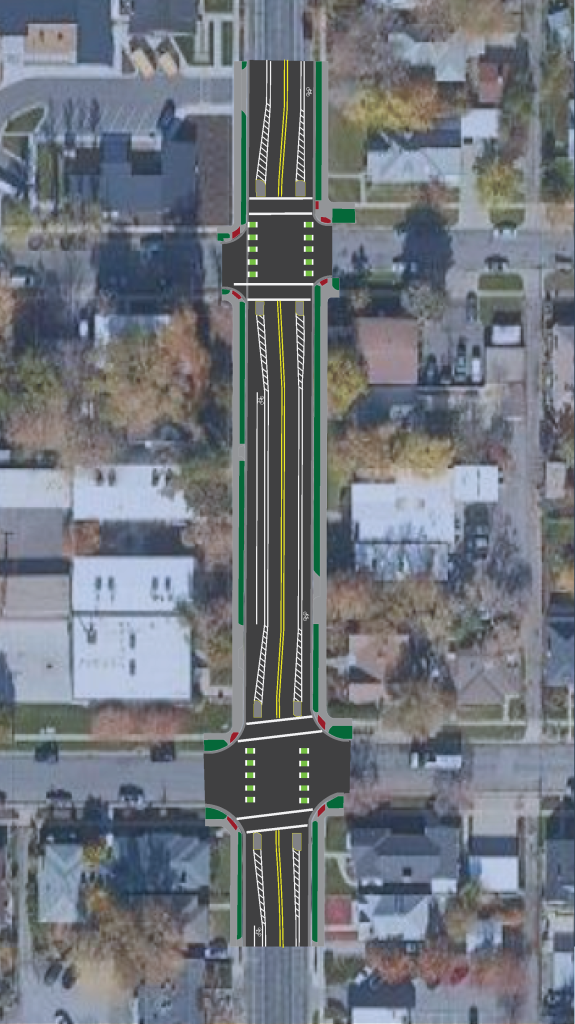 On-Street Parking Allowed
In conjunction with the bike facilities, on street parking will shift from the east side to the west side along the corridor. Below is a map of locations of allowed on-street parking within the new design concept.

Kensington Avenue: Example of Intersection Treatment
The currently existing bike lane will be converted into a buffered bike lane to allow more comfort for cyclists by keeping bicycle traffic flowing and to calm vehicle traffic. The intersection treatment shown below will be a part of the future Kensington Neighborhood Byway.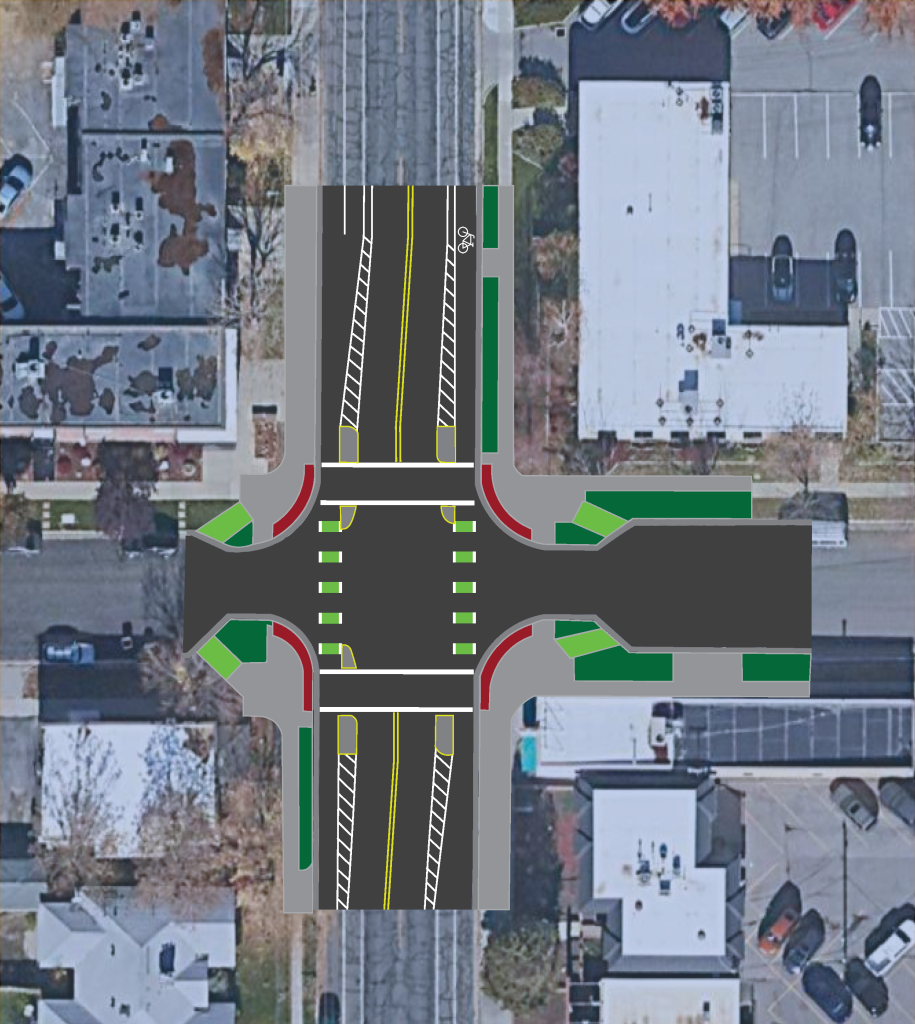 1300 South to Harrison Avenue
The intersection of 1100 East and Harrison Avenue is located near Emerson Elementary and represents the southern crossing of the McClelland Trail. In addition to curb-extensions on Harrison Avenue at the intersection, we hope to implement a raised intersection treatment with protected bike lanes to make it safer for pedestrians and calm traffic. The protected bike lanes will allow the current bike lane arrangement to continue through intersection without interference from curb extensions.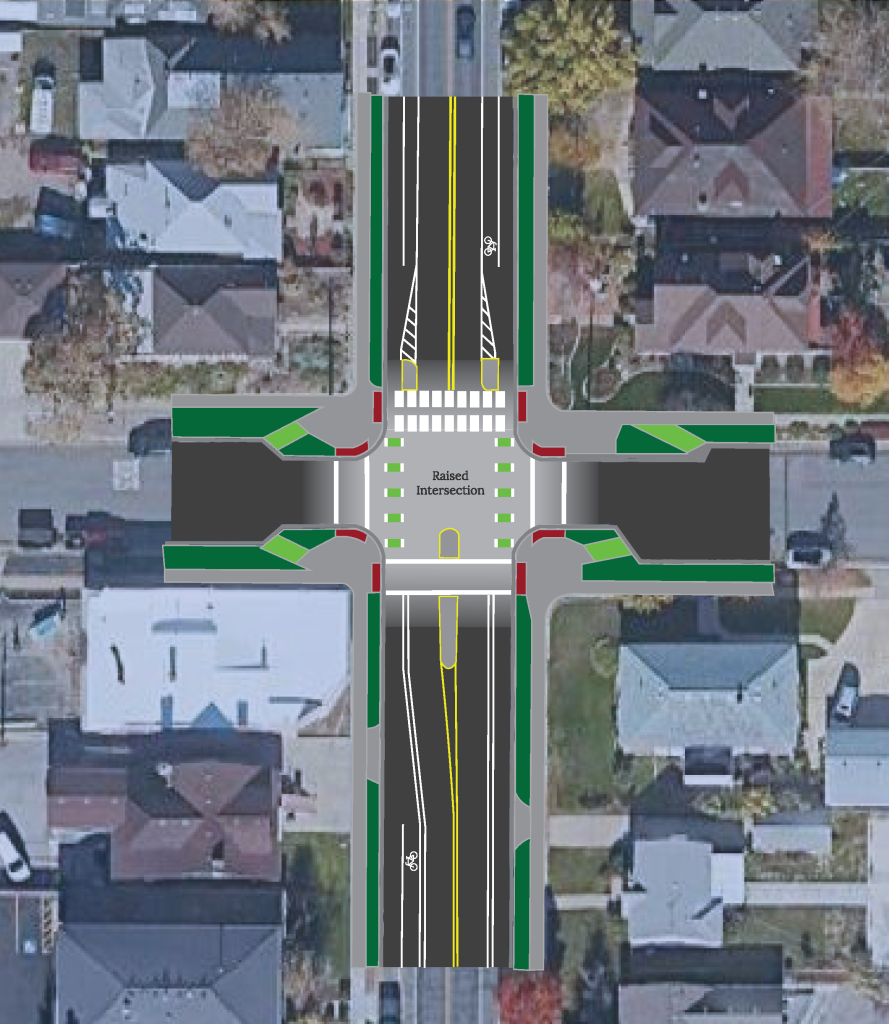 Bus Stop Changes
In order to incorporate the new design concepts along 1100 East, there are planned changes to the configuration of the bus stops along the corridor. Bus stops will be removed on both sides of the street at Michigan Avenue, Princeton Avenue, and Roosevelt Avenue. One stop will be removed on the west side of 1100 East at Logan Avenue. New bus stops will be installed to the north and south of 1300 South and the bus stops at Kensington Avenue will be moved closer to mid-block in order to work with the protected intersections.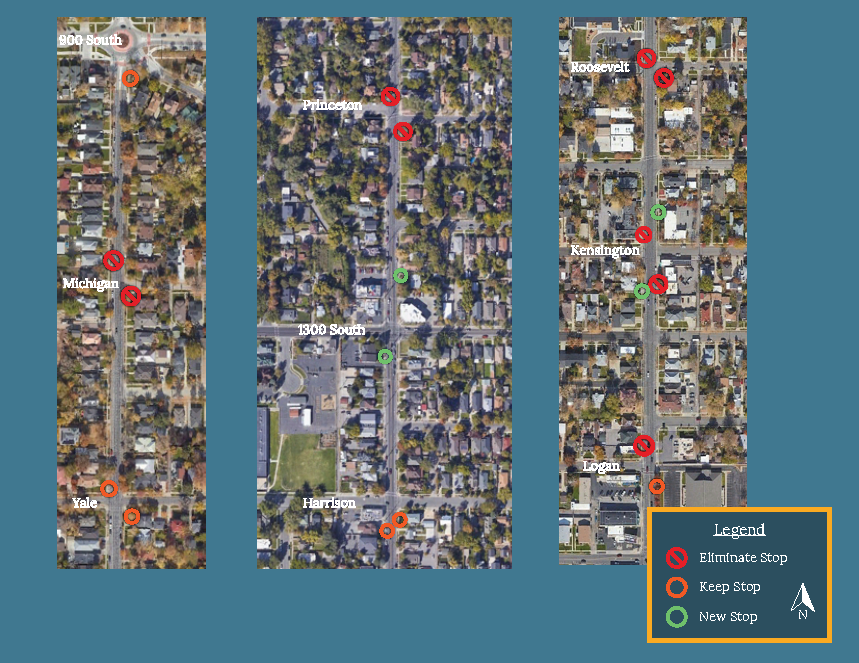 ---
Community Feedback
The 1100 East Project Manager, Lynn Jacobs, presented to the East Liberty Park Community Organization (ELPCO) in January 2022. Watch the presentation video below; the 1100 East portion begins at the 52 minute mark.
Thanks to everyone that took the 2022 survey! Results and next steps will be published soon.
Sign up for 1100 East project updates below.
---
1100 East to Highland Drive – Logan Avenue to Warnock Avenue
This project is happening in conjunction with Highland Drive: Logan Ave to Warnock Avenue. To learn more about this part of the project, go to highlandslc.org
Project Timeline
Further information on the construction timeline and impacts will be available on this webpage and through the project email list as we get closer to construction.
| | | |
| --- | --- | --- |
| | Summer 2021 | Project Kickoff |
| | Fall/Winter 2021 | Community Outreach/Feedback |
| | Fall-Winter 2022 | Finalizing Design |
| | Spring-Summer 2023 | Construction |
Contact Information
Social Media: @SLCgov @SLCmoves
Funding
This project is funded through the 2018 voter-approved Funding Our Future street reconstruction bond.