2100 South Project
Project Details
Beginning in early September, full reconstruction of the intersection of 2100 South and Highland Drive will begin. Through October 2023, 2100 South will be reduced to one lane in each direction between 1000 East and 1300 East with limited left turns at Highland Drive while crews replace deep underground utilities and reconstruct the intersection as part of the Highland Drive/1100 East project. At the same time, replacement of a 100-year-old sewer line between 1400 East and Highland Drive will begin. This project will extend east of 1400 East to Yuma Street later this year through 2024. Construction of both projects is occurring to reduce the overall duration of impact to traffic on 2100 South. Click here for more details about this project.
Sign up for email updates below to stay informed.
Benefits
The sewer line is nearing or over 100 years old, depending on the section and too small to serve the existing demand. This part of the Salt Lake City sewer system provides service to more than 4,000 properties. The project will improve sewer service in the area with a larger pipe made of new materials.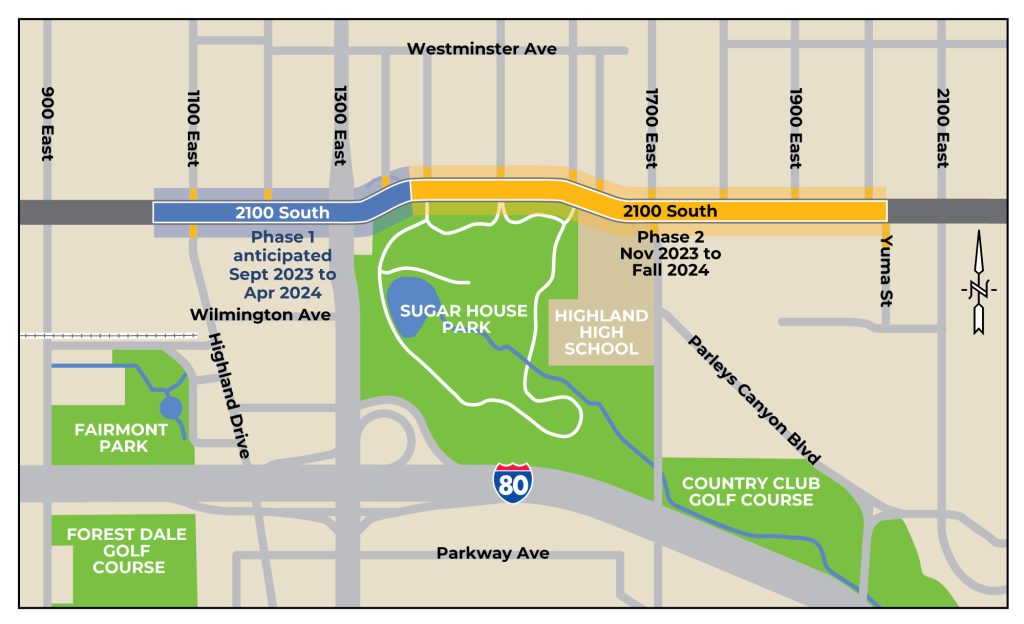 Traffic Impacts
The sewer line is under the travel lanes in 2100 South. Although steps will be taken to reduce the project's impacts, area residents, businesses and travelers will be affected.
Phase I – West of 1400 East: The project anticipates use of an underground pipe- bursting method with several excavated pits to try to limit the construction area and maintain one lane of travel in each direction during construction rather than closing sections. The pipe-bursting work will require bypass pumping of the existing sewer and has the potential for increased noise and odor. Night work may occur, as required, to meet project conditions and limit impacts to the area.
Phase 2 – East of 1400 East: Scheduled to be completed with open trench construction of the new pipeline. The project team is also evaluating the pipe-bursting method and its potential to reduce construction impacts. Impacts to traffic will be confirmed prior to the onset of work in this area but significant lane closures will be required for either construction method. The overall cost, duration and impacts to traffic will inform how this decision is made.
North and South of 2100 South: It is likely that short-term impacts on the side streets will occur while the new sewer system is connected to the existing systems on either side of 2100 South.
Other Potential Impacts
Side street closures at 2100 South
Removal of on-street parking on 2100 South and on side streets immediately adjacent to the work zone
Nightwork and overnight lane closures
Intermittent, short-term access interruptions for businesses and residences
Open trenching and metal plates in front of residential driveways and business accesses
Sidewalk closures and pedestrian detours
Noise, vibration, and dust
Short term odors related to sewer bypass pumping.
Project Open House 10/27/21 Video
Stay Informed
This project has a dedicated public engagement team to assist with comments, questions, or concerns from design through construction. We will be sending regular email updates to keep area residents, businesses and motorists informed of construction impacts and progress. Subscribe by emailing us.