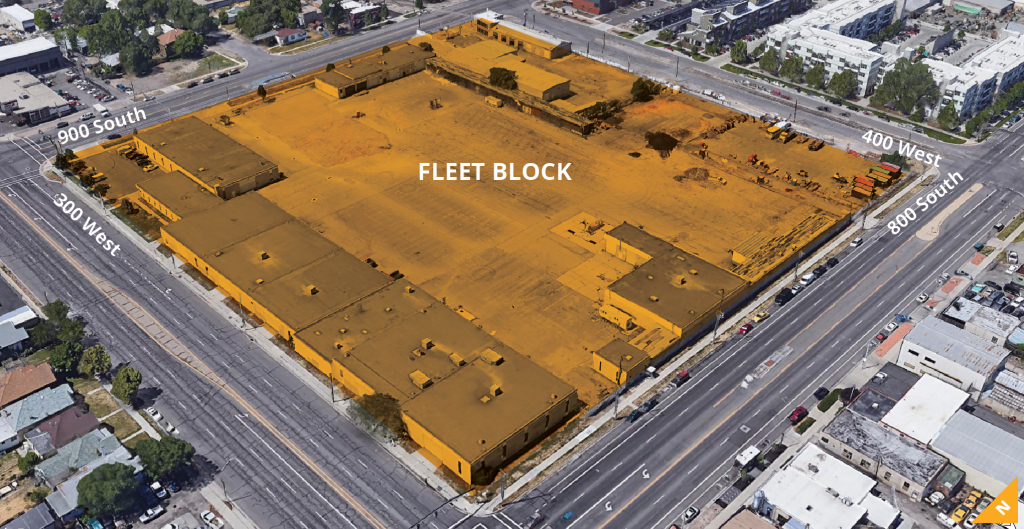 Fleet Block Rezone // FB-UN-3
The City Planning Division is proposing changes to the zoning for the properties located on the "Fleet Block" located at approximately 850 S 300 West. The block is bounded by 300 and 400 West and 800 and 900 South. The City is proposing a new zone that would apply regulations to future development on the properties. The zoning would regulate the look and appearance of new buildings, as well as height and land uses.
Current Zoning Regulation Proposal – October 2019
Staff has developed the below regulation proposal based on the input received at a public open house and Planning Commission meeting (discussed below), and analysis of current City codes and associated Master Plan policies. The proposed zone is called the Form Based Urban Neighborhood 3 (FB-UN-3) zone and is similar to the Form Based Urban Neighborhood 2 zone that regulates development in the nearby Central 9 neighborhood. The primary differences are that the proposed zone will allow taller development and more commercial uses than the neighboring zone. The information below includes a graphical summary of the proposed zoning regulations and the full text of the proposed regulations.
Staff anticipates taking the proposal to Planning Commission by the end of the year and may make further changes to the proposal based on public input. Please contact the City staff planner noted below with any questions or comments or if you'd like to meet with staff to discuss the proposed regulations.
---
FB-UN3 Zoning Proposal History – July 2019
The City held an Open House at the Fleet Block site on Monday July 8th. More than 50 people, including nearby residents and business owners, attended the open house. The materials from that open house are available below:
Planning Commission Work Session – July 2019
Planning staff took the open house material and draft code language to the Planning Commission for a work session, to brief the commission and get their preliminary input, on July 31st. A copy of the staff report and the presentation are below:
---
If you have any comments or questions on the proposal, or would like to meet and discuss the proposal with City staff, please contact the City planning staff managing the proposal:
Daniel Echeverria
daniel.echeverria@slcgov.com // 801-535-7165