900 South Reconstruction & 9-Line Trail (Lincoln Street – 1300 East)
In 2019, Salt Lake City will reconstruct 900 South from Lincoln Street (950 East) to 1300 East. To repair this badly deteriorated street, the project will reconstruct the road base, make minor utility improvements, and repave in concrete. This project will take 6 months once construction begins.
As part of this reconstruction, a new bike path will be constructed within the park strip on the south side of the street, part of the 9-Line Trail. Pedestrian crossings will be enhanced with shorter crossing distances and colored crosswalks. On street parking will remain.
To get on our email list for project design and construction updates, please email 900South@slcgov.com.
Project Update – August 2018
Salt Lake City is pleased to present the "Pop-up Intersections Graphic Summary Report", based on the traffic data (from 900 South) and public feedback collected and analyzed before, during, and after the May 2018 pop-up intersections at the 900 South, 1100 East, & Gilmer Drive intersection.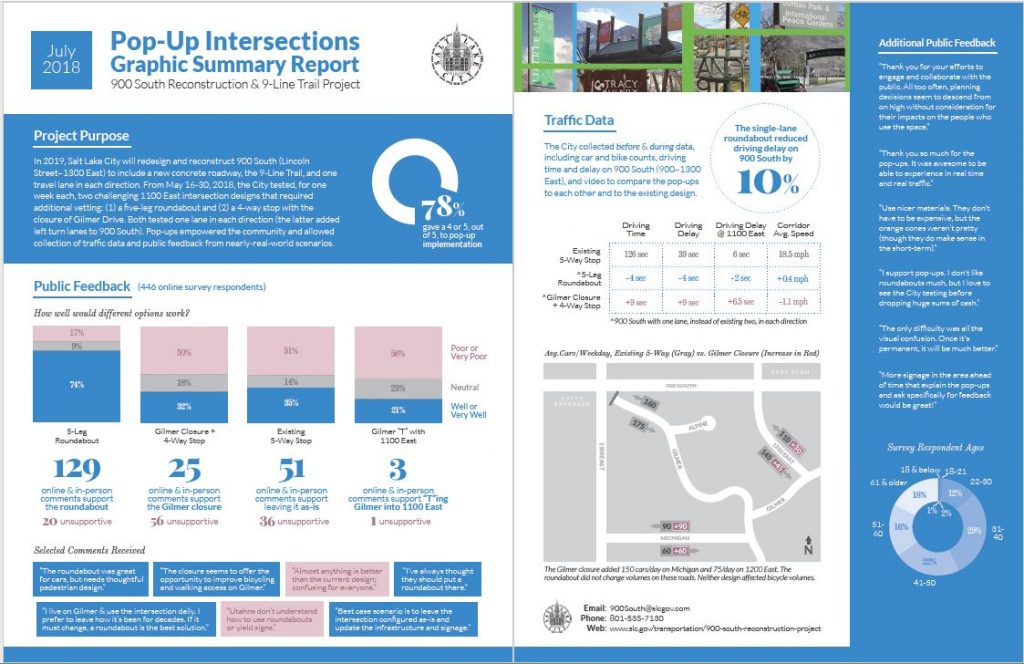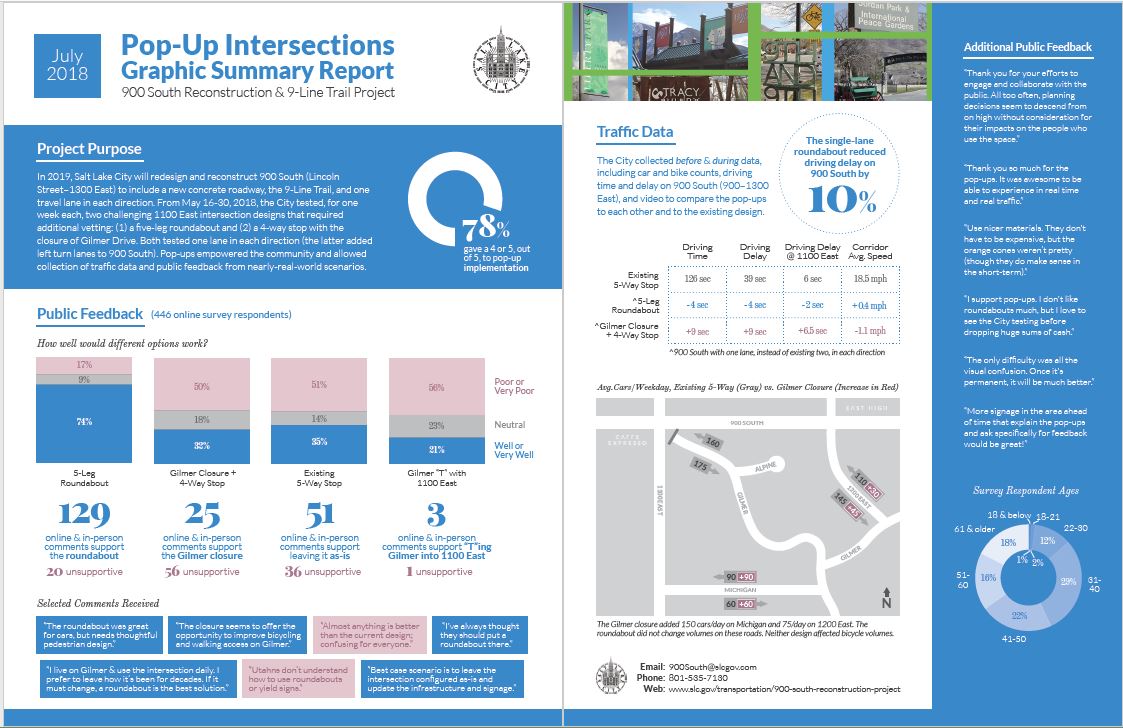 Brief snippets from the report include:
Nearly 500 people took the online survey, and staff talked with 100-150 in-person.
Survey respondents represented a wide and representative swath of age groups.
78% of survey respondents gave pop-up implementation a 4 or 5, out of 5. For the most part, those surveyed supported the pop-up concept. Some desired more aesthetically-appealing materials, less visual confusion, and more signage about how to use them and how to provide feedback.
The design option with the most positive responses was the single-lane, five-leg roundabout, with the caveat that any permanent design slow speeds, prioritize pedestrians, and include education.
During the closure of the western entrance/exit of Gilmer Drive (May 23-30), the two streets monitored in the Gilmer Park Historic District experienced an additional 75-150 additional cars per street per weekday.
The single-lane roundabout reduced driving delay on 900 South (900 to 1300 East) by 4 seconds, or 10%, compared to the existing design (two lanes in each direction with left turn lanes on 900 South).
During two weeks in May 2018, the City employed its first fully-fledged "pop-up" street design project. Temporary intersections were constructed using traffic cones, trees, and art to simulate two of the most challenging designs that were being considered for the five-leg intersection of 900 South, 1100 East, & Gilmer Drive. The goal of the short-term test was to help the City determine the most effective and supported design. Staff worked with residents, businesses, Fire Department, Waste Management, and the Utah Transit Authority to develop pop-up intersection options:
May 16–23: A single-lane five-leg roundabout
May 23–30: A single-lane four-way stop, with the closure of the western end of Gilmer Drive
The City is currently using the data from the pop-ups and on-going conversations with the community to develop intersection and corridor design options, available at the end of August. All are invited to the next in-person opportunity to discuss and recommend changes to the design.
Public Open House: Monday, August 27th, 6:00–8:00 pm, at the Tracy Aviary's Chase Mill.
Click here to view the boards displayed at the August 27th Open House.
The City is also developing a "pop-up" policy document for improved implementation for future projects, including those initiated by the community. Learn more about pop-ups at www.slc.gov/transportation/popup.









Project Update – April 2018
Thank you to everyone who has given your thoughtful input on 900 South Reconstruction / 9-Line Trail from Lincoln to 1300 East.
More time to do it right: Following on our first round of public input and the community open house in the winter, the design team has decided to slow the project down in order to better explore a more robust set of design options with the community, particularly for the 1100 East/Gilmer/900 South intersection. We generally heard good support for the addition of the trail. We heard multiple requests to take a step back, include additional community input, and develop a timeline to allow for additional input prior to construction.
Based on community input, the original design of a "T intersection" into 900 South is no longer being considered.
To view the boards presented at the April 19th Open House at Tracy Aviary Chase Mill, please click here.
"Pop-Up" Exploration of Intersection Redesign
Examples of temporary, "pop-up" materials.
Following on community suggestions for several unique intersection designs, Salt Lake City will further explore alternatives for the Gilmer Drive/1100 East/900 South intersection. Two temporary, "pop-up" intersection designs will be tested in May. Community input and operational data will be gathered through the "pop-up" period, and incorporated into a permanent design.
May 16 – 23: A pop-up roundabout will be installed and monitored
May 23-30: A pop-up closure of Gilmer Ave will be installed and monitored.
To volunteer to help with the "pop-up", email the design team: 900south@slcgov.com.
Input on Trail Design
The 9 Line Trail Extension Study recommends three routes traversing the steep hill from 1100 East to 1300 East.  Using ski-slope analogy, the routes are indicated as green, blue, and "black diamond."
Community input on this project so far has strongly supported the addition of the trail along 900 South, but we received many questions about the likelihood that the "black diamond" route up the steepest part of the 900 South hill would be used.
As a result the Transportation Division is gathering input on a couple of different designs for that part of the route.
Find Out More & Give us Your Input
PARTICIPATE ONLINE:   
Take our survey (same link as above).
EMAIL OR CALL US:
Salt Lake City Transportation Division
801-535-7274      900South@slcgov.com
If you have questions, thoughts, or concerns,
please respond by April 30. Thank you