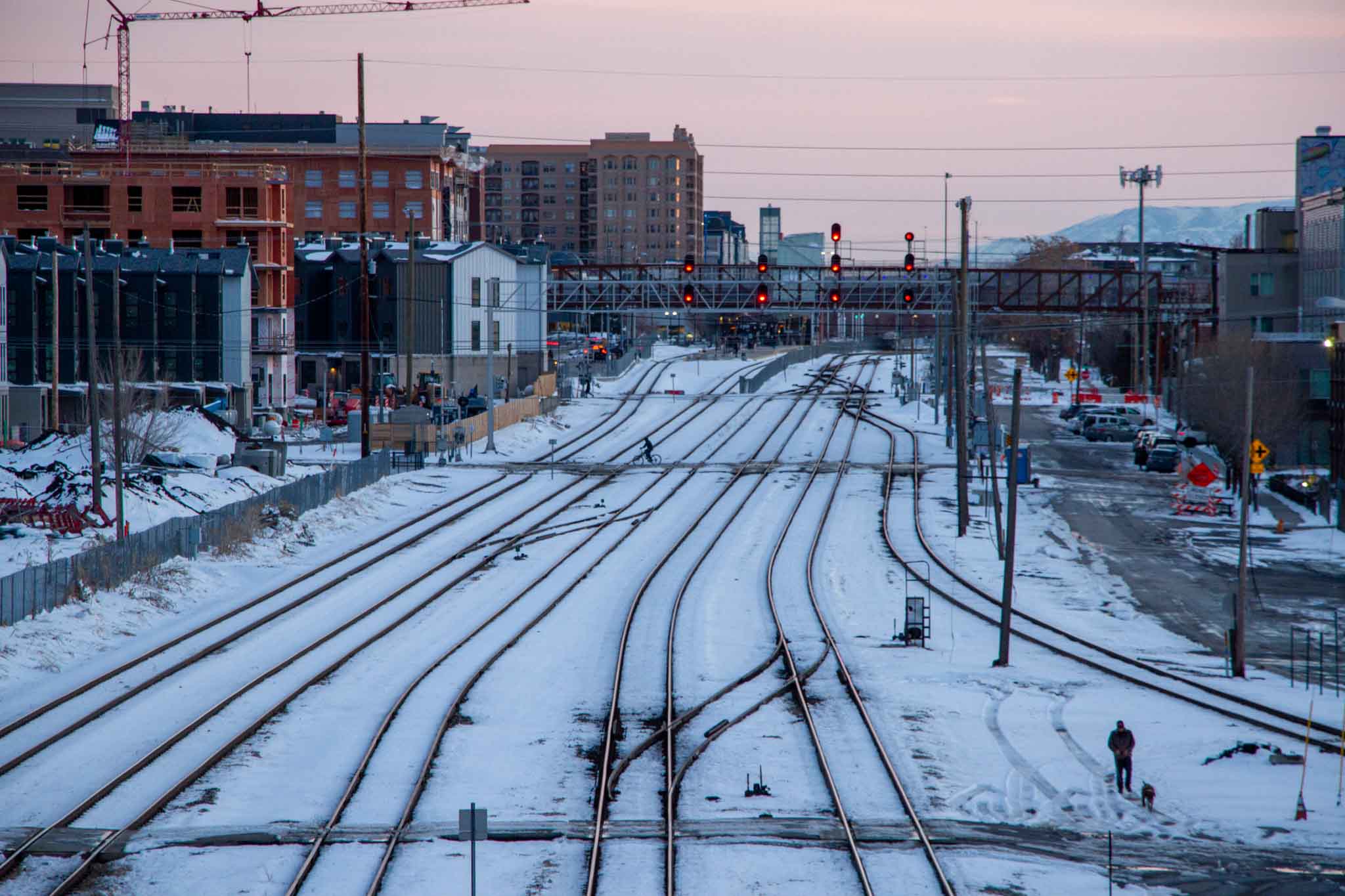 Reconnecting Communities: Healing Salt Lake City's East-West Divide
Background
Salt Lake City is a city divided by a regional north-south transportation corridor that has bifurcated east-west connectivity, altered community cohesion, and embedded socio-economic inequities and environmental injustice into the normative fabric of the city.
The east-west division started in 1870, the year the Transcontinental Railroads famously joined in Utah. The rails were cause for great celebration, but also divided the city. When redlining maps were drawn in the 1940s, Westside neighborhoods were deemed undesirable and Eastside neighborhoods became havens of privilege. The arrival of the freeways in the ensuing decades tore down any remaining unified composition for the city and entrenched the chasm of the east-west divide. Large autocentric viaducts were constructed to carry vehicle traffic over the rail lines with high-speed interchanges to ease motorized traffic on and off the freeways and subsequent freeway widening expanded the monolithic nature of the infrastructure barriers. The safest streets for all modes of travel are absent freeway interchanges. However, these safer streets generally do not have viaducts and travelers risk delays from trains blocking roads or urban trails.
Now, finally, is the time to heal this divide. Reconnecting Communities is a robust community-centric planning effort to expedite solutions for east-west crossings focused on a 6.1 mile highly urbanized corridor.
Read more background information in the Grant Application Narrative.
---
Federal Grant
In February 2023, Salt Lake City was awarded $1,970,000 as part of the Reconnecting Communities Pilot Program. Funds will be used to support planning analysis and prioritization of solutions to Salt Lake City's transportation infrastructure-related east-west divide that foster connectivity and cohesion. This may take the form of a series of multi-modal bridges or a novel solution that transforms the entire urban landscape, such as a tunnel, train box, greenway deck, or a combination. The planning project is the result of prior studies, including Rio Grande Plan, SLC Ped/Bike Plan, and SLC Climate Positive 2040.
The planning effort prioritizes the elimination of barriers and is likely to improve access to daily destinations, while demonstrating a strong intention to address equitable mitigation of impacts. The project will utilize a Community Advisory Committee, which will create a community participation plan that will create equity in participation by providing a stipend.
The project seeks to enhance active modes that reduce greenhouse gas emissions with the consideration for safe accommodation. The project provides substantial detail about partnerships with commitment letters. The city is creating a housing trust and, if new land is opened up, affordable housing would be a part of future redevelopment. The project also intends to incorporate local art installations aligned with local vision.
---
Funding Partners and Local Match Commitments
Salt Lake City | Utah Transit Authority | SLC Redevelopment Agency | SLC Public Utilities
---
Grant Application Information
In October 2022, Salt Lake City applied for a "Reconnecting Communities" grant through the U.S. Department of Transportation in order to launch a community-focused process to fully understand the current and past impacts of the divide, and to conceptualize, discuss, design, and estimate costs for both short-term and long-term solutions.
Community-based project partners including the Westside Coalition, NeighborWorks, and the Downtown Alliance have committed to help us in this initiative. Agency and institutional partners including the Utah Transit Authority, the Salt Lake City RDA, Union Pacific Railroad, and the Salt Lake City Department of Public Utilities will focus the technical and infrastructure needs to be considered when contemplating changes. This Reconnecting Communities grant builds on and strengthens a prior grant application from April 2022.
Read the full Grant Application Narrative.
Letters of Support and Comments from the General Public
Related Plans and Studies
Related Plans and Studies
Media and History Articles
Media and History Articles