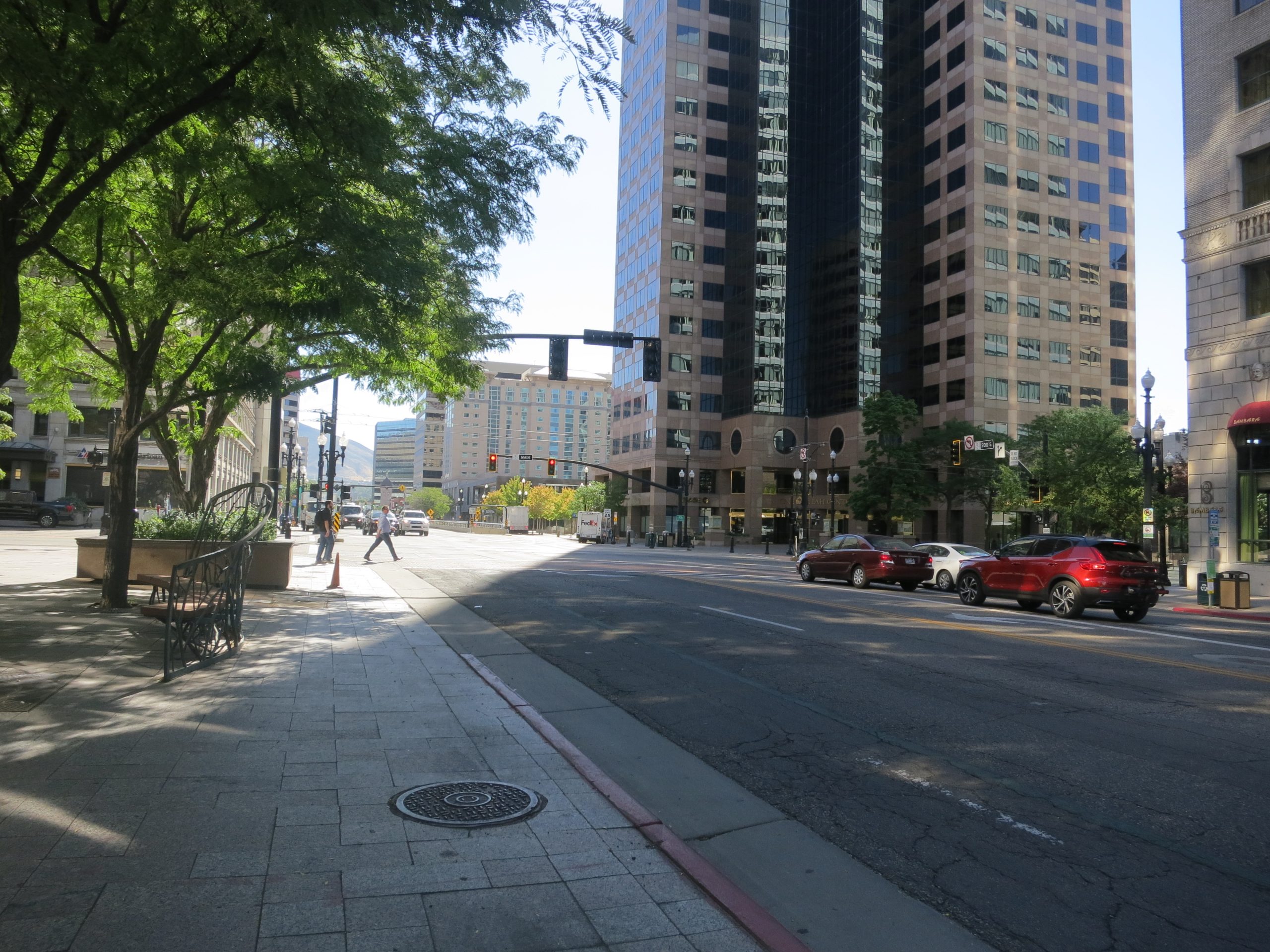 200 South Reconstruction
Transit Priority Corridor & Complete Street
CONSTRUCTION UPDATE (April 2023) — There will be multiple work zones happening on 200 South this year and we will include maps and messaging to address this. ACME is doing road construction and will be starting around 300/400 West moving east. Dominion Energy is working on their gas line at 200 East moving west. Work will begin the week of March 20. Construction updates will be available as work progresses through the coming year. For further details on Dominion's project visit https://bit.ly/3fCyBEL.
Project Overview
As part of the 2018 voter-approved Funding Our Future street reconstruction bond, Salt Lake City began reconstruction of 200 South in 2022. 200 South is Utah's busiest transit street, used by 10 routes and 34 buses an hour. The 200 South Reconstruction project design considers the variety of needs of a functional downtown urban core and will rebuild 200 South to improve mobility and safety for all users. Improvements include:
In-lane bus stops with floating bus boarding platforms
Buffered bike lanes channelized behind bus islands with intersection safety upgrades.
Sidewalk and curb ramp repairs to meet ADA standards.
Midblock crossings with curb extensions and/or refuge islands and flashing crosswalk lights
Curbside parking and loading zones.
New landscaping trees (50+) and repairs to existing plantings
As a result, getting around will be easier and more comfortable through increased safety for pedestrians and bicyclists, more efficient and convenient transit, and a more welcoming corridor with Complete Street design elements.
---
Construction Update: April – May 2023
Travel Conditions
Travel on 200 South will be one lane in each direction between 600 East and 400 West. This configuration will remain in place throughout the remainder of the year. Access to businesses along 200 South will remain open. Please plan extra time whenever traveling through this area, and consider alternate routes. Left turns into driveways may sometimes be unavailable, consider coming from a direction that allows right hand turns to be made.
200 East – State Street
Construction activities are taking place in the north and southbound outside lanes with limited sections of sidewalk being removed and replaced. This work will be coordinated with adjacent property and business owners in advance. Work will take place for several days at a time in front of each business as crews remove sidewalk and regrade the surface on day one, then pour and cure concrete on day two. Access to businesses will be available at all times and a pedestrian route will be marked until the new sidewalk is open at the end of day two of the work. Please encourage customers to stay out of roped off areas to avoid damaging wet concrete.
All driveways will remain open. Impacts include:
Intermittent sidewalk closures for concrete removal and replacement
Noise, dust, and vibration from jackhammers
On-street parking removal
Limited access to the north side crosswalk and northwest/southwest corners of the intersection.
Main Street – West Temple
Utility work is anticipated to take place in the east and westbound outside lanes through April. There will be limited on-street parking during this time. A dedicated ADA access will be available for patrons of Capitol Theater.
600 East – 200 East
Work to complete road construction, landscape and irrigation repairs, and asphalt replacement is anticipated to begin soon. More details will be in available in the coming weeks. Please contact the project team with questions.
UTA 200 South Bus Routes Update
Beginning Sunday, April 16, Routes 1, 2, 4, 205, 209, and 220 will be detoured off of 200 South (see graphic below). Sign up for alerts and updates to this detour on the Transit app or rideuta.com/signup. Maps with temporary stop locations along the detoured routes are available at rideuta.com/changeday.
Subscribe for regular 200 South Reconstruction Project updates by contacting us through email at saltlakecitycomms@gmail.com, or call us at (385) 341-8646.
---
Dominion Energy Gas Line Project
Dominion Energy is replacing the aging gas pipeline running in the middle of 200 South. The gas line project is moving west ahead of the road construction work. More details about the project and impacts are available on their website or by contacting their project team.
Dominion Energy Project Team Contact Information:
Hotline: 800-323-5517
Email: Click here to send an email and include "200 South" in the subject line
Website: Click here to visit the website

200 South Bus Detours
Beginning Sunday, April 16th, 2023:

– Routes 2 and 220 will use 100 South between 200 East and 900 East.
– Route 205 will use 100 South between 200 East and 500 East.
Stops will be available on 100 South.
To plan your trip and receive notifications about detour updates, download Transit, UTA's official trip planning app. We also encourage riders to sign up for UTA Service Alerts – this is the most effective way of notifying riders of disruptions: www.rideuta.com/signup
Project Design
3-D Renderings
Scroll Plots
Interactive Design Map
Check out our Interactive Design Map to learn more about the street design for 200 South.
Design Features
The design was developed through coordination with multiple City departments and UTA, and with prior and ongoing engagement with the community and stakeholders along the corridor. The design implements several new features on 200 South that will work together to improve mobility along the corridor for transit vehicles and riders, bicyclists, and pedestrians. Key features of the proposed design between 400 West and 900 East include the following: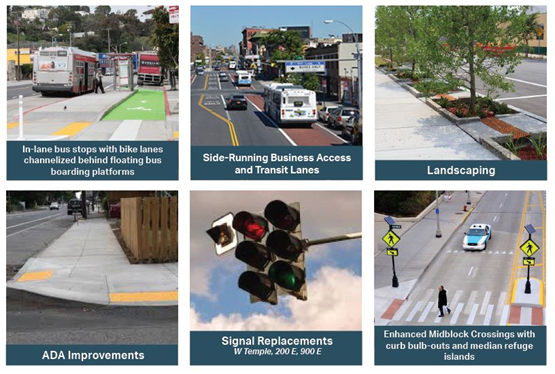 Changes to Existing Parking
The project team tried to maintain existing curbside uses wherever possible, including on-street parking and freight loading; however, reallocation of limited street space requires conversion from back-in angled parking to parallel parking or parking removal in a few locations where the street width is constrained. Parking modifications remain subject to change. The existing and proposed parking layout can be viewed as layers in the proposed corridor design in the scroll plots featured above.
Next Steps
The project team is continuing to iron out some details on each block as design is being finalized. We anticipate construction starting on the east end of the project at 900 East in 2022 and in the downtown area in 2023.
Project Status & Construction Timeline
Project Status
Phase One Construction:
Section of 200 South: 900 East – 200 East
Construction: 2022
Current Status: Design complete, Contractor hired
Phase Two Construction:
Section of 200 South: 200 East – 400 West
Construction: Anticipated 2023
Current Status: Final design
Upcoming Construction
A contractor is anticipated to be selected by late spring, at which point we will develop more detailed information about the construction schedule, phasing, and impacts to share prior to work starting.
During construction, you'll generally be able to expect one travel lane open in each direction, hours of operation from 7 a.m. to 5 p.m., Monday through Friday, and increased levels of noise, dust, and vibration. Dominion Energy will be upgrading and replacing a major gas pipeline from 900 East to 400 West; this work is being coordinated with the 200 South project to minimize and consolidate overall construction impacts.
This project has a dedicated public involvement team that will provide you with construction schedules and impacts before construction begins and every work during construction. To receive coordinated information and stay up to date on both projects sign up for updates by emailing 200south@slcgov.com or calling the project hotline at 385-341-8646.
Project Goals
Transform 200 South into an iconic corridor for Salt Lake City.
Reconstruct the corridor so that it becomes a transit-priority street.
Organize complete streets elements to integrate active transportation, transit mobility, and placemaking.
Project Background & Materials
The 2017 Transit Master Plan was an intensive process that closely evaluated how to make transit work better for people living and working in the City. Fundamentally we understand that as we grow, it's important to provide choices in travel and reduce dependence on cars. We know that if done well, there are a lot of positive implications like public health, air quality, economic competitiveness, and quality of life. Of the 15 corridors evaluated, the Transit Master Plan recommended analysis of capital improvements on 4 east-west corridors, with the #1 recommendation being 200 South from Salt Lake Central to the University of Utah.
We are taking the first steps to fulfill the voter-approved mandate by rebuilding 200 South and implementing the Transit Master Plan. We are also incorporating aspects of other adopted plans and policies resulting from years of discussion and public input, like the Complete Streets Ordinance, Transportation Plans, Climate 2040 Plan, and more.
Check out our Story Map to learn more about the transit features and initial concepts that were developed for 200 South.
Project Funding

Thanks to the 2018 voter-approved Funding Our Future streets reconstruction bond, 200 South will start to be rebuilt in 2022 with transit priority strategies top of mind.
---
Contact Us
To stay informed, send us an email with the word "Updates" in the subject line or give us a call anytime.
Email | 200South@slcgov.com
Phone | 385-341-8646
Social Media | @SLCmoves @SLCgov #200SouthSLC