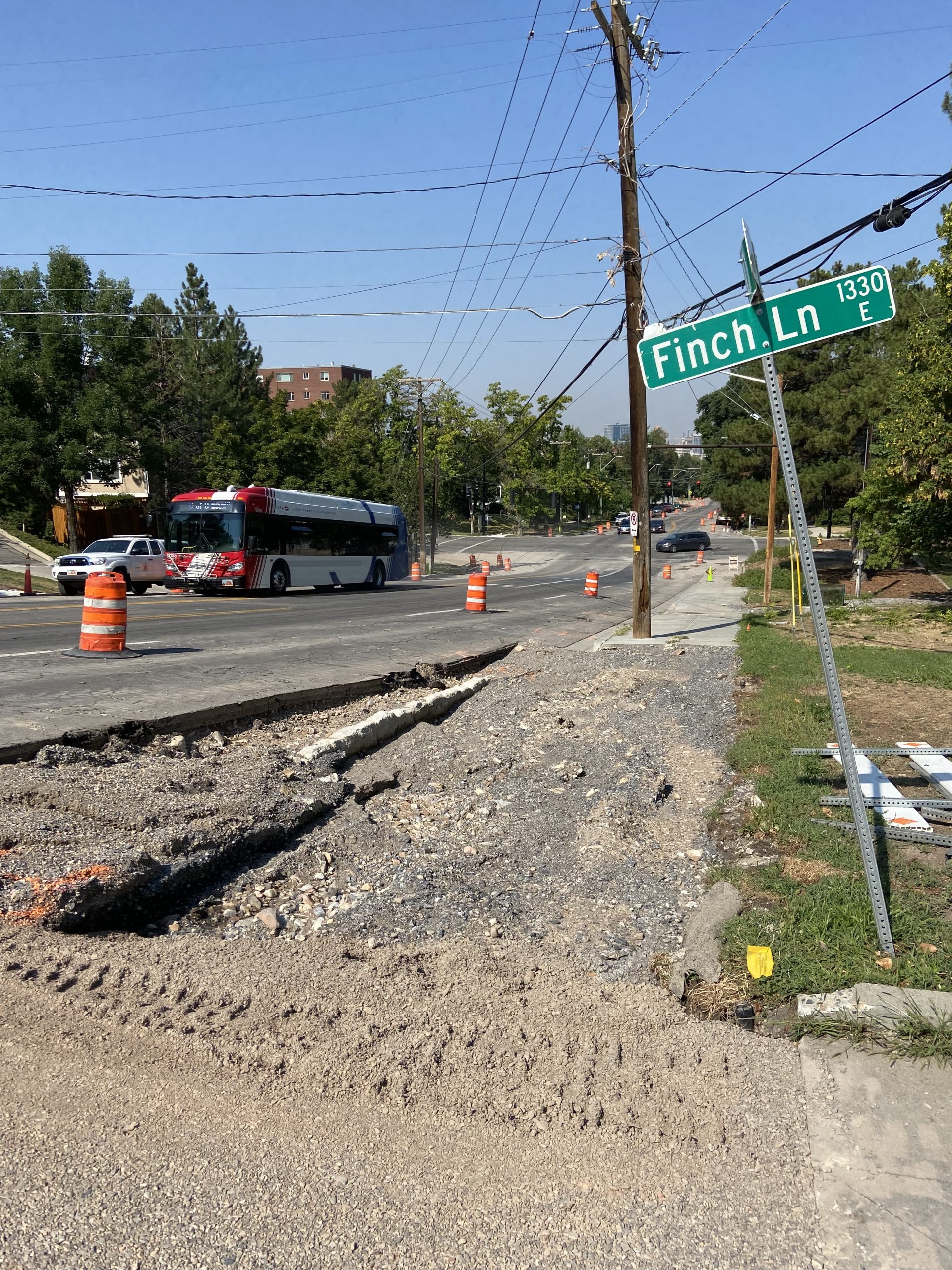 Street Reconstruction Projects
Overview
Each year, Salt Lake City reconstructs numerous major and local streets, made possible by the 2018 voter-approved Funding Our Future street reconstruction bond. Major streets are high-capacity urban streets that deliver traffic at the highest level of service possible. These projects also consider complete street elements like pedestrian or bicycle paths. Local streets are small streets that carry less traffic and have fewer lanes than major streets. Local streets are typically reconstructed in smaller single block segments, compared to major streets, which often involve the reconstruction of entire corridors.
Generally, construction will occur between April and October each year. While each location diff­ers slightly, project improvements typically include sidewalk, curb, gutter and/or pedestrian ramp rehabilitation, minor storm drain repair and asphalt repaving. Local street reconstructions are anticipated to last approximately 2-4 weeks. Area residents can expect construction noise, dust, and vibration during normal working hours. Vehicle and pedestrian routes may be detoured but access to properties will be maintained whenever possible. The project team will coordinate with individual residents where drive approaches require replacement.
Salt Lake City's Pavement Management Team collects and analyzes pavement data to determine the most cost effective maintenance strategy for the City's roadway network of 1,850 lane miles. Road conditions are evaluated by field inspection and automated pavement surveys and the data determines the type of maintenance plan each road receives. Street improvement project locations are determined by the pavement condition and funding rotates through all seven districts. Read the Salt Lake City Engineering Six-Year Pavement Plan.
2023 Major Street Reconstruction Projects List
2023 Major Reconstruction Projects List
2023 Local Street Reconstruction Projects List
2023 Local Street Reconstruction Projects List
Salt Lake City does not publish individual webpages for local street reconstructions. Please contact the Engineering Division at engineeringinfo@slcgov.com or 801-535-7561 with questions or concerns.
Kristianna Circle (Virginia Street to Cul-de-sac End)
100 South (500 West to 600 West)
University Street (600 South to 700 South)
100 South (500 West to 600 West)
1000 East (Atkin Avenue to 2700 South)
Lincoln Street (Elm Avenue to 2100 South)
Meadow Lane (Green Street to 700 East)
Gregson Avenue (900 East to Lincoln Street)
Dallin Street (Country Club Drive to Stringham Avenue)
1700 East (1300 South to Sherman Avenue)
Benchmark Drive (Lakeline Drive to Terminus)
Benchmark Circle (Benchmark Drive to Cul-de-sac End)
2024 Potential Local Street Reconstruction Candidates
2024 Potential Local Street Reconstruction Candidates
This schedule is tentative and subject to change.
De Soto Street (Girard Avenue to North Terminus End)
Perry Avenue (Traffic Y to Sigbee Traffic Circle)
Perry Avenue (Virginia Street to Laurel Street)
18th Avenue (Little Valley Road to Terrace Hills Drive)
West Capitol Street (Zane Avenue to Girard Avenue)
Sigsbee Avenue (Sigsbee Traffic Circle to Sigsbee Traffic Circle Inclusive)
Perrys Hollow Road (Tomahawk Drive to New Bonneville Place)
Kensington Avenue (Wasatch Drive to Indian Hills Circle)
Oquirrh Drive (Oak Hills Way to St Marys Way)
Devonshire Drive (Sunset Oaks Drive to Lancaster Drive)
Bonneview Drive (1500 East to Michigan Avenue)
Country Club Circle (Parleys Canyon Boulevard to Cul-de-Sac End)
Pierpont Avenue (400 West to 300 West)
Projects Map
Scroll through the interactive map below to view all of the roadway reconstruction projects happening throughout Salt Lake City. Click on the tabs on the top to view the completed projects from 2020, 2021, and 2022, and the current reconstruction projects happening now in 2023.
View the Bond Reconstruction Projects map full screen in a new window.
---
Additional Roadway Projects
Looking for another construction project in the roadway? Use the dropdown menus below to see what's happening around Salt Lake City.
Transportation Projects
The Salt Lake City Transportation Division is working on many projects throughout the city. Transportation projects are designed to create a safer and more pleasant environment for all road users, including people walking, driving and bicycling. These projects are typically smaller in scale, and construction takes place in a singular location, such as an intersection, rather than the entire roadway. Transportation projects can take many forms, such as:
Physical infrastructure changes: Adding speed humps, chicanes, traffic circles, medians, roundabouts, and raised crosswalks.
Street design changes: Narrowing streets, adding bike lanes, improving sidewalks, and upgrading pedestrian crossings.
Roadway markings and signage: Adding pavement markings, crosswalks, and traffic signs to slow traffic and make it more predictable.
Traffic signal timing changes: Changing traffic signal timing to improve pedestrian and vehicular safety and reduce speeding.
Learn more about Transportation projects on the Transportation Division website.
Roadway Maintenance
Salt Lake City also performs roadway maintenance, which differs from roadway reconstruction. The main differences between the two are as follows:
Purpose: Roadway maintenance aims to preserve and extend the life of the existing roadway, while reconstruction aims to replace or significantly upgrade the existing roadway infrastructure.
Scope: Roadway maintenance typically involves smaller-scale repairs, such as repairing cracks and resurfacing the roadway to prolong the surface life. Roadway reconstruction involves major upgrades, such as replacing the entire roadway surface and substructure, updating drainage systems, and the addition of complete street elements such as bicycle and pedestrian paths.
Timeframe: Roadway maintenance projects are typically completed in less time while roadway reconstruction projects generally take longer to complete as they involve more extensive work and often require lane closures and other more significant impacts.
Learn more about our surface treatment maintenance program and other Salt Lake City Streets Division maintenance programs.
Additional Resources
UDOT and Private Roads
Not all roads within the Salt Lake City boundaries are owned by Salt Lake City. Some roads are owned and maintained by the Utah Department of Transportation (sections of 700 East, 400 South, Foothill Drive, and others) and private entities.
Fiber Projects
Internet service providers often install fiber lines in the public right of way. A great deal of construction will involve boring in parking strips and the street. This type of construction should last between 8 and 14 days. If the construction is occurring on a power pole, it will likely take less time and be less disturbing than if in the street or parking strip. Check to see if a phone number is located on the vehicle at the site. If no phone number is displayed, check the public permits map or the Citizen Access Portal to research individual permits near your address.
Google Construction Complaints: 877-454-6959
Century Link Construction Complaints: 801-237-4847
Comcast Construction Complaints: 800-273-1595
Salt Lake City Fiber Hotline (for unresolved or ongoing issues): 801-535-6466
Public Permits Map
Use this interactive public permits map for information on programmed roadway construction projects and permitted work in the public right of way.
Public Utilities Projects
Use this interactive Salt Lake City Public Utilities Projects map for information about utility projects.
---
Funding
These projects are funded through the 2018 voter-approved Funding Our Future street reconstruction bond. On November 6, 2018, Salt Lake City voters approved the $87 million Funding Our Future Streets Reconstruction Bond. This funding is allowing the City to begin addressing our most deteriorating streets and, when paired with new sales tax revenue for streets maintenance, enables us to prolong the life of our entire street network.
---
Contact Us
Project Management | Salt Lake City Engineering
Email | engineeringinfo@slcgov.com
Phone | 801-535-7561
Social Media | @SLCmoves @SLCgov