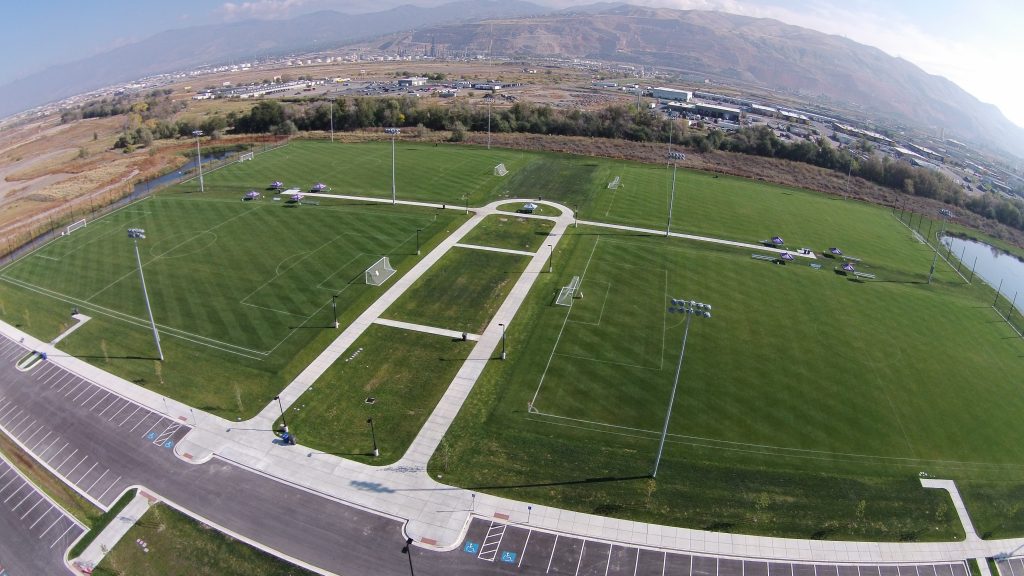 Facility Management
The Regional Athletic Complex is managed in a manner that maximizes facility use. All RAC facility users must secure a facility reservation receipt with a member of your organization who is at the field(s) during your reservation dates and times. The receipt is proof of your reservation and may be needed if people are using your field during your scheduled time. In case of problems, please call 801-972-7883.
Insurance Requirements
Comprehensive commercial general liability insurance, including Commercial automobile liability, Workers' compensation, and employer's liability coverage is required with a policy endorsement naming Salt Lake City Corporation as an additional insured on a primary and non-contributory basis.
Aggregate – $2,000,000
Products – $2,000,000
Personal – $2,000,000 and each occurrence – $2,000,000
Prohibited Items/Actions
Off-leash pets – ALL pets must stay on a leash;
Bikes, inline skates, skateboards, scooters, etc. on the fields;
Fireworks or open flame within the complex except by authorized concessionaires;
Smoking;
Overnight parking or camping – no vehicles, RV's, or trailers parked in the complex. The gates will be locked 30 minutes after the last game;
Littering or dumping;
Alcohol, except as allowed by City permit.
Glass on fields
Code of Conduct
For the safety and health of coaches, players and fans, unsportsmanlike conduct will not be tolerated and may result in disciplinary action or ejection from the facility. Salt Lake City Regional Athletic Complex employees have the right to ask anyone to leave if any obscene, dangerous, or offensive behavior is deemed unacceptable.
​Temporary Structures
Personal 10 X 10-foot tents or canopies are allowed in designated areas only. The placement is determined by Facility staff in order to maintain safe traffic flow and views of fields. The Organizer must use water barrels rather than stakes and all pop-up tents must have at least 50 lbs. of weight to secure them. The Organizer shall provide the Regional Athletic Complex Events Coordinator a map of all tents, vendors, etc. locations. All signage content and placement must be approved in advance by Facility staff.
Damage or Vandalism
Damage to the facility, structures or playing surface determined to stem from the rental activity will be billed to the renter. The City shall not be responsible for any theft or damages at the Facility or in the Facilities parking lots.
Facility Clean-Up
The Organizer reserving the field(s) will be responsible for the clean-up of the field(s), team areas, and spectator areas after each game. Trash cans are placed throughout the facility for your convenience. Cleanliness is judged by the Regional Athletic Complex staff to determine if a separate invoice for a $100/per field cleaning fine should be issued.
Inclement Weather
Due to inclement weather conditions, there will be times when games will need to be canceled. Our goal is to accommodate any canceled games and will reschedule at the earliest opening on the schedule. Any canceled games will need to be scheduled during the current season and will not be rolled over to the next season. Authorized league representatives have 3 business days to contact the event coordinator to arrange a rescheduled date and time. If we're not contacted within 3 business days the scheduled game is considered canceled. Rescheduled games will be based on availability. All rescheduled games are final and cannot be changed.