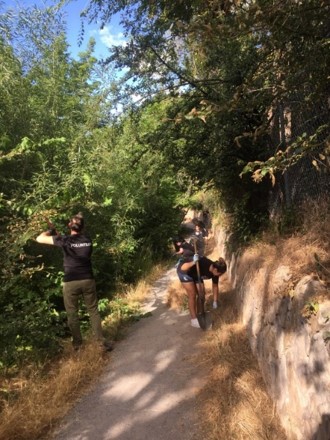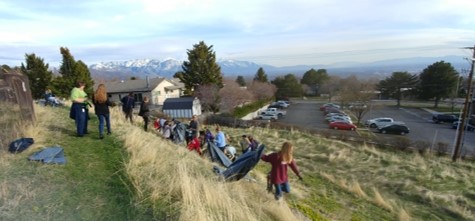 Are you interested in volunteering for Salt Lake City Trails and Natural Lands? Thank you! We love our volunteers, and depend on community stewards to help keep your public lands beautiful. Volunteer opportunities include all tools and equipment necessary, along with TNL employees to lead the event and work alongside you. There are a couple different ways you can volunteer with SLC TNL:
As an individual or group in our bi-annual weed pulls (see below)
As a group interested in setting up a one-time volunteer event for 1 – 2.5 hours
To request to volunteer, contact Sherilyn Hirschi here.
2018 Volunteer Services Annual Report
Benefits of Being a Volunteer
Meet new people in your community with the common goal of conserving our natural lands
Learn something new, while gaining a better understanding for SLC TNL
Enjoy food with your newfound peers after Trails and Natural Lands' biannual weed pulls
Most Common Volunteer Opportunities
Plantings
Weed Pulls
Litter Cleanup
Playground Mulching
*Opportunity availability depends on group size and time of year.
Annual Volunteer Events
Purge Your Spurge

Myrtle Spurge, an invasive and noxious weed in SLC, is slowly being eradicated from the foothills slopes by our volunteers! At Purge Your Spurge 2018 volunteers pulled over 10,000 lbs of Myrtle Spurge!
Join us next April 13, 2019 for the 4th annual Purge Your Spurge event. Register here.

Pancakes and Puncturevine

Ever ride your bike along the Jordan River Parkway, only to get a flat within the first mile? This is often caused by Puncturevine seeds, often known as "Goathead", that puncture bike tires and puppy paws. Each September volunteers tackle this noxious weed at our annual Pancakes & Puncturevine event, and then celebrate with a pancake lunch and prizes!
Join us September 7, 2019 for the 3rd annual Pancakes & Puncturevine event. Check back August 2019 for registration.