This Online Open House will provide an opportunity for you to review information about the proposal and provide any questions or comments. This Open House meeting will be an electronic meeting pursuant to Salt Lake City Emergency Proclamation No. 2 of 2020 (2)(b).
Design Review
800 S + State St
Petition Number: PLNPCM2020-00439
Salt Lake City has received a request requesting a Design Review for a property located on the south/east corner of the Sears Block, at approximately 754 South State Street. The Design Review is being requested to allow for design standard modifications, specifically to allow for an increase in building height and to exceed the maximum street facing façade length. The property is located in the Downtown Support (D-2) zoning district.
The proposal is to construct a new mixed-use building with commercial, retail, and live/work units on the ground floor. On the upper floors is planned residential (Studio, 1 and 2 bedroom), green space, and common space for residents. The proposed development is approximately 400,000 square feet with 11 stories and will include 360 residential units.
Project Location
Approximately 754 South State Street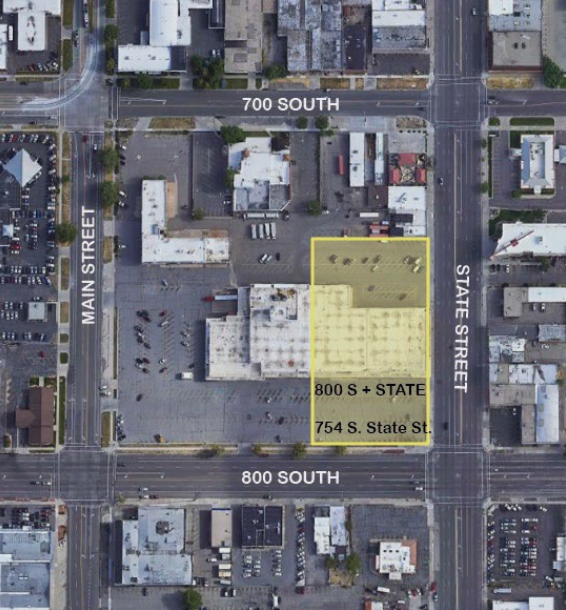 Additional Information
Next Steps
The Planning Division is in the process of obtaining public comment on this project to help identify concerns and issues from the public.
The Planning Commission will hold a public hearing and will make a decision to approve or deny the Design Review proposal. The Planning Commission public hearing will be scheduled at a future date.
Planning Commission Work Session is scheduled for September 23, 2020
Public Comments and Questions
We want to hear from you! Public comments and questions will be accepted within the 7-calendar-day window. To submit a comment or question please contact the staff planner via email or leave a voicemail, your questions will be answered within a week after the comment period has ended
Start of the Public Comment Period: August 20th
End of the Public Comment Period: August 27th
Nannette Larsen // nannette.larsen@slcgov.com // 801-535-7645
(phone numbers are currently available for voicemails only)
Please note that public comments will still be accepted up until the date of the Planning Commission public hearing.
---
During and following this comment period, the Planning Division will evaluate the proposal against the applicable zoning standards, taking into consideration public comments as they relate to the standards, and develop a recommendation for the Planning Commission.