Design Review for Additional Building Height
Southern Highlands (SoHi) Apartments
Petition Number: PLNPCM2020-00662
Zoning District: CG – General Commercial
City Council District: Five (5) – Represented by Darin Mano
Mark Garza, representing Rue Co, LLC the property owner, has requested Design Review approval for additional building height for the Southern Highlands Apartments project. The proposed project is for a 104-unit apartment building on a 0.50 acre (21,800 square feet) parcel in the CG – General Commercial zoning District. The proposed building will include 5 levels of apartments above a 3-level concrete parking structure, with one of the levels underground. The apartments will be a mix 1 bedroom, 2 bedroom and studio types. The covered parking will provide 104 parking stalls total. An open deck courtyard for residents is part of the design. The CG – General Commercial Zoning District limits buildings to 60-feet in height. However, taller buildings in excess of 60-feet but not more than 90-feet in height may be approved through the Design Review process. The proposed building will be 75-feet tall. The applicant is going through the Design Review process to request an additional 15-feet of building height over the 60-feet allowed by right in the zoning district.
Project Location
Located at approximately 927 South 400 West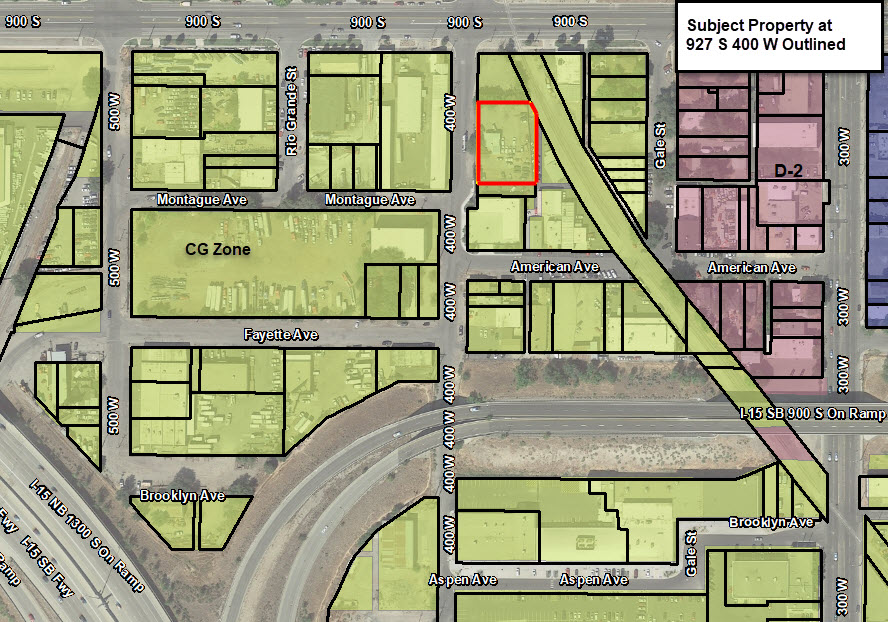 Additional Information
Next Steps
The Planning Division is in the process of obtaining public comment on this project to help identify concerns and issues from the public.
Notice has been sent to the Chairs of the community organizations for this area.
The Planning Commission will hold a public hearing to make a decision on the submitted proposal.
The Planning Commission public hearing will be scheduled at a future date.
Public Comments and Questions
The public comment period closed December 7, 2020. For additional information on this project please contact the staff planner.
David J. Gellner // david.gellner@slcgov.com // 385-226-3860
---
During and following this comment period, the Planning Division will evaluate the proposal against the applicable zoning standards, taking into consideration public comments as they relate to the standards, and develop a recommendation for the Planning Commission.