This Online Open House will provide an opportunity for you to review information about the proposal and provide any questions or comments. This Open House meeting will be an electronic meeting pursuant to Salt Lake City Emergency Proclamation No. 2 of 2020 (2)(b).
Conditional Use
Monopole, Wireless Communication Facility – 1550 South 5600 West
Petition Number: PLNPCM2020-00819
Zoning District: M-1
City Council District: 2, Represented by Andrew Johnston
The petitioner, Brian Sieck of Smartlink, is seeking Conditional Use approval for a new AT&T Wireless telecommunications facility with an 80-foot tall monopole and associated equipment on the property located at 1550 South 5600 West in the M-1 – Light Manufacturing zoning district. Per section 21A.40.090.E of the Zoning Ordinance, all monopoles taller than 60 feet in the M-1 zone require Conditional Use approval. This project was previously reviewed under PLNPCM2019-00542 and was approved in September 2019. However, Conditional Use approvals expire after one year. This request is located within the Inland Port Overlay and will be reviewed by the City's Planning Commission.
Project Location
Located at approximately 1550 South 5600 West.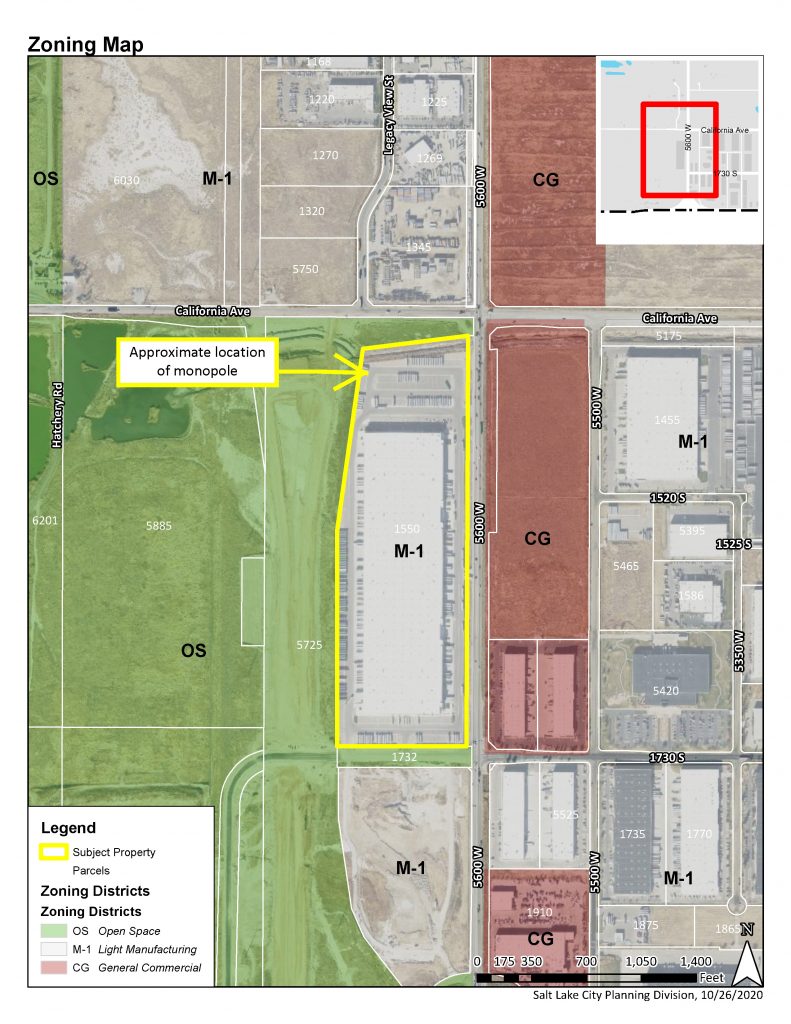 Additional Information
Next Steps
The project will be reviewed as a Conditional Use proposal by Staff and will be scheduled for a public hearing at an upcoming Planning Commission meeting.
Additional information including the date, agenda, and staff report will be posted as they are available.
Public Comments and Questions
We want to hear from you! To submit a comment or question please contact the staff planners via email or phone below.
Start of Public Comment Period: November 13, 2020
End of the Public Comment Period: December 28, 2020
Sara Javoronok // sara.javoronok@slcgov.com // 385-226-4448
---
During and following this comment period, the Planning Division will evaluate the proposal against the applicable zoning standards, taking into consideration public comments as they relate to the standards, and develop a recommendation for the Planning Commission.