Planned Development & Design Review
Maven Lofts
Petition Number: PLNPCM2020-00721 & PLNPCM2020-00722
Zoning District: CC (Commercial Corridor)
City Council District: 5, Represented by Darin Mano
Joe Jacoby, representing Jacoby Architects, has submitted applications to the city for Design Review and a Planned Development to construct an addition that would create 57 new residential units located at 156 E 900 South.
The proposal is for a 4-story building with an overall height of 45'. The proposed structure will be located roughly on the same footprint as the existing building.
The applicant is requesting Design Review approval to allow for an additional 15 FT of building height, for a total building height of approximately 45 FT. Requests for an additional floor in the CC (Commercial Corridor) zone require increased landscaping over and above that which is normally required for landscape yards and landscape buffer yards. In order to utilize the ground floor of the existing building in the project, the applicant is requesting a Planned Development to allow the rooftop garden areas to count toward this additional landscaping requirement. The existing building currently does not have any landscaping.
Through the Planned Development process, the applicant is also requesting to decrease the front, rear, and corner side yard setbacks for the second, third, and fourth stories of the building. The exterior wall of the proposed upper stories is slightly stepped back from the exterior wall of the existing building, which is located right at the property line. The CC zoning district requires a front and corner side yard setback of 15', a rear yard setback of 10', and a maximum building height of 30'.
Project Location
Located at approximately 156 E 900 South.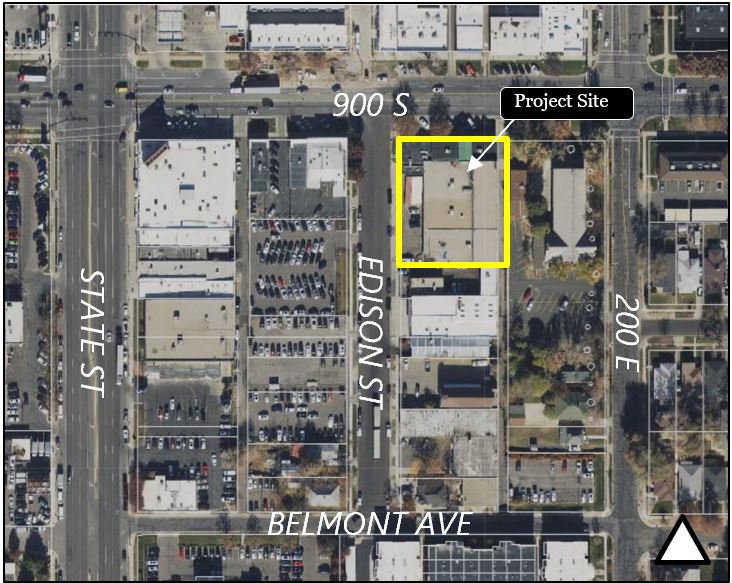 Additional Information
Next Steps
The Planning Division is in the process of obtaining public comment on this project to help identify concerns and issues from the public.
Notice has been sent to the Chairs of the community organizations for this area.
The project will be reviewed as a Design Review and Planned Development proposal by Staff and will be scheduled for a public hearing at an upcoming Planning Commission meeting.
Additional information including the date, agenda, and staff report will be posted as they are available
Public Comments and Questions
The public comment period closed December 28, 2020. For additional information on this project please contact the staff planner.
Amy Thompson // amy.thompson@slcgov.com // 385-226-9001
---
During and following this comment period, the Planning Division will evaluate the proposal against the applicable zoning standards, taking into consideration public comments as they relate to the standards, and develop a recommendation for the Planning Commission.