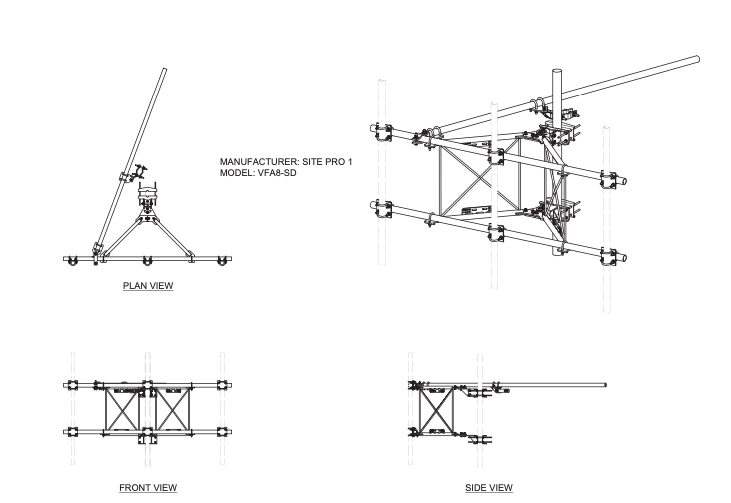 Conditional Use
T-Mobile Antenna Replacement – 52 W Fayette Avenue
Petition Number: PLNPCM2021-00562
Existing Zoning: D-2, Downtown Support District
Council District: 5, Represented by Darin Mano
Salt Lake City has received a Conditional Use request from T-Mobile, represented by Chris Regalado of Crown Castle USA Inc., to upgrade the existing cellular antennas and ancillary equipment mounted to the existing 67 foot tall monopole at 52 W Fayette Avenue. The applicant is proposing to remove the existing Sprint equipment and platform mounts and install a new antenna array and associated ground equipment. The subject property is located within the D-2, Downtown Support District.
The zoning district requires that monopole cellular antennas taller than 60 feet in height be reviewed as a Conditional Use. The request would increase the number of antennas mounted to the existing 67 foot tall monopole so requires a new Conditional Use review. The request would not increase the height of the monopole and the new antenna array will have a smaller overall diameter than the existing array.
Project Location
Located at approximately 52 W Fayette Avenue.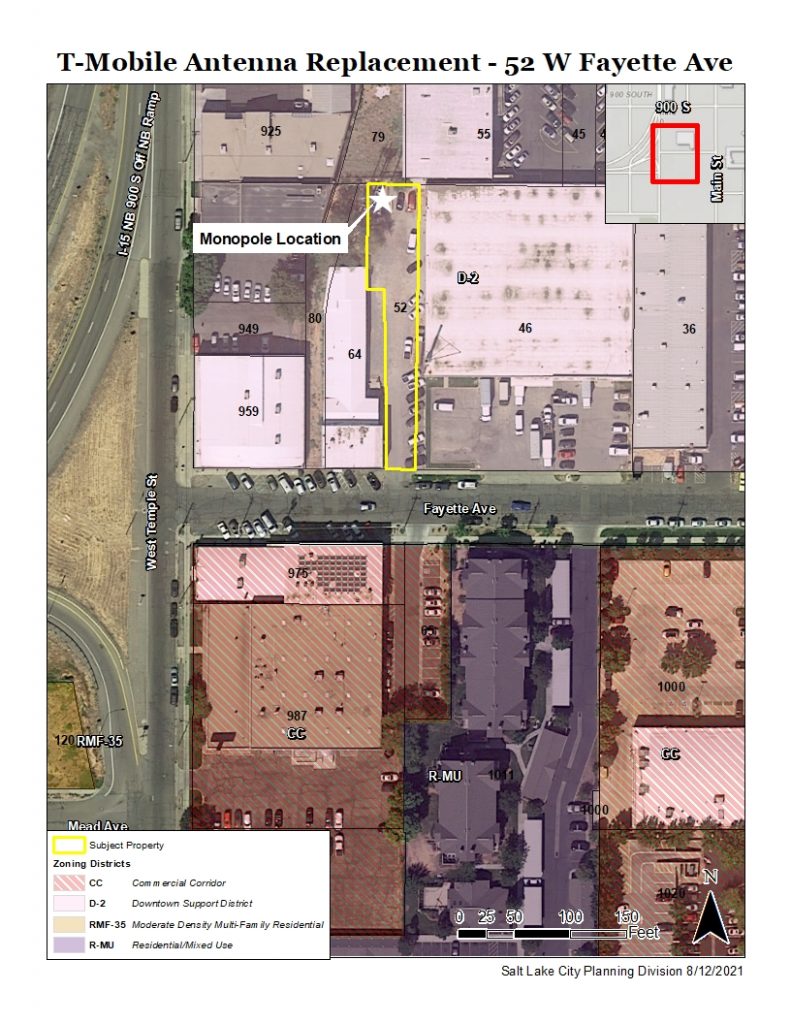 Additional Information
Next Steps
The Planning Division is in the process of obtaining public comment on this project to help identify concerns and issues from the public.
Notice has been sent to the Chairpersons of the community organizations for this area.
Following the public comment period, the proposal will be scheduled for a public hearing before the Administrative Hearing Officer.
The Administrative Hearing Officer will hold a public hearing to make a decision on the submitted proposal.
The public hearing has not yet been scheduled. Public notices will be sent to property owner and residents within 300 feet of the proposal when that has been scheduled.
Public Comments and Questions
The public comment period closed September 30, 2021. For additional information on this project please contact the staff planner.
Brooke Olson// brooke.olson@slcgov.com // 385-707-6770
During and following this comment period, the Planning Division will evaluate the proposal against the applicable zoning standards, taking into consideration public comments as they relate to the standards, and develop a recommendation for the Planning Commission and City Council.